Mr. "S" much prefers hopping into the car and driving to our destination, while I am one to book a flight and get there quickly. It would be one thing if our drive were leisurely, but he insists on playing this game of HOW CAN WE MAKE IT TO OUR DESTINATION WITHOUT STOPPING (except for gasoline). Needless to say, I've become a frequent flyer. Somehow being in a car for three days just doesn't compete with getting to New England from Florida in three hours.
While I LOVE sitting back and letting someone else get me there, I don't like what the cabin pressure does to dry me out.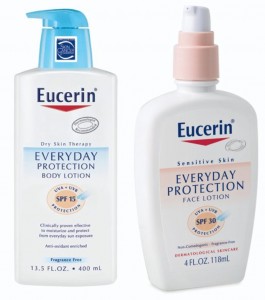 I've learned that I need to DRINK lots of water, sit in an aisle seat (because of all of the water I drink) and make certain to use plenty of Eucerin Everyday Protection Face SPF 30 and Body SPF 15 Lotions on my face and body when I travel. I've taken to putting enough in the little 3 oz. bottles so that I can take them ON BOARD (per TSA regulations). That way I reach my destination without dry cracked skin, looking great and hydrated.
I still have two more trips between now and labor day (you can always check where I'm heading on the sidebar calendar) as many of you have. I'm already loaded up with enough Eucerin for home and away and Champagne Living is giving YOU the opportunity to win some for YOUR vacation as well.
The prize pack includes: Eucerin Everyday Protection Face SPF 30 and Body SPF 15 Lotions, Car Sun Shade, Travel Neck Pillow, and Luggage Tags.
To learn more try out the Eucerin Skin Calculator Tool and see what YOUR skincare habits can be costing you.

This post is sponsored by Eucerin, all opinions are my own.
GIVEAWAY


Extra entries
* Go to the Skin First Facebook Page, take the Skin First Pledge and tell them what adventures you went on this summer and how you protected your skin.
* Tweet me @zipporahs and tell me your favorite travel destination. Using the hashtag: #skinfirst
* Comment below with your tips for keeping your skin hydrated when you travel
* Subscribe to Champagne Living, "Join the Clique", follow me on facebook or twitter – all found on the sidebar (each counts for 1 extra entry)
* Tell your peeps on your blog, facebook page or twitter about this or any post (each counts for 1 extra entry) and link to us.
* This giveaway is open to US residents, 18 and over and ends on August 17, 2011
* Good Luck