Diamonds may be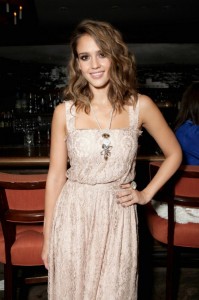 a girl's best friend, but I still love the glitter of Swarovski and I'm not alone…so does Jessica Alba, the city of Beverly Hills and my friend at the next beach cabana who had her cell phone encased in Swarovski crystals (so much so that she actually dropped her phone off to them to have it done).
Back to Beverly Hills (because frankly, I spend way too much time lounging by the beach waiting for Harry to bring me another pina colada). While I was here in South Florida there was a FABULOUS event over on the left hand side of the country to celebrate this glittering partnership. Unfortunately, I couldn't be there, but it was a star studded event.
  Jessica Alba (who'll be donning the magnificent SWAROVSKI CRYSTALLIZED™ Winter Garden necklace, which will be available at SWAROVSKI CRYSTALLIZED™ stores and online on www.swarovski-crystallized.com), together with SWAROVSKI ELEMENTS and the mayor of Beverly Hills, will be unveiling a one of a kind custom holiday installation at a lighting ceremony to be held at dusk on Monday, November 21, 2011 at Rodeo Drive. Set with thousands of SWAROVSKI ELEMENTS the installation will allow anyone anywhere in the world to tweet holiday greetings direct to one of its five chrome DNA helix-like sculptures. What fun. So, I can be in Paris, you can be skiing in Vail, and we can both have our tweets be a part of this piece of art
Here's how you do it:
If you're here jetsetting here or outside of the country simply tweet your seasonal greeting using the hashtag:  #letitsparkle
Plan on being in the US? You can text the word "sparkle" followed by your greeting to short code:  877877
To make things even SWEETER, Swarovski will be donating money to help support  Baby2Baby. The local charity organization is dedicated to providing essential baby items including clothing, gear and diapers to families in need in the Los Angeles area.
Jessica Alba will launch the electronic greetings by sending a special message of her own, and the installation will be LIVE through January 2, 2012.