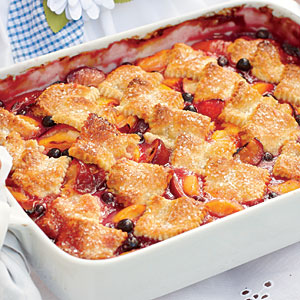 As usual, we'd like to thank our friends at Southern Living for sending us the recipe for this FABULOUS dessert made with the freshest of summer fruits. It's perfect for your 4th of July (or any day in July) celebration.
"Patchwork Cobbler–with fresh peaches, plums, and blueberries—is perfect for those family reunions this summer! And it has a no-fuss crust that you easily arrange like "patchwork" over the fruit mixture before it bakes." – Shannon Satterwhite from Southern Living
Patchwork Cobbler
Topped with squares of sugar-crusted pastry, this cobbler shows off summer fruits in a rich, just-sweet-enough filling.
Ingredients
CRUST
2 cups all-purpose flour
3 tablespoons granulated sugar
1/4 teaspoon table salt
1 cup cold butter, cut into pieces
1 large egg yolk
3 tablespoons ice-cold milk
FILLING
8 cups peeled and sliced firm, ripe peaches (about 7 large or 3 lb.)
6 cups sliced red plums (about 9 medium or 2 lb.)
2 cups fresh blueberries
2 teaspoons vanilla extract
1 3/4 cups granulated sugar
1/2 cup all-purpose flour
1/4 cup butter, melted
1 large egg
Sanding sugar or sparkling sugar
Preparation
1. Prepare Crust
Stir together first 3 ingredients in a large bowl. Cut 1 cup butter into flour mixture with a pastry blender until mixture resembles coarse meal. Whisk together egg yolk and milk; stir into flour mixture just until dough starts to form a ball. Shape dough into a flat disk using lightly floured hands. Wrap disk in plastic wrap, and chill 1 to 24 hours.
2. Prepare Filling
Preheat oven to 425°. Place peaches and next 3 ingredients in a large bowl. Stir together 1 3/4 cups sugar and 1/2 cup flour; sprinkle over peach mixture, and gently stir. Spoon into a lightly greased 13- x 9-inch or shallow 3-qt. baking dish. Drizzle with melted butter.
3.Place dough disk on a lightly floured surface; sprinkle with flour.
Place a piece of plastic wrap over dough disk. (This makes the dough easier to roll.) Roll dough to 1/8-inch to 1/4-inch thickness; cut into 2-inch squares. Arrange squares in a patchwork pattern over peach mixture, leaving openings for steam to escape.
4. Whisk together egg and 2 Tbsp. water; brush dough with egg mixture.
Sprinkle with sanding sugar or sparkling sugar.
5. Bake on lowest oven rack at 425° for 40 to 55 minutes or until crust is deep golden and peach mixture is bubbly
shielding edges with foil during last 5 to 10 minutes to prevent excessive browning. Transfer to a wire rack; cool 1 hour.
Makes 10 to 12 servings (well, more like 5 or 6….because they'll be back for 2nds)