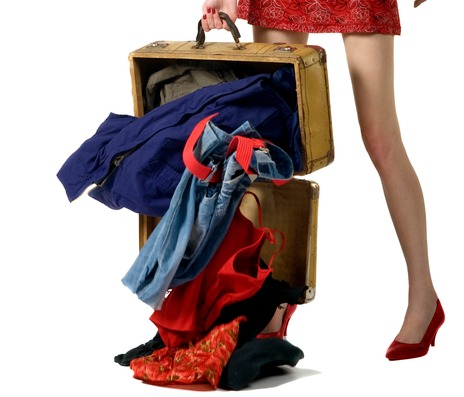 I have a theory about packing when I travel. Dirty clothes (on the way home) take up more room….a LOT more room.
Seriously
You I always seem to have a more difficult time packing on the return trip, than I did on the way there. It's probably from all of that shopping that I do (although I always tuck an extra duffle bag in the front compartment of my carry-on for JUST those purchases. So, just HOW do you fit MORE in that suitcase without tearing the seams?
Here are some of my little tricks
1. Use your shoes
Even high heels have a toe compartment for stuffing panties in. Men can roll up their ties and belts and put them inside of their shoes. I've even been known to squish dirty t-shirts into my sneakers just to make some extra room for the new ones that I've bought.
2. Zip-lock baggies
I always bring a couple of extras with me. Not only do they hold my wet bathing suit when I come back from the beach, but I can usually get ALL of my underwear, socks, and smaller items in. When you fold your clothes BACK into your suitcase for the trip home, fold your slacks or jackets AROUND the baggy and PRESS DOWN!
3. Space bags
They work. I love the type that use a vacuum cleaner, and if I'm staying at someone's house (where I have access to one for the return trip), I'll use those. Otherwise, pack and roll the air out, leaving lots of room for MORE stuff.
4. Corners
Once you THINK your suitcase is packed to the brim….look at the corners and move items into them. Shorts, bathing suits, T's, and skirts can easily be pushed into an open corner. Remember, wrinkles don't matter at this stage…you're heading home.
5. Expand the bag
Most luggage today is expandable. I NEVER, EVER, EVER expand on my way TO a destination, but almost ALWAYS do on the way home.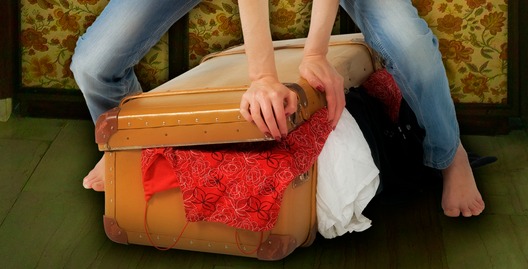 6. Roll
Yes, you rolled when you initially packed, so why are you just stuffing everything in every which way? Roll it all back up for extra room.
7. FOLD then ROLL then CUBE
This method works for getting even MORE in. If you buy packing cubes, by folding, then rolling your dresses, pants & shirt you should be able to stuff & zip an extra item or two. The cubes make it so that you can fill every last inch of your suitcase.
8. Use soft-sided luggage
The rage right now is that lightweight polycarbonate luggage. While it is nice and light and looks great, you really can't stuff as much in as you can with soft-sided luggage. Seriously, I've seen bulges in my favorite luggage…the result of an afternoon of shopping that would NEVER fit into a hard sided suitcase.
9. Don't forget all of the zipper compartments
Most luggage today has zippers on the inside & out. UTILIZE THEM. I put non-essentials that I wouldn't mind losing in the outer pouch.
10. When all else fails…
You've tucked a cheap duffle bag in the front compartment like I do. I put my NEWLY BOUGHT items in the suitcase and shove my dirty clothes in the duffle.