From 1980 – 1985 I lived in (and ran) a macrobiotic household. My mom was treating her breast cancer using macrobiotics and our households were next door to each other. We went to the Kushi Institute in Brookline, MA to learn how to cook and live the macrobiotic way. It's over 25 years later, and while I no longer embrace the lifestyle, there are foods and ingredients that I learned to love. One was rice vinegar.
When I was sent two bottles of Nakano Rice Vinegar to use and review, I already knew what to expect. You see….I had some tucked into my fridge that I use all the time.
For those who've never used Nakano Rice Vinegar, it's a great alternative to add some tang and flavor to recipes, salads, etc. Dieting? It's the perfect way to get added flavor into your foods without adding the extra calories of other condiments. I already use it in my cooking, but if you're a Nakano Newbie – there are plenty of great recipes to spark a little creativity in the kitchen.
Just last night I was making my roasted potatoes, and I added Nakano Rice Vinegar Roasted Garlic to flavor my potatoes, onions, olive oil, salt & pepper. The vinegar helps them crisp a bit more and the garlic flavor is DELISH.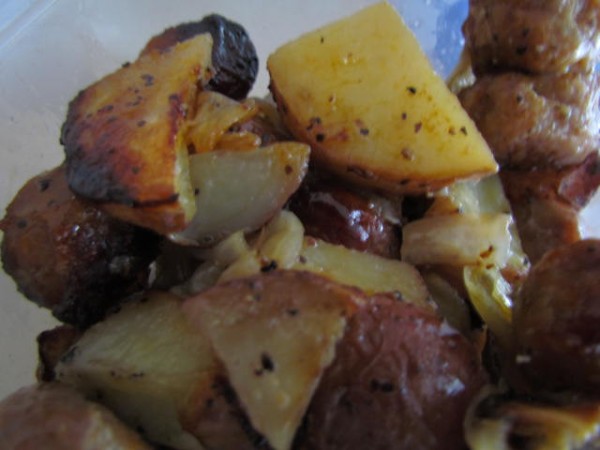 Today, I used it on my lunchtime salad (no pictures, I was so hungry that I gobbled it up before grabbing the camera – happens). It's a great alternative to other recipes that include vinegar, or you can try a totally NEW recipe (they have LOTS on their site – Nakano)
Beginning later in the month (June 25, 2012) Nakano is launching a 60-Day walking challenge hosted on Facebook to help encourage YOU to make healthy lifestyle choices. The  Facebook app will include a step tracker wrapping around a globe that will show followers the number of steps walked thus far, healthy eating tips and fitness tips. Cool, huh? Oh, and there will be PRIZES for participating in the challenge as well.
First prize of a one-year free gym membership. If over 1 million steps are reached over the course of the 60 days, a second 1st prize will be awarded.
Second prize winner receives six personal training sessions.
Third prize winner will receive a Nakano workout bag.
 
If you're ready to get started NOW, Nakano Rice Vinegar offers Splash for Cash on facebook, with great recipes, a blog,  and the opportunity for subscribers to win $150 each month.
Want more info? Simply follow Nakano  Facebook  and Twitter.
I wrote this review while participating in a campaign by Mom Central Consulting on behalf of Nakano and received a product sample to facilitate my review and a promotional item to thank me for participating