NOTE: This post includes affiliate links to some of my favorite items. I figured I share them to make shopping easier for you.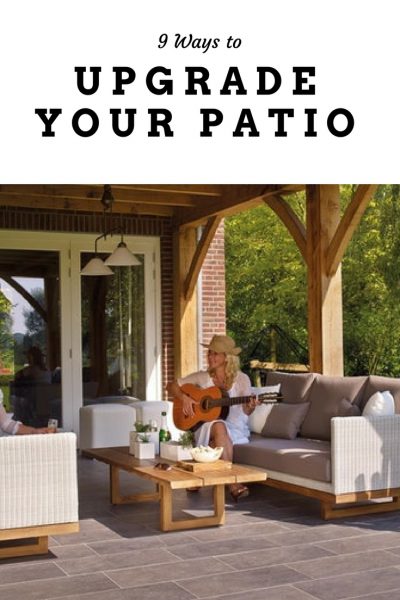 Seriously…one of the top reasons people come South for "the season" is to spend more time outdoors. You're escaping the cold, wet, winter wherever you are and joining us here in places like Florida, Arizona, Southern California, etc., but are you REALLY spending the time outside that you want to? For me, it's all about my outside living space…my patio and pool deck. It's where I sit and watch the sun rise with my coffee most mornings, where I escape from negative things that get thrown at me, and get out of earshot of my husband so that I can have some "ME TIME."
If you've got the space, but it just isn't as relaxing as you want it to be, here are nine suggestions to make it YOUR special place.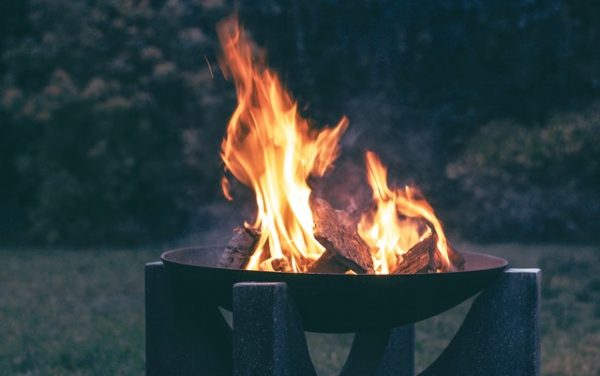 1. Accesorize
Water fountains, fire pits, or fireplaces all make your outdoor space feel more special. If you love the beach with the sound of the waves, than a water fountain with its trickling sound will most certainly relax you. Evenings in the winter (at least here in Florida) can be chilly, and a fire pit is a great solution to keep warm, roasting marshmallows and just enjoying a glass of wine as you smell the wood burning and listen to the crackling fire. The beauty of a fire pit is that it brings people together to make your patio useable year round.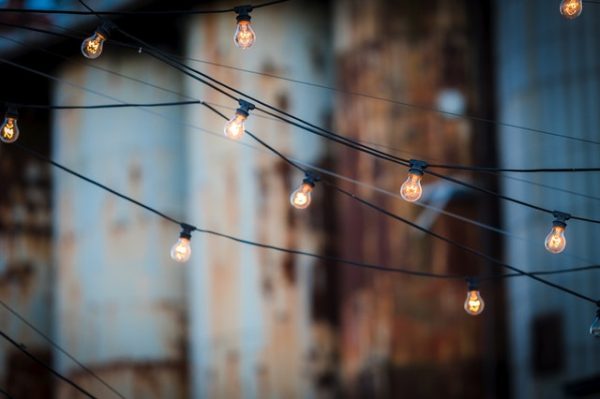 2. Outdoor lighting
Enjoying your patio after the sunset is one of the most calming things, and all you have to do is add a few lights. When dining outside, candle lights, wall mount downlights, or dimmable electric lamps can help to set a very relaxing mood. If you want to add drama to your landscape, solar-powered accent lights will do the job. Me? I love those edison bulbs strung above me for a magical look.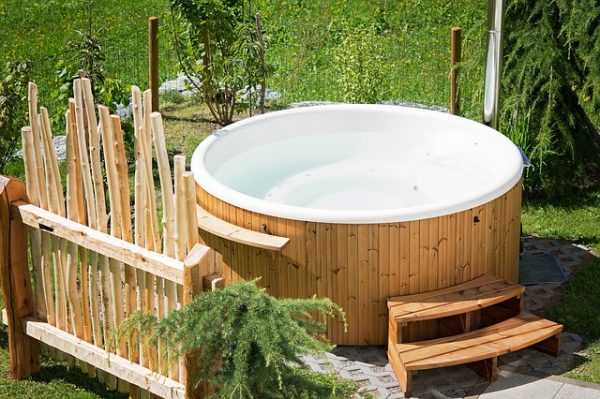 3. Hot tub or spa 
The ultimate relaxation after a long stressful day is being able to soak in a hot tub under the stars.  Not only that, but othing about the health benefits like increased blood flow and muscle relaxation that a spa brings. Be mindful that when placing a hot tub or spa in your patio, there is enough room and the foundation of your patio is sturdy enough. Remember that this can be costly though as you may need to upgrade your outdoor electrical connection and anything that the spa sits on.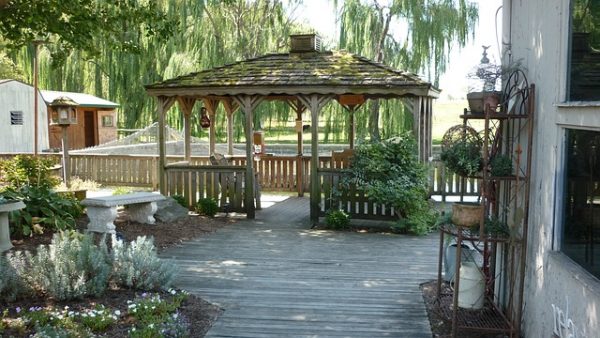 4. Outdoor structures
I love gazebos and arbors. A gazebo can add luxury to any space, whether attached to a deck, your pool, or planted in the landscape and provides a great place for outdoor dining while also giving you a sense of privacy. For me it's a magical addition as well, and one that's on my list as I expand my outdoor space from the patio to the back yard.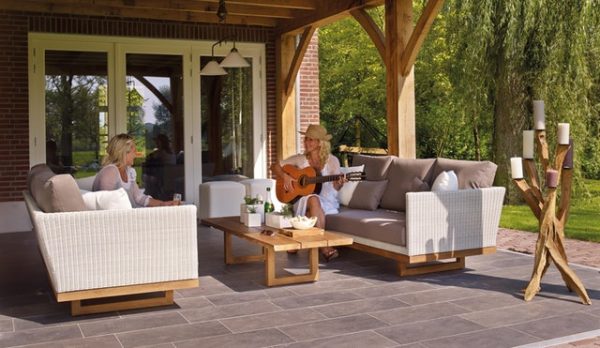 5. Comfortable Furniture
I've seen beautiful outdoor furniture that are downright uncomfortable when I sat in them. If you are planning on truly enjoying the space, comfort is KING. Luckily, there are plenty of choices available for seating in your patio. Fromwrought iron and traditional wood options to synthetic, waterproof patio furniture and fabric (my furniture cushions are Sunbrella so I never have to worry about stains, fading, etc.). These choices offer the same element of comfort and style as anything you would have in your home.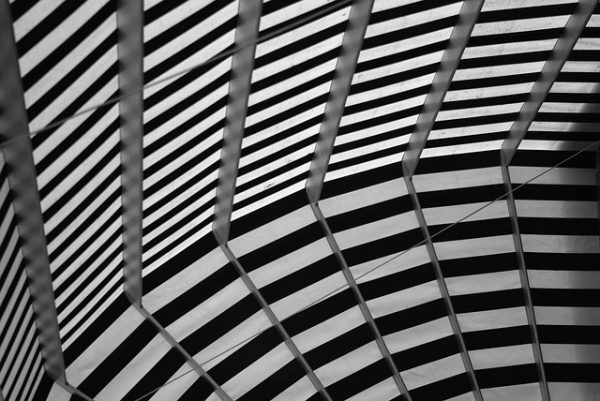 6. Shade areas
It can get pretty hot outside mid-day and you'll enjoy your patio even more if there are some areas where you can get away from the sun. Some of your choices to provide shade to your patio are mature trees, umbrellas, and retractable awnings. I've seen some beautiful shaded areas created from boho looking fabrics that were so  much fun.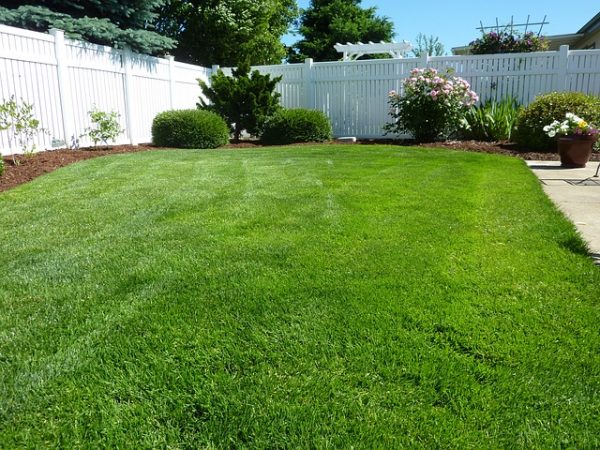 7. Privacy
One of these days I'll tell you about the neighbors behind me…or rather their college-aged daughter (who sits on their screened in patio talking as loud as she possibly can on speaker phone). Luckily, my patio is enclosed (and I have outdoor speakers to drown her out). If you have the sense of enclosure, your patio can easily feel like an oasis. Fences and garden walls can help to provide you with privacy, but you can also decide to go with lattice, pergolas, and landscaping.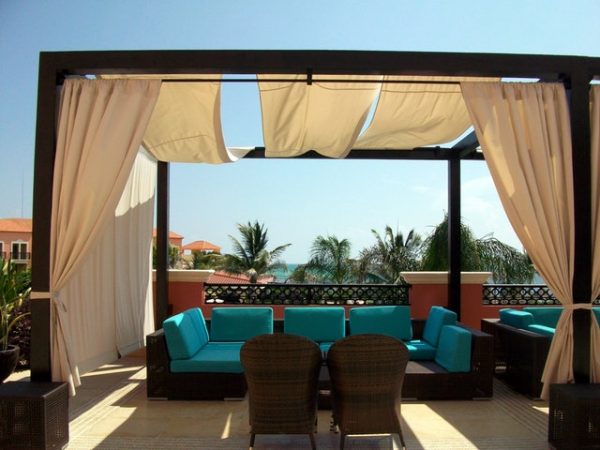 8. The picture perfect patio
It's all about color, just like in your house. Forget the boring brown and cement and add some texture and color (remember that boho fabric I was talking about in #6). Why not surface your patio with brick. Use planter beds, container gardens, and waterproof furniture to create your relaxing patio space.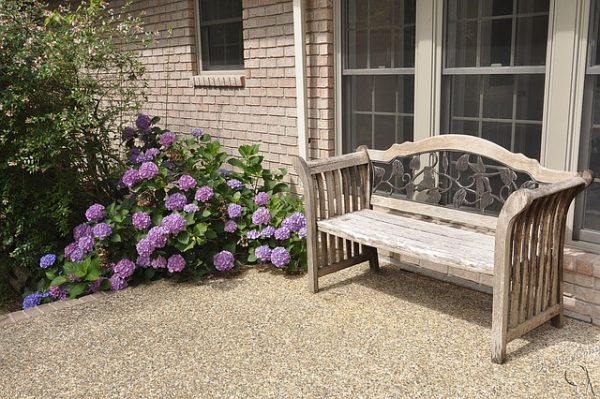 9. Dress it up
For  my birthday Mr. S gave me lottery tickets (I know, it's strange). I won $125 on the tickets and decided to use it for bougainvillea around my garage and patio. If you have structures on your patio, you can cover them with vines and plants (Clematis is also very nice) that will bring the garden right onto your patio. This is a great way to bring your yard's landscape and patio together for a cohesive living space.
Having a great outdoor space to relax is one of the reasons you came South for the winter. With these simple ways to dress up your patio, it will help you to achieve complete relaxation and to forget about all the worries in life.
What are some of your tips for making your patio a place where you can truly relax?