While there's no denying that an apartment is easier to cool than a massive house, this doesn't mean that all apartment residents have an easy time over the summer. In fact, on how severe the summertime temps are in your area, apartment life can prove extremely uncomfortable throughout the summer months. Luckily, building up your apartment's defenses against extreme weather should prove neither difficult nor financially strenuous. So, if a heat-free apartment is what you're after, put the following tips to good use.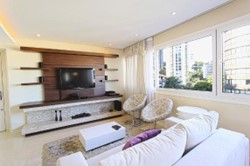 Equip Your Windows with Thermal Blackout Curtains
Odds are you're losing quite a bit of cool air through your windows. Regardless of whether they're opened or closed, your windows are likely serving as the exit point for cool air and the entry point for warm air from outside. If you're interested in minimizing escaped air, you'd do well to equip your windows with thermal blackout curtains.
As suggested by the name, these curtains are made from thick thermal materials, thus ensuring that they're well-equipped to keep escaped air to the barest of minimums. These curtains can also come in handy during the frosty winter months when they'll help seal in warm air while minimizing how much cold air is able to find its way inside.
The "blackout" aspect of these curtains can also prove useful for those of us who do our best sleeping in complete darkness. For people like us, the early-rising summer sun can make comfortably sleeping through the wee hours of the morning extremely difficult. If this describes your relationship with summertime sunrises, take care to hang the aforementioned curtains in your bedroom. Since thermal blackout curtains also serve to drown out exterior noise, making them a worthwhile purchase for people who reside in areas that are rife with noise pollution.
Upgrade Your Ceiling Fans
Dependable ceiling fans will serve you well throughout the summer. In addition to helping circulate the cool air produced by air conditioning, good fans can function as effective cooling tools independent of A/C. For example, adjusting a ceiling fan's blades to spin counterclockwise is a great way to provide yourself with a refreshing breeze that flows directly downward. So, if your apartment's ceiling fans are in need of an upgrade, summer is the perfect season to make it happen.
If fan replacement falls under the purview of your landlord, request that they provide you with new fans posthaste. If any of the fans in your apartment have become faulty or non-functional, it's imperative that the property owner properly address this. Alternatively, if you own your apartment, you may be fully responsible for replacing old fans. Luckily, buying flush mount ceiling fans – or any other variety of fan, really – shouldn't place a strain on your finances.
Familiarize Yourself with Oven-Free Recipes
For those of us who do a considerable amount of cooking, the prospect of ditching our ovens is simply unthinkable. After all, it's one of the most commonly-used culinary tools on the planet. However, summertime oven use stands to make your apartment uncomfortably warm. So, regardless of how unappealing it may sound, you'd do well to minimize oven usage throughout the summer months.
Instead of viewing this as an inconvenience, however, you'd do well to focus on the positive aspects of minimal oven use. For starters, there are dozens of oven-free summertime recipes that you could try your hand at making. In addition to requiring very little effort to prepare, many of these recipes are health-conscious and easy on your finances.
If the summer heat isn't enough to deter you from using your oven, make an effort to limit oven usage to after the sun has gone down. Additionally, make sure to use your kitchen's exhaust fan to prevent heat buildup.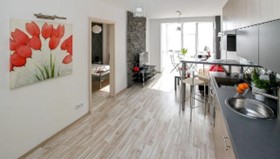 Although summertime is synonymous with fun, sun, and cutting loose, it can't be denied that high cooling costs can put a damper on one's enjoyment of the season. Furthermore, while apartments are generally easier to cool than larger homes, this doesn't mean that every apartment resident has it easy throughout the summer months. Fortunately, cost-effectively cooling your apartment over the summer should be well within your abilities – provided, of course, you have the proper tips at the ready.