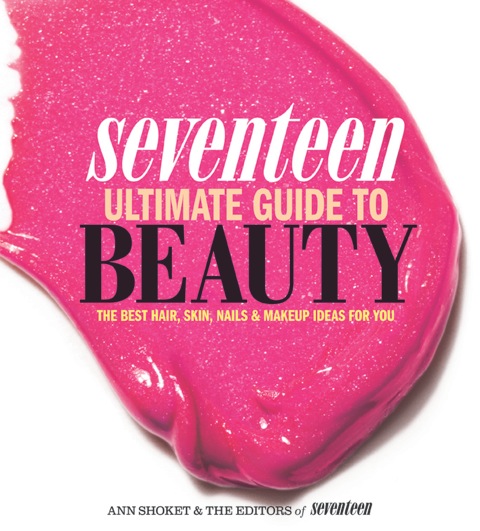 Don't say it….I already know what you're thinking. Why would a 58 year old woman have a beauty guide that's geared to teens in her possession? Is she really kidding herself?
The truth is, real beauty and skin care transcends age and time, and while there are tips in this fact filled book that are specifically geared to teens, it's one that ANY woman would find useful – YES, even this over-the-hill-wishing-she-was-young wannabe.  The REAL gem of this guide is that it teaches the novice  make-up, skin care and hair tips that range from simple beauty to drop dead glam.
For those with young women in this age group, you'll score some MAJOR MOM points giving the Seventeen Ultimate Guide to Beauty to your daughter, niece or grand-daughter. Whether she's a girly girl, a classic, has that edge, or wants to emulate the 60's boho style, she'll learn all she needs to know about looking as good as she feels.

Divided into three sections, your little lady will get
Your ultimate makeup guide
Your ultimate hair guide
Your ultimate beauty resource guide
Remember when you used to raid your mom's closet for some grown-up looks? I guarantee that the tables will turn when you sneak this guide from her and secretly try the amazing techniques for those glam looking eyes, bouncy hair, and mastering the perfect manicure.
Author Bio
Ann Shoket, author of Seventeen Ultimate Guide to Beauty, was named editor-in-chief of Seventeen magazine in 2007. Under her leadership, the iconic fashion and beauty publication for teen girls continues to help more than 13 million readers grow up to be confident, self-assured young women. Seventeen is the best-selling teen magazine, and its website is the number-one teen magazine site.

Ann has been named to the Forbes Most Powerful U.S. Fashion Magazine Editors list, and she serves on the Media Advisory Board for the National Campaign to Prevent Teen and Unplanned Pregnancy.
For more information about the Seventeen Ultimate Guide to Beauty visit http://www.seventeen.com, and follow them on Facebook and Twitter.
Seventeen Ultimate Guide to Beauty: The Best Hair, Skin, Nails & Makeup Ideas For You hits bookshelves on July 10, 2012.
I received product to facilitate this review. All opinions are strictly my own.