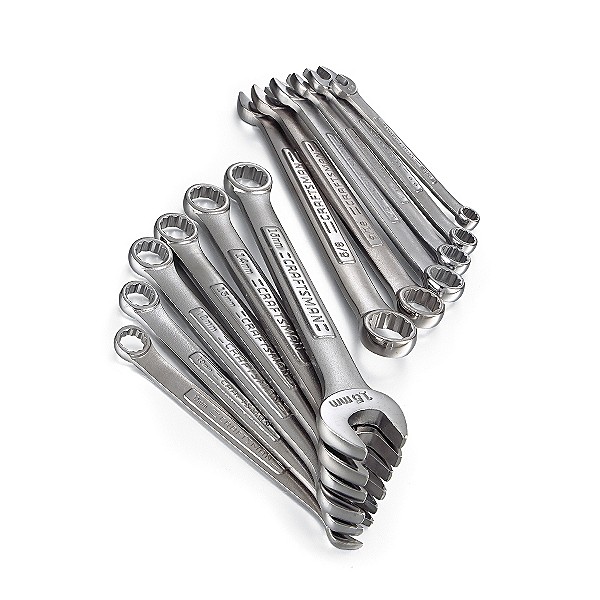 WAIT!!!
Why is it that when people write about tools it's ASSUMED that it's for the guys? I'm the one who fixes everything at the mansion. The reason? I have small hands that can fit into spaces with a screwdriver that Mr. S cannot and I'm pretty darn strong to boot. That being said, when I received this Craftsman Universal 12 piece Combination Wrench Set from my friends at Sears to review, I never even got my hands on them before Ben (who's moving into his new place soon) grabbed them in an old fashioned "dibs." I guess I'll be borrowing them.
The reality is that moving to a new place, he'll probably need them and that's one LESS gift that I have to pony up for a housewarming or holiday gift.
There are some products that you always KNOW where to shop for to get the BEST. For us Sears is our go-to store for both tools and appliances. My father-in-law was a long distance trucker and worked on his own semi. He only used Craftsman tools and the tradition has been handed down to a second generation now.
With this set you'll never be looking around for the RIGHT size wrench, because you'll have it in your tool kit. At only $39.99 I think it's a HUGE BARGAIN for such high quality tools.
Product Description
Craftsman's 12-piece combination wrench set includes six inch sizes and six metric sizes. Since Ben loves working around the houses AND on his car, this is perfect (the metric sizes really make this a fabulous deal)
12-pt. box end gets into tighter areas vs. 6-pt.
Six inch sizes: 5/16-5/8 in.
Six metric sizes: 9, 10, 12-15 mm
Made in the USA
Lifetime warranty
For those of you who don't want to brave the stores this holiday season, you can purchase your tools, including this wrench set from the Sears Catalog (also available online). Remember how you used to circle all of the gifts that you wanted when you were a kid? You still can – PLUS you'll find
The Tool Gift Guru Team
Chris Duke, host of hit Automotive DIY show "Motorz TV"
Frank Fontana, host of HGTV's Design on a Dime
Carla Bruni, Historic Preservation Consultant
Bryan Wilmer, Owner of Commercial Construction of Frankfort, Illinois
Follow the Gift Gurus and their gift recommendations throughout the catalog or online here [URL]

Real People… Real Testing
A new testing panel made up of real tool users, a few pros, a few hobbyists and a few weekend warriors. In short… Real People! Selected product has been given to testing recruits to provide customers with feedback.
Comments found in the catalog help you select gifts for the tool user on your list… or yourself
If your guy girl (or both) love to fix things and are always asking for new wrenches. RUN, don't walk to Sears to grab this set. You'll make Mr. Fix-It very happy. I highly recommend them.