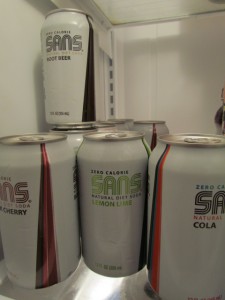 An old friend contacted me recently. It was someone that I had worked with a LONG time ago on a project….a healthy project. She asked me if I had heard of Sans Soda (I hadn't). I'm a soda addict. Ask the kids that I used to teach in my theater classes and they'll tell you that they would always know which classroom I had been in, because I left a can of diet soda behind (with my lipstick mark clearly in either red or deep berry). I show up to dinner parties with my own bottle of soda, and it's been a real problem for me….knowing the damage that it can cause. Don't get me wrong, I love my wine as well, but diet soda is my dirty little secret.
So, I tried the Sans Soda. Now "sans" in French means WITHOUT. I suppose this soda is called that because it's WITHOUT artificial ingredients and contains zero calories, zero artificial sweeteners, zero artificial colors or flavors, zero GMO's, and unlike current stevia sodas on the market, zero erythritol.  It's a diet product, but Sans Soda uses Truvia in place of artificial sweeteners to keep the calorie count to ZERO.
Personally, I think it's name is all wrong. AVEC may be better. Avec means WITH, and Sans Soda has PLENTY of natural flavor, bubbles and is all natural (right down to the natural caffeine in the cola). It doesn't taste like other soda's on the market, I think the flavors are a bit more subtle. Perhaps it's because I am so used to the artificial taste.  The biggest test was Mr. S. The fact that I keep seeing cans missing, is a huge testament to Sans Soda, since he's a very picky eater and drinker.
So, maybe I don't have to give up my precious soda now that I've found Avec Sans Soda.
The biggest surprise, was that I could have a DIET COLA (my favorite) sweetened with Truvia and enjoy the all natural drink without thinking how I shouldn't be drinking it. Mr. S loves flavored soda's so he made his way through ~
Orange – reminds me of a delicate orange juice with bubbles
Lemon Lime
Root Beer – totally FULL OF FLAVOR
Cola – my addiction
Black Cherry
You can purchase Sans Soda at the Whole Foods in Austin, TX right now, and  will be coming to the Southwestern states (Louisiana and Texas) next before coming to other Whole Foods stores. While you're waiting for them to arrive, you can order them online.
This is another product that's helping me with my Healthier Me! program this year. I'll get healthy yet!
For more about Sans Soda – follow them on Facebook and Twitter.
I received product to facilitate this review. All opinions are my own.