Personally, I never thought I'd see this, but times are bad for retailers. Saks 5th Avenue is NOW offering flash sales on it's SAKS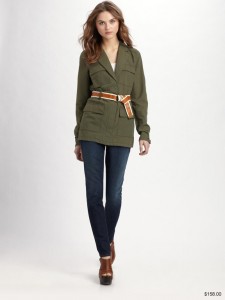 FASHIONfix site. Don't get me wrong, I LOVE it when Saks has a sale (especially on lingerie – my fave department in the iconic store).
Each day SAKS FASHIONfix offers a different sale beginning at noon (EST) at up to 70% off!
For example: TODAY'S Fashion Fix includes a gorgeous green E&J military jacket regularly $395…today it will be on sale for $158.
It's worth a check and I've already signed up. BTW, tomorrow (August 10th) they're having a designer shoe closet event and you KNOW I can't resist a shoe sale.