We've got another fabulous post by our travel reporter Kathy Leong! Thank you for taking one for the team Kathy 😉
One ocean. One glass of wine. One roaring fire on the terrace.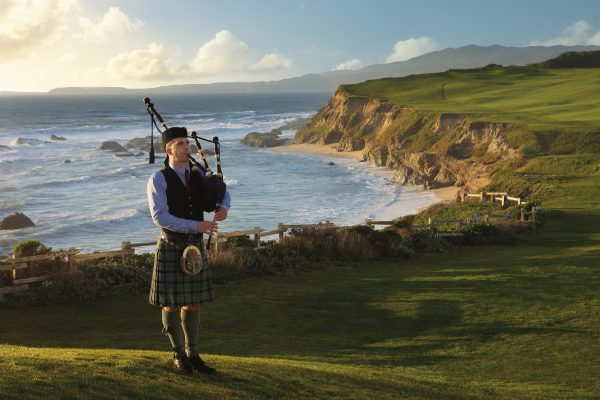 And, oh yes, one kilted bagpiper piping melodies on the cliffs. Welcome to the Ritz-Carlton – Half Moon Bay style.
It is the New Year.  On this cold and dreary day in early January, it is the perfect time to take advantage of the Cozy Coastal Package that includes the bagpiper, wine, fire terrace room, and a handwoven Nipomo-brand blanket to keep you toasty all weekend.
It's been a while since my husband, Frank, and I have visited, and now as I am older, I am savoring the experiences at the Ritz all the more.  Some things, like the tradition of its bagpiper who plays daily one hour before sunset, have remained; other things have changed.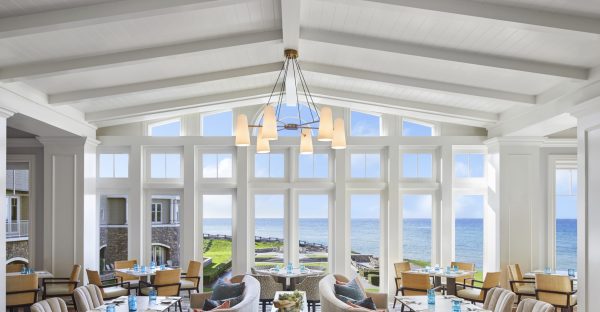 For now, dining reservations are required at the Conservatory, its casual dining restaurant.  Until restrictions lift, you cannot simply come in.  The Conservatory, the hotel's main restaurant open for breakfast, lunch, and dinner, has a new look. Gone is the fireplace that bisected the dining room and blocked ocean views. Renovated with up-to-date furnishings, the entire space gives you visual access to the cliff and wave action across a panorama of windows.  You take in the freedom of this vast oceanscape through your eye gate.
Also new is the chef de cuisine, Juan Pablo Dominguez, who arrives with more than ten years of kitchen cred from top resorts and restaurants in Dubai and Los Cabos. You can dine on elevated global cuisine where he now puts his stamp on Mexican, European, and Middle Eastern-inspired dishes.  We got to sample his wares and were fortunate to enjoy the bounty of this coveted seaside eatery.
At the Conservatory, it was very quiet on this particular Monday, the week after New Year's Day, and the skies were gray, but the mood was hopeful as we raised the curtain on 2022.  With a reservation ahead of time, we secured a coveted window table. Jessica our server attended to us with smiles under her mask and explained the menu in detail. Jesus, the attending wait staffer, whisked away any dirty utensils and swiftly removed used bread plates in an unobtrusive fashion.
Lunch included a fine filet of Tassal salmon with white bean ragout, so large I had leftovers. Frank ordered smoked tomato gnocchi.  The servers gifted us with slices of French bed and sea salt butter which was a nice touch.  Salad of cooked sliced Brussel sprouts was tasty and served over a bed of smooth hummus.  The pumpkin soup was served in a pumpkin-shaped, lidded tureen, and sweet with maple syrup and cream – so nourishing on a cold, wintery day.    The presentation on all dishes was a thumbs up. Portions were spot on.
Special on the beverage menu is a list of signature cocktails and mocktails sure to give you a lift either way.  These come with seasonal ingredients. Frank imbibed the Higgins Canyon, the apple cider/cinnamon concoction. I ordered the Three Rocks Sunset, a lemonade with grapefruit, and a sweet and sour rim.
And if you want to try something new to the menu, book its new farm-to-table tea service just now offered on weekends. The items include as many local ingredients as possible such as honey, a locally-crafted chocolate-flavored tea, and more.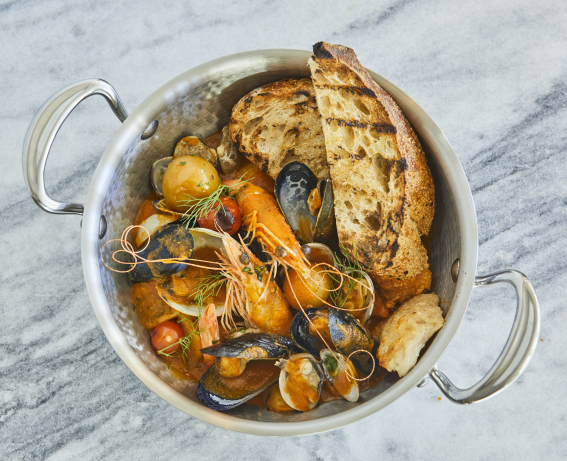 NAVIO
Going to the Ritz is as exciting as attending a grand ball; because of its opulence, stepping within its hallowed walls is always a special occasion. In Northern Calif. there are only three such properties. The other two are in San Francisco and Lake Tahoe.  Here in Half Moon Bay, you can come to the Navio, a luxury restaurant that means "ship" in Spanish.  And to that theme, the wood barrel ceiling of this exclusive restaurant resembles the hull of a cruise ship.  The white tablecloths and windows and furnishings and décor remind you of being inside an elegant ocean liner.
The other relatively new chef is Francisco Simon who came directly from Barcelona, Spain, in 2020 with a passion for seafood cuisine.  Essential to Navio's key principles is the rule to purchase sustainable and local fish and crustaceans as often as feasible.  Navio has recently pared down its dinner menu so a multicourse tasting menu for $195.  The 3-course is $135, not including wine.  According to the resort's executive chef Jakob Esko, the arise of COVID made them rethink how to best serve customers with limited staff.
Paring down the menu meant that they could focus on the Prix fix courses and also change them seasonally.  None of the regular guests have complained so far, he says.
We chose the 3-course menu to make sure that we could be able to savor every bit of our dishes without getting over-full.   It was a symphony of feasting.  My opening entrees included: ahi tuna and caviar with a sauce drizzle, and then a Liberty duck breast with shaved green beans.   Frank began with the same opener and followed up with a pair of beef medallions cooked medium rare with a side of leek vegetables.
The symphony ended with an elaborate crescendo: for me, a pumpkin mouse that was deconstructed with little cranberry gelee dots, amid chocolate trees, two found crispy pumpkin mousse balls, and a ball of raspberry sorbet. The little crumbs resembled the forest floor. Scattered pomegranate seeds yielded a just-right, tart crunch.  Frank's sweet tooth was amply rewarded with the chocolate pinecone.  The dark chocolate crust that resembled a true pinecone was filled with a chocolate mousse that was so delectable he had a hard time sharing with me. That cad!
Dining here is a gift of relaxation and a treat for the senses.  While I thought our 5:15 p.m. reservation was too early, it turned out ideal because the sun was setting just at that time, and we could see the nightfall curtain come to close our day.
There is a new approach to Sunday brunch.  Now priced at $199, the all-you-can-eat style means now that you can select from a menu and the individual dishes are brought to your table. No more walking up and down to the buffet table. Each of your items comes piping hot, and you still can eat to your fill and get repeated dishes.  According to the staff, brunch is still as popular as ever.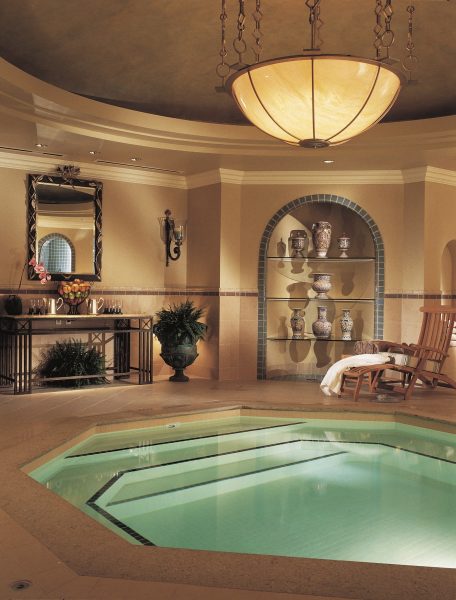 SPA
If you come to this coastal resort, do book a spa day while you are here. We indulged in a couples massage and enjoyed the amenities ahead of time. The spa, upgraded a few years ago, still features a men's and women's whirlpool surrounded by rinsing showers. Private whirlpools in each of the locker rooms are also available.  The serene surroundings of the lounge include fresh fruit, water, and tea, and you can enjoy a fireplace, and relax on the couches in a quiet atmosphere with classical tunes in the background.  The grooming area features large mirrors, hair and face products, combs and brushes, and hair dryers to make sure you leave refreshed and put together.
Our masseuses Taya and Sharon both gave it their all when it came to unwinding our knots like expert fishermen untangling big ropes.  Over the course of coming here since it opened 20 years ago, I have always had an excellent massage with gracious therapists.  Dim rooms, a clean setting, and comfortable massage tables heated to our comfort level made our 50-minute experience top grade.  The spa takes advantage of its coastal location and Half Moon Bay's pumpkin farm popularity.  The pumpkin facial and the lavender treatment are now on my spa bucket list.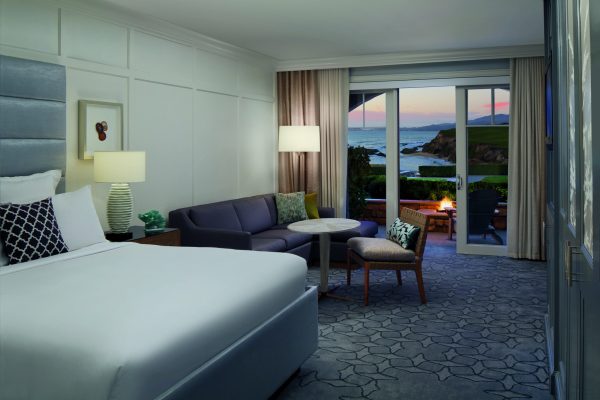 ROOM
Back at our room, Frank took time to rest and nap.  I took in the design details: the terrarium of succulents, a coastal seashore wall hanging, white Ritz-Carlton slippers and matching robes,  a carpet of gray and sea blue hues,  king bed with white snowy linens, and a coordinating cushioned silver-gray headboard. The white ceiling molding and the inset TV, the sconce lights, and the sideboard for special occasion treats and truffles are one indication that the Ritz is truly "The Ritz."  At night we lit the fire with the flip of the switch after an amazing dinner at Navio.
I wish there was time to take a soak in the sunken tub, but the luxury of using the separate marble tiled shower and Parisian bath products made me happy enough. Note that Room 119 is large, and you have the opportunity to experience a bathroom so big it could be an entire bedroom itself. It features a separate toilet area, shower, and a large mirror and dressing space.  So big, so comfortable, so spanking clean and regal.
If you feel like you've eaten too much, note that there are a variety of ways to torch calories.
Your resort fee covers the nearby tennis courts, rental bikes, indoor pool. The resort was built around the public Half Moon Bay golf course, so the concierge can book tee times for you.  Hiking is right outside the resort, and you can tackle the flat coastal hike or venture out to the beach for adventure.
SERVICE
Superior service is the other reason why you would come to the Ritz. Need to drop off your car? The valet attendant will park it for you and bring it to you. Before you depart he will put your bags in the trunk and also offer you a bottle of water.
Lobby check-in attendants welcome you and will greet you by name after you check-in.  You get a glass of white or red wine.  Need to come early or stay a little later?  They try to accommodate you as much as possible.
At the Conservatory, you are greeted by the hostess like a long-lost friend, so it is worth the visit to just come for breakfast or a cup of coffee and sit by the window.
At the spa, the spa attendant was assigned just to us, and I felt very comfortable asking for help with the locker and to get some aspirin. She was super quick to respond.
If you are feeling the strain or heaviness of the world or have had too much on your emotional place this past year, save your pennies and book the Coastal Cozy package at the Ritz or any room at the Ritz or any meal at the Ritz, believe me, you will never ever be sorry.