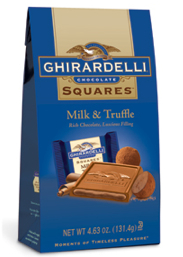 In a couple of weeks I'll be heading to San Francisco along with a group of bloggers as a guest of Disney and Pixar (Pixar Studios is located in the San Francisco area). I've begun to think about my wardrobe of course, but I've been preparing in other ways as well.
I figure that eating some yummy new Milk & Truffle GHIRARDELLI SQUARES chocolates is the best way to prepare. To me nothing says San Francisco more than streetcars, Fisherman's Wharf and Ghirardelli. They're so darn good, that after enjoying the bag that was sent to me from SheSpeaks, I used the coupons that they sent and bought more (which means that nothing's going to fit, so I'll have to BUY new clothes for my trip).
I love the creamy chocolate and if you haven't tried these truffle filled chocolates (and if you love truffles) you're in for a treat of MAJOR proportions. They may taste expensive, but the reality is that these chocolates can be bought at your neighborhood grocery store. What a great way to treat yourself. As a bonafide choc-a-holic I highly recommend these.
I received product from SheSpeaks to facilitate this review. All opinions are strictly my own.