A big thank you to our West Coast Travel Writer Kathy Chin Leong for checking out the Park James Hotel for us.
Silicon Valley, California is the high-tech hotbed of the world. Curious globetrotters cannot wait to snap selfies in front of Google, Netflix, Facebook, and Apple.  And where to lodge when you come?  Next time, test drive the Park James Hotel, based in Menlo Park, also known as the neighborhood where many a venture capitalist lives, eats, and plays.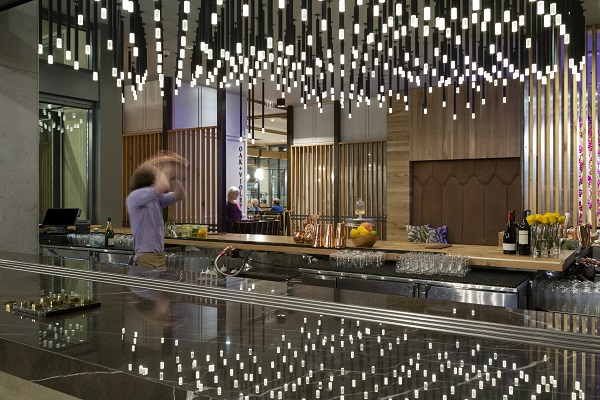 Summer is the best time to come to this 61-room boutique hotel which now offers a new patio wine bar, a new chef, and new drool-worthy entrees at its signature restaurant Oak + Violet. On weekends, live music is available in its gorgeous fire-pitted patio with heat lamps throughout.
The four-story boutique hotel was erected about two years ago,  replacing a gas station, and it is within walking distance to the quaint downtown Menlo Park on Santa Cruz Avenue, filled with restaurants, boutiques, bakeries, and galleries.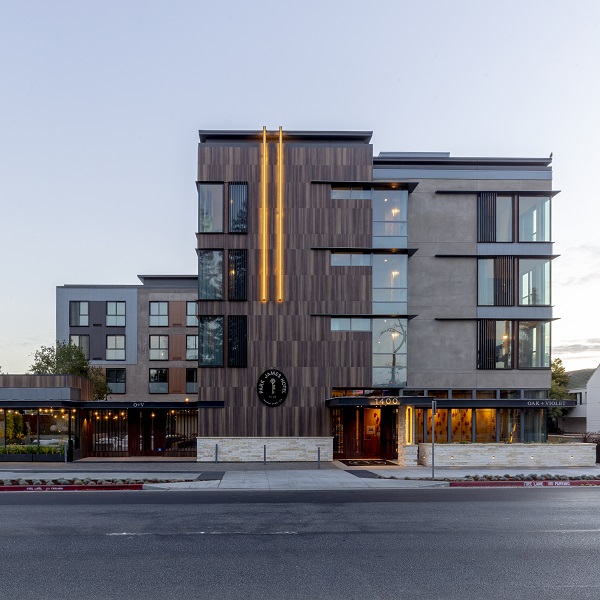 COVID-FRIENDLY
In case you are worried about Covid and its nasty germs, you can rest assured that the hotel has taken several precautionary measures. Each guest room features individual HVAC units.  This means that visitors never share oxygen through the vents of another guest room. Fortunately, each unit comes with a sliding glass door for fresh air. In addition, the rooms are each sanitized with hospital-grade cleansers after each guest's stay.  Rooms are not interrupted by housekeeping during your booking so as to keep strangers apart from one another as much as possible.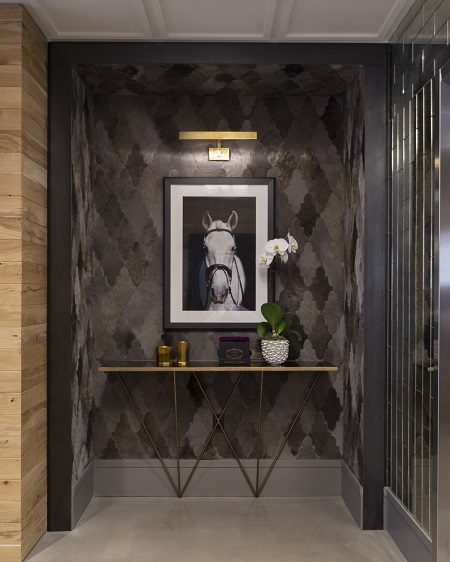 DESIGN CUES
What type of place is this luxury dwelling? The Park James is intended as a nod to the city's Irish history, after Dennis James Oliver, one of the ranchers who gave Menlo Park its name, notes Jeff Pollock, co-owner and senior vice president of the Pollock Financial Group. That said, there are images of horses around the premises which now makes a lot of sense.  The hotel moniker is also an homage to his father, James Moore Pollock, who has developed over 80 real estate projects, mostly in the Bay Area.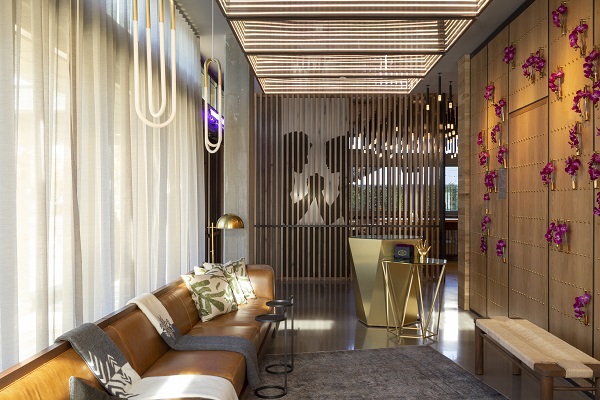 The San Francisco design firm, Parissa O'Connell Interior Design, has created a space that merges the indoors and outdoors as evidenced by sliding glass walls between the dining areas and the patios.  A light installation that consists of a ceiling vista of drop down light rods near the entrance is a cheerful show-stopper.In the lobby on the right, a floor-to-ceiling wall of light wood, studded in a graphic array of little gold-colored disks steals your gaze.  Small test tubes slung with thin leather straps, hang on the disks.  These are filled with fresh orchid blossoms.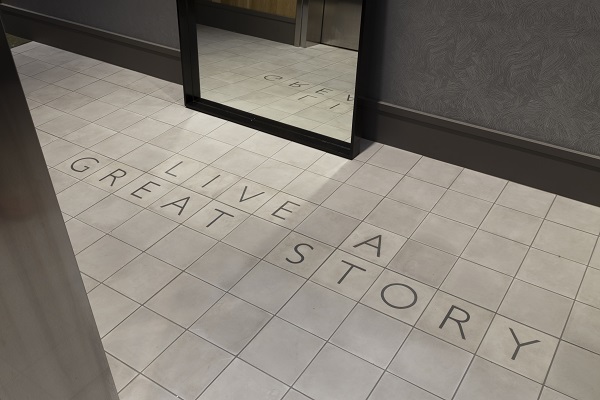 And other visual surprises await such as cheeky signage. On one wall, a light-up marquee reads: "A Safe Home at The Park James." Above the main door, "No Strangers Here, only New Friends" is lit in neon.
Furnishings run masculine modern. In the bedrooms are vintage-inspired standing gray armoires featuring leather strap handles.  The beds, covered with ubiquitous modern white linens, tout a wide brown leather tufted headboards that run the length of the wall with side reading lights attached to each side. Thick gray and white Irish wool blankets are embroidered with the initials "PJ" that are folded delicately and draped at the foot of every bed.  Also comfy are the hotel slippers and robes.
Cute bedside tables, made of deep woods, have a single drawer accented by a leather tab pull.
Also making this boutique hotel distinct is the coffee service on the pullout slider under the desk that featured a special glass carafe, a dripper, and coffee grounds from Ritual Coffee Roasters of San Francisco.
WORKCATION IS POSSIBLE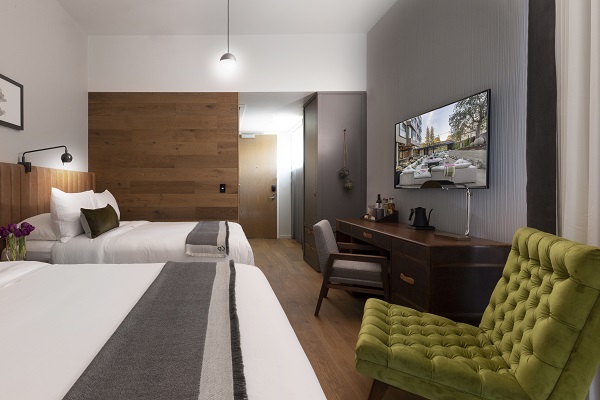 At Park James, getting work done on your vacation is easy to do. A lengthy desktop and sturdy work chair with Wi-Fi plugs is ample for what you need.  The ideal work package here is designed for one person, and two people may find it hard to share a desktop or a room, especially if you are doing Zoom.
Useful is the small refrigerator to store snacks and drinks because, as you know, snacking and hydrating are essential when you toil.
The hotel partners with a host of massage therapists, so I was able to sneak in a massage on the premises. The hotel dedicates a room for indoor massage and space outside as well.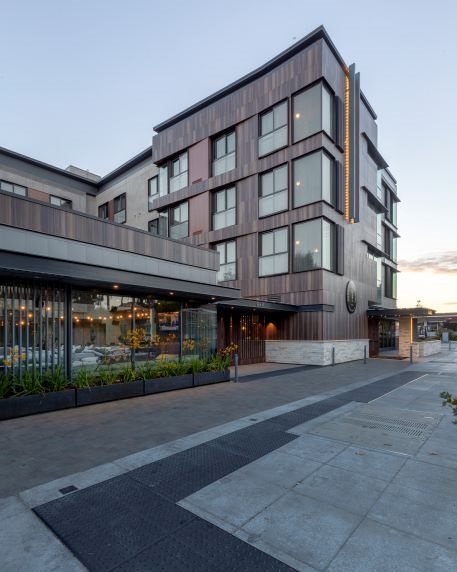 While there is no swimming pool on this street-side property, this urban retreat will offer you more than you will need during your stay.  The Park James, with its luxurious décor, fantastic outdoor space, and delicious restaurant fare, plus its new outdoor patio for wine and cocktails will make it a perfect Silicon Valley getaway.
To book or for more information visit:

Park James Hotel 

1400 El Camino Real, Menlo Park, CA 94025