The years between childhood and becoming an adult can be awkward. Too much time spent with adults, friends who grew up and away, and most of all trying to come into our own when we're caught between being the obedient child and a grown up. Ben & I screened Fox Searchlight's newest coming of age flick The Way Way Back this week. On the drive home we talked about our different stories. He as my adult child dealing with family (ME), and me as a child of the 60's who wanted desperately to be cool.
The Way Way Back is set in the vacation town of Wareham, MA, a 45 minute drive from where I raised Ben. While we spent most summers in Newport when Ben was young, we did take him to Water Wizz a few times, although Ben seems to recall our winter ski weekends much more vividly than our summers….
BEN

I remember being a reclusive teenager (more time has passed than I care to think about, as I still feel so young at 30).  I honestly don't remember all too much about those years (I blame college).  I do remember every winter being picked up from school an hour or two early each Friday so we could beat the traffic to the great white north.  Being stuck in the back seat of that car was living hell.
It was impossible to get comfortable in the back seat with a 100 lb. Old English Sheepdog.  Just when I would start to get comfortable I would get stepped on in the hand, thigh, or privates.  This would happen every 10-15 minutes.  To counteract the situation I would open the window so the dog would stick his head out of the window.  This would always end in disaster, as either I would freeze myself out or someone else in the car would get aggravated and close the window and I would continue to get stepped on.
The other great peril of car rides was over the control of the radio/stereo.  This was brutal.  This fight sometimes ending in the pulling over of the car and screaming at each other (by coincidences this usually happened around when report cards came out). I'd say this was the most common of all our fights growing up.  Because of my father, by the time I was 13 I knew all of the songs from Les Miserables.  What 13 year old with green hair knows all of Les Mis?  This one.  I hated the fact that I knew it; and still do to this day (it's just not manly when you can break out into "On My Own").  I just wanted to listen to The Clash (because 13 year olds where I'm from understand The Clash).  My father didn't like my music at all, which led to me picking up guitar (well…this and trying to score my first kiss).  Every car ride was like this!  It was traumatic.
This happened almost every weekend of winter until I was in my late teens.  I would eventually get my music played or find a happy medium in Elvis Costello or Bob Dylan, but by then I didn't have green hair.
Zippy
After reading that I feel like a terrible mother, especially since my issues were more about not fitting in anywhere, with the exception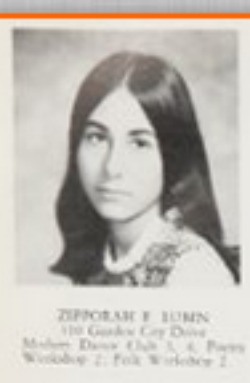 of home. My parents were both frustrated artists, so while we had rules, I knew that I could break them. My awkwardness was with friends, the need to be different and the isolation that I felt because of it.
Summer was the only time when I felt good in my own skin. 
1969, Narragansett, RI, it was another summer in the cramped beach house. My parents, my brother and I along with 3 cousins and my aunt…all in a 2 bedroom cottage with a loft that my cousin Suzie and I had claimed as our room (a ladder leading up to the attic). It was a true beach house, with no air conditioning, no heat (other than the gas stove that we cooked on), and a BIG porch where the families and neighbors all gathered. We were just steps from the "strip" and the beach. The "strip" is now a mass of luxury condos and gourmet shops, but back then it was a few bars, a sandwich shop, a pinball arcade, BANGO (a bingo arcade) and a "head" shop. It may have been a bit run down, but it was ALWAYS exciting. It was still the 60's and hippie beads, long hair, and other unmentionables flowed freely.
My best friends Anne & Audrey and I couldn't have been more different. Anne spent her days brushing her long blonde hair, Audrey was a stunner (who knew it), and I was the hippie chick. We had grown up summer neighbors and had been friends from June – August for YEARS.
Of course there were also the 'Gansett regulars, a combination of hippies, surfers, and city people like me who all seemed to mesh as we talked politics, free love, and "the man." I was 15, but felt so much older. My friends ranged from teens like me to those in their 20's. Age didn't matter, peace, love and friendship was MUCH  more important.
Late that summer Funkie Freddie (the only name I've ever known him as) talked about going to a music festival in NY. Freddie has somehow procured a VW bus (pretty beat up) that looked like it wouldn't make it around the block. As we sat in the window of the pinball arcade, drinking soda and watching the weekly vacationers walk by, I schemed about how I was going to go with them without telling my parents. Audrey & Anne stared at me in disbelief as they were surrounded by the vacationing boys from out of town.
My plan was to sneak out after everyone went to bed that night. After a day of doing ABSOLUTELY NOTHING (isn't that what summer is for), we all went home for dinner (rebellion aside, we HAD to eat). My head was spinning, I was going on a road trip with the COOL kids. I went up to my room where Suzie was sneaking Peyton Place under the sheets with a flashlight, grabbed a few things, put them into my Emporium India bag, and went to shimmy down the porch roof (my usual escape).
Standing just below….my dad, Anne's mom and Audrey's mom. My "friends" had foiled my plans, telling their mom's how I was planning to sneak out to go with my "hippie friends" to some HIPPIE festival.
As you'd expect, I was grounded (so much for the rebel in me), and yes, the "hippie fest" was Woodstock (I HONESTLY had NO IDEA what it was at the time, I just wanted to be cool). Three days later Funky Freddie and the rest of my friends who had packed into the VW bus were back. The car had broken down, and they had NO money to have it fixed. They had never made it to Woodstock. I only gave up ONE night, while it took them days to get back.
Summer's can't ALWAYS be perfect, but looking back I made some great memories. It took me until after high school to feel comfortable being who I was, and I still remember my summer friends with a sense of joy.
Why did Ben & I write about these memories?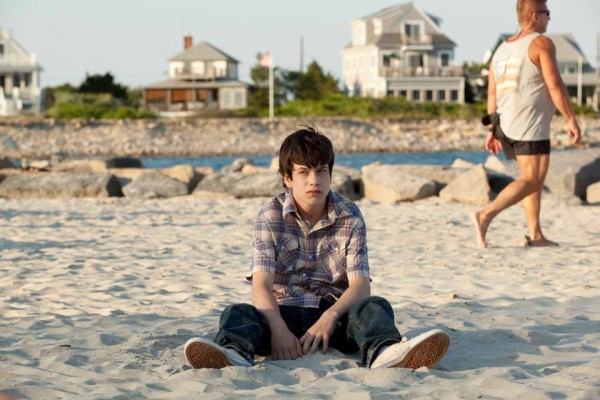 Fox Searchlight Pictures sponsored this post, asking us to pre-screen the movie and write about the memories that the movie brought up. It was probably one of the best movies I've seen in a long, long time, and I URGE you to see it, I guarantee that it will have you thinking of your own teen years.
THE WAY, WAY BACK is the funny and poignant coming of age story of 14-year-old Duncan's (Liam James) summer vacation with his mother, Pam (Toni Collette), her overbearing boyfriend, Trent (Steve Carell), and his daughter, Steph (Zoe Levin).  Having a rough time fitting in, the introverted Duncan finds an unexpected friend in gregarious Owen (Sam Rockwell), manager of the Water Wizz water park. Through his funny, clandestine friendship with Owen, Duncan slowly opens up to and begins to finally find his place in the world – all during a summer he will never forget.
In Select Theaters July 5
This post has been sponsored by Fox Searchlight Pictures. All opinions and memories are strictly our own.