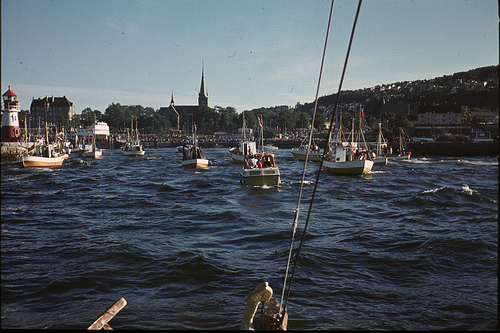 The goal is not to sail the boat, but rather to help the boat sail herself.
– John Rousmaniere
I could never live far from the ocean. I was born and brought up in Rhode Island (the Ocean State), lived in France for a short while and came back to be near the ocean once again. Upon retiring I headed down to the Southeast of Florida to again be near the ocean. I've owned everything from a 25′ O'Day sailboat to an open Four Winns. When you live on the ocean, boating is just a part of life.
Luckily, I get the opportunity to be on the water year round. Ben loves to fish, Mr. S is amazing when it comes to sailing (he's won some regatta's in his time) and I'm not bad at cutting through the wake (both power and sail). With the holidays on their way, and vacations just around the corner, I'm sure that there are LOTS of you who's love of boating and angling will take you on vacation to the warm weather for JUST THAT.
The interesting thing about fishing is that once you have your equipment, it costs very little…but the memories and family time that you get are priceless. Plus when you buy your fishing license or boating registration, equipment or boat fuel, a portion of the proceeds goes towards water conservation efforts. It's like giving back at the same time!
Have you ever dined on FRESHLY CAUGHT FISH? It's AMAZING. I remember when the guys would go out fishing and we'd make a fire on the beach and cook whatever the catch of the day was and listen to the waves, while we dined on natures bounty (of course, there'd be a bottle of Pinot Grigio to go along with it, to make it perfect).
Whether you're an old fisherperson, your significant other is, or it's on your bucket list there are some things to remember.
Fishing rod – Make sure your rod is right for the water you'll be fishing in. Saltwater requires chrome or stainless steel rods.
Bobber – When this object bobs, a fish has bitten your hook.
Sinkers – These fishing weights keep your bait from floating on the surface. Tie 6 – 12 inches above your hook.
Bait – Worms and other live bait are best for rookies. Plus THEY'RE FUN TO FIND (don't forget to dangle in front of a squeamish friend)
Tackle box – Use this to keep your equipment organized (also great for keeping makeup in – just not at the same time)
Fishing line – Any clear line should work, but a 6-lb test line is best
Life vest – When you're on the boat this is REQUIRED. We never left the dock without everyone having one on.
Hook – A simple hook is perfect for beginners
Take the Pledge – And HOOK others on fishing.
You know, Ben has been here for 2 months now and he's so excited to buy himself all new equipment (he left his up in RI). We've made plans to go to Bass Pro Shop in Dania Beach and shop!  The reality is that I'm looking forward to relaxing on the water, leisurely fishing and enjoying dinner either on the boat or the beach like we used to, because it's an activity that ALL of us enjoy.
Love fishing and being on the water? Why not take the Angler's Pledge and share your love of fishing with at least one new person each year at TakeMeFishing.org.
See you out on the open water!

Photo courtesy of MagneG