I admit it. When it comes to CERTAIN things I'm a snob. My NUMBER ONE SNOBBY obsession is COFFEE. Sorry, but I don't drink dishwater-weak-canned-unfiltered-tasteless coffee. Having worked in the coffee business (after having owned restaurants in both Providence and Newport, RI), I developed a palate for GOOD COFFEE. Much like fine wine, a good coffee can be described by both aroma and flavor. I can tell you whether a coffee was grown in the sun or shade, I know if it came from Kenya or Sumatra. When describing a coffee as tasting like DIRT – it's a GOOD thing and not an insult.
Still – while I've never tasted Kopi Lewak (and at $100 a cup, probably never will), I do know a great cup of coffee…be it espresso or drip.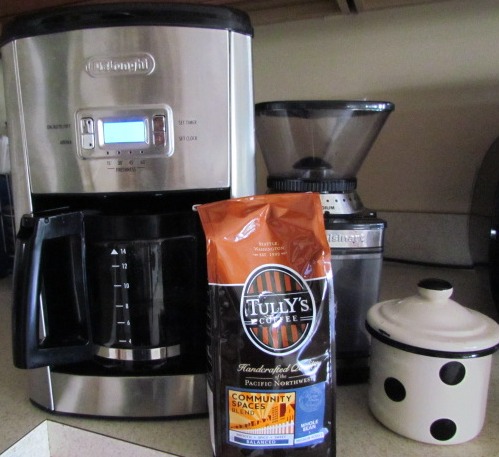 When a company like Tully's comes out with a limited edition blend…I'm ALL OVER IT. When they partner with a charity like the Pomegranate Center to help people create gathering centers in their own communities – they've stolen my heart (and my tastebuds). Tully's Community Spaces Blend is a well balanced coffee that offers a balanced blend of beans that are perfect for those seeking something medium roasted. It's not too rich, too acidic or too bright – just right for any time of day.
Want to make the PERFECT cup of coffee? It's EASY
Start with a great coffee like Tully's Community Spaces Blend or for breakfast their House Blend
Always keep your coffee in an airtight container – NEVER in the refrigerator (where it can take on moisture)
Grind the beans JUST before brewing, so that the wonderful oils that are brought out in roasting are still in the coffee when you brew
Proper grind is KEY – learn the grind that's BEST for your coffee maker (drip, french press, etc.)
Use purified or filtered water – you'd be surprised at how tap water can change the flavor (since brewed coffee is 99% water)
Add 1-2 TBLS. for each 6 oz of coffee
Coffee should be brewed at 195 – 205 degrees to extract the best flavor from the beans
Toss what's left in the pot after 20 minutes – there's nothing worse than stale coffee
Make sure that your coffee maker brews coffee that's HOT ENOUGH
Enjoy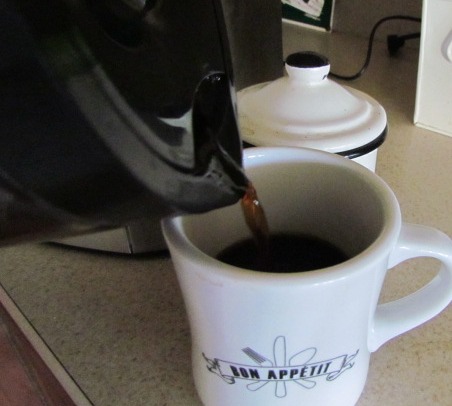 For me, the Tully's Community Spaces Blend, much like their House Blend is the perfect way to START my day….with a blast of flavor.
The Community Spaces Connection
This summer, Tully's is rallying community members across the country to share the unique places and stories that make their community special through the Taste of Community contest.  One community will be awarded a 2012 grant valued at up to $100,000 in services and equipment from Pomegranate Center, funded by Tully's, to plan, design and build a social gathering place.
Between now and August 31, 2011, you can visit Tully's Facebook page  to enter the contest by submitting a short essay and photo about what makes your community special and how a gathering place would help transform your community. A judging panel, including representatives from Tully's and Pomegranate Center, will review each entry based on:
Creativity, originality and thoughtfulness
Benefit to entire neighborhood/community (not just a segment or affinity group), and
Need for a new community gathering place.
Ten contest finalists will receive a Keurig® Brewer and supply of Tully's K-Cup® portion packs. In addition, Tully's is giving the first 500 Taste of Community contest entrants two free bags of coffee, including a bag of Tully's Community Spaces Blend, a limited edition offering.  A tribute to roasting expertise, this blend perfectly melds nutty citrus and spice flavors in a rich, full cup.  Bags of Community Spaces Blend will also be distributed among volunteers from the grant project communities.
For more information
Check out Tully's website for a $1.00 off coupon!
I received product to facilitate this post. All opinions are strictly  my own.
GIVEAWAY
Extra Entries
* Tweet me @zipporahs and tell me about how YOU enjoy your coffee.
* Comment below
* Subscribe to Champagne Living, "Join the Clique", follow me on facebook or twitter – all found on the sidebar (each counts for 1 extra entry)
* Tell your peeps on your blog, facebook page or twitter about this or any post (each counts for 1 extra entry) and link to us.
* This giveaway is open to US residents, 18 and over and ends on September 3, 2011
* Good Luck