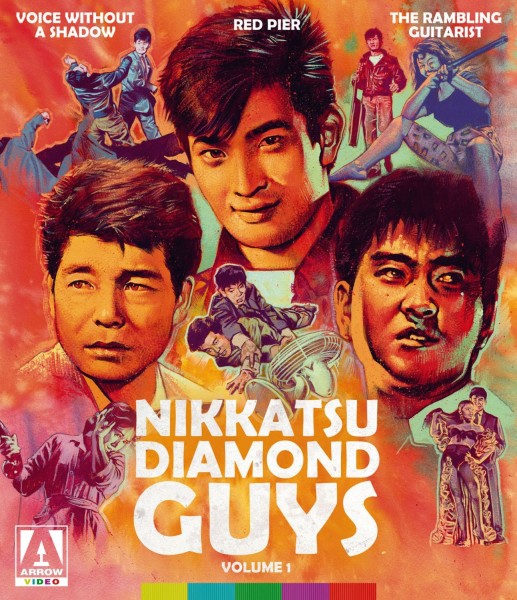 Nikkatsu, the oldest film studio in Japan, inaugurated a star system in the late 1950s, finding talent and contracting to their Diamond Line for a series of wild genre pictures. This collection celebrates these "Diamond Guys" with three classic films from directors Seijun Suzuki (Branded to Kill), Toshio Masuda (Rusty Knife) and Buichi Saito (Lone Wolf and Cub: Baby Cart in Peril). I love some of their work such as Lone Wolf and Cub and Branded to Kill.  I was very excited to check all three of these films out.  This set is a film geeks paradise.
Time for each synopsis
Voice Without a Shadow 
Three years ago, she accidentally heard the voice of a suspect who committed a still-unresolved homicide. Since then, the suspect's voice has remained lodged in her mind as a terrifying memory. One night, her husband invites over his colleagues, Kawai, Hamazaki, and Muraoka. She realizes that Hamazaki's voice sounds exactly the same as the unseen suspect's!
Red Pier 
50s subculture icon Yujiro Ishihara (Crazed Fruit) stars in Masuda's Red Pier as "Jiro the Lefty", a killer with a natural talent. Shortly after arriving in Kobe, he witnesses a man die in a crane accident which turns out to be a cover-up for a murder. Jiro soon finds himself on the run, tailed by a determined cop…
The Rambling Guitarist
Mega star Akira Koabyashi (Battles Without Honour and Humanity) stars as wandering street musician Shinji, who falls in with mob boss Akitsu after saving one of his henchmen in a bar fight. Tasked by Akitsu with evicting an offshore fishery, Shinji finds himself in the middle of a very unusual domestic dispute…
What I Thought
Voice without a Shadow is a solid early Noir.  The film felt much like some of the Italian films that came a few years later.  There are point where it lags quite a bit but it is still a very good movie especially the direction of the film.  The composition of every frame is well thought out.  Many of the performance are tremendous.  Solid film
Red Pier was my least favorite of the bunch.  A solid murder mystery that deviates into a romantic melodrama. Again the actual cinematography is the real highlight here.  Some fantastic composition and use of shadows in the Japanese underworld are great.  The soundtrack is also worth a listen here.
The Rambling Guitarist is the most fun of the bunch.  It was obviously inspired by some of the old Elvis films.  This film kicks on all cylinders, its shot well, paced well and just easy to watch.  Also this is the only film in the set to be shot in color and it take full advantage of it.
The BD video area all great and as is the sound.
Bonus Materials
High Definition digital transfers of all three films, from original film elements by Nikkatsu Corporation
High Definition Blu-ray (1080p) and Standard Definition DVD presentation
Original uncompressed mono audio
Newly translated English subtitles
Specially recorded video discussions with Japanese cinema expert Jasper Sharp on Diamond Guys Hideaki Nitani and Yujiro Ishihara
Original trailers for all three films and trailer preview for Diamond Guys Vol. 2
Extensive promotional image galleries for all three films
Reversible sleeve featuring original and newly commissioned artwork by Graham Humphreys
Booklet featuring new essays on all three films and director profiles by Stuart Galbraith, Tom Mes and Mark Schilling
In Conclusion
This is a solid set for any film geek.  All the films have their merits some are easier to manage than others. The audio and video qualities are great. The star of all of the films is the cinematography.  All three films are putting on a noir clinic.  I'm sure ill break all of these from time to time when I have a real geeky friend over.


Nikkatsu Diamond Guys: Vol. 1 (3-Disc Special Edition) [Blu-ray + DVD]
 is available on Amazon.com & specialty Blu-Ray retailers