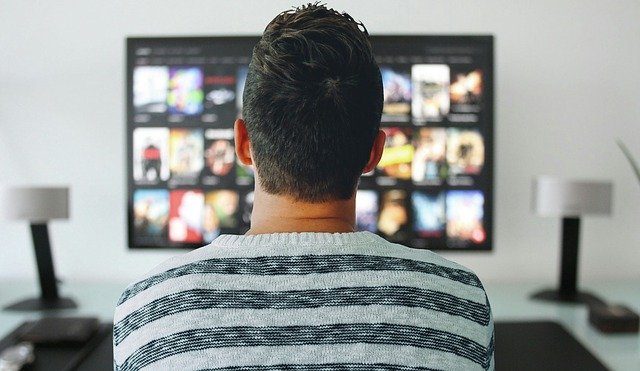 From a new series of Stranger Things, Orange Is the New Black and The Crown to new shows like The Witcher, Dating Around and Our Plant, 2019 has been a blockbuster year for Netflix viewers. If you're already a fan of the streaming service, you won't want to miss what's coming in 2020, which is set to be one of the company's most entertaining years yet.
With so many new episodes and shows to look forward to, you'll be have a hard time deciding what to watch first. Whether you watch back-to-back seasons with unlimited data at home, save your favorite episodes for your Pay as you go SIM or make your commute fly by with the latest releases, you'll be impressed with the line-up Netflix has to offer this coming year.
I know that I get overwhelmed when trying to decide, so I'm breaking down for you the must-see shows coming to Netflix in the new year…
The Outsider
If you've read The Outsider by Stephen King, you'll have an idea of what's to come in this dark thriller. The perfect show to binge-watch, you'll be unable to resist the next episode, but you'll be sleeping with the lights on for days after watching it. 
Premiering on 12th January, you'll have just enough time to get over the holiday festivities before you immerse yourself in the inimitable world of Mr.King. As you might expect, this tale of murder, intrigue and supernatural phenomenon isn't for the fainthearted, but it is set to be one of the best things you'll see on tv in 2020. 
Locke & Key
Based on the graphic novel by Gabriel Rodriguez and Joe Hill, Locke & Key follows three siblings who move into a new home following the death of their father. What they don't expect, however, is the reality-bending keys which give them a range of exceptional powers.
If that isn't enough to whet your appetite, the tale gets even meatier as the siblings are forced to take on a cunning demon who will stop at nothing to get hold of the ever-powerful keys. 
Having been piloted for Fox way back in 2011 and Hulu in 2017, fans of the graphic novel has waited a long time for Locke & Key to hit the small screen. However, you won't have to wait too much longer as it launches on Netflix on 7 February 2020. 
Grace and Frankie, Season 6
Already the longest-running original series on Netflix, you can look forward to penultimate installment of Grace and Frankie in January 2020. When two husbands announce their love for each other, their wives are brought together in the unlikeliest of circumstances. Season 6 kicks off with a surprise that will keep diehard fans on the edge of their seats, so it's time to catch up if you haven't already. 
Season 6 is released on 15 January 2020 and the series stars screen legends Lily Tomlin and Jane Fonda; need we say more?
AJ and the Queen
If you enjoyed the latest series of Ru Paul's Drag Race, AJ and the Queen is one to look out for. Starring Ru Paul as a down-on-her-luck drag queen, this quirky comedy will keep you laughing and may even bring a tear to your eye. After being robbed, Ruby Red sets off to drive across America, only to find a sidekick in 10-year-old AJ, who's stowed away in her van. 
Co-created by Michael Patrick King, who was the director, writer,and producer behind SATC, you're in for a treat. Launching on 10th January, AJ and the Queen is a feel-good series you'll watch again and again. 
The Messiah
Starring Michelle Monaghan, The Messiah is a contemporary geopolitical drama, which is full of suspense and intrigue. When an unknown man is hailed as a 'miracle-worker', CIA agent Eva Geller sets out to find the truth. Kicking off on 1st January, you'll be unable to resist the lure of this must-see series. 
The Ranch, Part 8
If you've seen seasons 1-3B, or parts 1-7, you won't want to miss the series finale to The Ranch. Starring Ashton Kutcher, Debra Winger, Danny Masterson, Sam Elliott, and Elisha Cuthbert, the series is set in fictional Garrison, a small town in Colorado.
A sitcom focusing on a dysfunctional family may not be breaking the mold, but The Ranch hits the mark every time. With 10 episodes to look forward to, you can see how the Bennett clan wrap thing up from 24th January onwards.
To All the Boys: P.S. I Still Love You 
Based on the book, P.S. I Still Love You, by Jenny Han and a follow up to the book and film, To All The Boys I Loved Before, this small-screen adaptation is set to be a big hit. Aimed at a young adult audience, the book spent weeks as a bestseller and the series is set to be one of the most popular shows on Netflix. 
Featuring Lana Condor, Noah Centineo, Anna Cathcart and Janel Parrish, it's released just in time for Valentine's Day on 12th February 2020. 
Behind Her Eyes
When a single mother begins a relationship with her married boss, a twisted psychological drama follows. Based on the bestselling book of the same name, Simone Brown, Tom Bateman,and Eve Hewson star in this much-awaited tv adaptation. 
Prepare for twists and turns as this edge-of-your-seat thriller keeps you guessing to the end. While it doesn't have a firm release date yet, it's due to be launched some time in 2020. 
Catch your favorite shows in 2020
With on-demand availability, streaming has quickly become the most popular way to view your favorite shows. Whether you're on the lookout for an original new series, you can't wait for the latest series of your favorite comedy or you're chilling out to reruns of all-time classics, Netflix will keep you busy throughout 2020. 
From award-winning movies and stellar tv shows to cult classics and kid-friendly animations, it's time to renew your subscription, stream your data and book your place on the couch for an entertainment-packed new year. 
What are YOUR favorite Netflix shows? I'd love to add them to my must-see list for 2020.