This post was sponsored by Fresh From Florida as part of an Influencer Activation for Influence Central, however all opinions expressed are my own.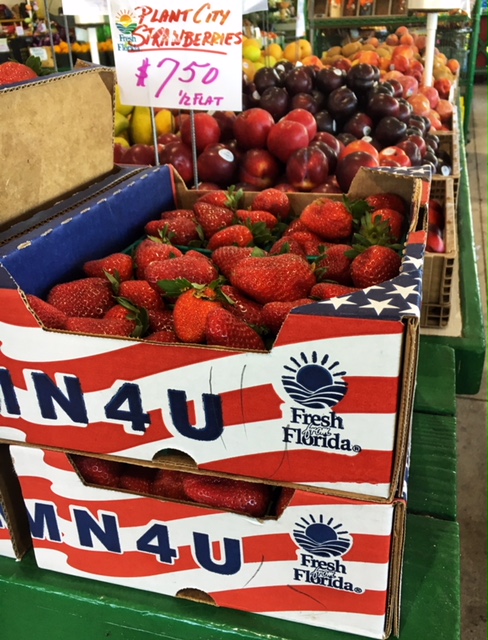 You can smell them as you walk by
You see the trucks stopped on the side of the road selling flats of them
You want to go celebrate at the festival dedicated JUST to them
You actually break out the baking sheet
What can do ALL of this each winter? Fresh from Florida STRAWBERRIES
It's Fresh from Florida strawberry season here in Florida, and we have pretty much dedicated our breakfasts and desserts to the sweet, plump, red fruit that fill our senses with delight. Florida is the winter strawberry capital, producing 300 million pounds of my favorite treat. They are traditional house gifts this time of year (my sister in law picked up a flat of Plant City Strawberries for us to share just a couple of weeks ago).
Why are these so much better?
Eating local means that we are getting the freshest fruits and vegetables each season. Not only are local foods from our Florida farmers delicious, but because there is less time getting from the farmer to your table the nutritional value is never compromised. For those of us living in Florida, where growing is a year round event, it means that we can have the freshest, best tasting, nutritionally packed foods by choosing those marked with the Fresh From Florida seal.
In Season Fresh From Florida this winter are:
Bell Peppers
Strawberries
Tomatoes
Mushrooms
Radish
Snap Beans

Cabbage
With St Patrick's Day just around the corner
I'll be picking up my Fresh From Florida cabbage, as well as plenty of bell peppers, tomatoes, mushrooms, and radishes to go into my salad for our annual dinner with friends.
Where do I get my Fresh From Florida foods?
I bought these at Nelson Family Farms and again at my local Winn-Dixie store, but here in Florida you can find them anywhere from your local grocer, to the farm stand, and from the farmer's market to a roadside seller….so, there's always an easy way to buy the freshest produce and more.
Keep track of WHAT's in season
You can always find out what's in season if you Follow the Fresh on the Fresh From Florida website, as well as finding some incredible recipes as well as events and farms where you can pick your own, enjoy a glass of wine (we've got a winery right around the corner), as well as farmer's markets and other locations where you can pick up our locally grown foods.