AH….My closet, or should I say my CLOSETS. Yes, I have two of them – both are walk-ins and jam packed with clothes. There are fat clothes and skinny clothes, casual clothes and evening wear, and then there are the clothes that I wear everyday. You know, the comfy outfits that you slip into easily without even thinking. Most of those come from Fresh Produce. If you read my Fresh Produce post back in November, you'd see that I've been buying their clothes for what seems like FOREVER.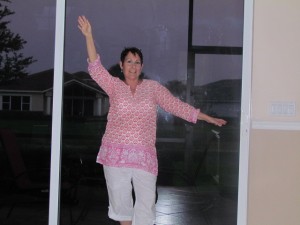 Not only can I mix and match all of the pieces that I've bought from them over the past six years, but I can toss the tops on with jeans, wear a FP skirt with one of my "other" t-shirts, and more. These are my pieces of clothing that are absolutely INDISPENSABLE. Each season I drive down to the Fresh Produce store on Las Olas in Fort Lauderdale and pick up a few new pieces to add to my ever growing wardrobe.
This season was no different. Well, that's not entirely true. What was different was the TYPE of clothes that I chose. I stretched a bit out of my comfort zone and got a women's tunic and one of their layering tanks (so nothing would "show" under the sheer). Mind you I've NEVER WORN A TUNIC BEFORE – plus, as most of you know I always stick to solids with striped or solid tops..that's it … no deviation… that's my wardrobe. So, when I say I stretched a bit – I stretched a LOT.
Add to that a cute little pair of white pull on Summer Capris and my wardrobe has sufficiently been updated. Those who saw me at Evo last week (in Park City, UT), saw me donning my tunic and layering-t over a cute pair of black tights. It was comfort at it's best and I got LOTS of complements.
I'm lucky enough to have a few Fresh Produce stores nearby. If you don't they offer catalog and online shopping and now ship to over 200 countries worldwide.  That's right, women everywhere can now have the colorful beach clothing as well as their work and leisure clothing.
While I have 3 new pieces, I can mix and match them with items that I already have (as you can see above) to make LOTS of combinations.
If you're interested in any of the pieces that I'm wearing they are:
Sayulita Tunic
Simply Cami-in White
Getaway Clamdigger-in White.
I received these items to facilitate my review, but my wardrobe is PROOF that I've been purchasing Fresh Produce clothing for YEARS. All opinions are strictly my own.