NOTE: I am turning to Sears Home Appliances and Services to help me through the appliance purchasing process. They are sponsoring this post.
I want need help
I need an expert who can guide me through what I need. I've got limited space, BIG needs, and I'm in the process of a kitchen remodel.
I turned to the leader in the home services industry for more than 50 years….SEARS Home Appliances and Services . They install 4.5 million appliances and 4 million parts a year. I want simple, and  ONLY Sears has the unique expertise to take care of your house so you can enjoy your home. I needed someone to take care of my house so I can get back to doing what I do best…Champagne Living.
I scheduled my appointment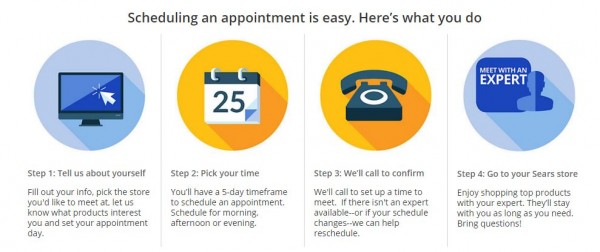 I'm always plugged in, so I chose to schedule my appointment online to Meet with an Expert!
I found my store by plugging in my zip code. I wanted a full service Sears, so I opted for one that's a few miles further.
I chose my day and time
They called to schedule my appointment
I went to my Sears to meet with Soledad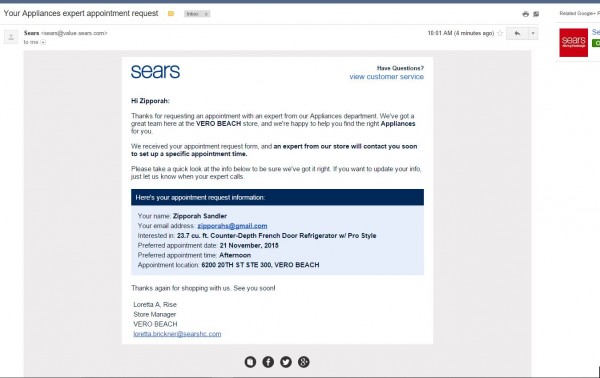 I brought the dimensions of my space for the refrigerator with me, as well as a mental note of the features that I'd like to have. Sol gave me the 411 about a special sale that was happening, and gave me all of the info in case I wanted to buy it at a deep discount. I went to look at what I THOUGHT would be best for us, but after going over the details with Soledad, realized that with just two of us, that MY choice wouldn't work in the space that I have. Luckily SEARS Home Appliances and Services has brands that range from Kenmore to LG, Samsung to Whirlpool and LOTS in between, making it so that I could get everything that I wanted in a refrigerator in the size that I need.
Unless I was ready to knock a wall down, this wouldn't work. But, there were so many to choose from at all different prices (and yes, LOTS OF SALES). Thankfully, Soledad led me through my usage and size questions and actually brought me to a couple of fridges that would be perfect. I LOVE this one from Kenmore.
But, Soledad found me an even BETTER choice, since I hadn't noticed there was no in-door water option.
I was THRILLED that Soledad found an refrigerator that had MORE options, was larger, would fit into my space AND was on sale for even LESS than the one I had been looking at.
HONESTLY 
With so many products in-store and online, I would NEVER have been able to pare down the choices based on size, need, etc. The ease of using a Sears Expert, who knows ALL of the products not only made the shopping experience easier, but she also helped be with money saving choices.
MEET WITH AN EXPERT
Do you need new appliances? Meet with an expert and make it easier on yourself. There is no obligation, and frankly it cut out all of the hard work.
Make an appointment:  Sears Expert
A discount coupon can be requested to apply to the purchase of the item if you choose to purchase it.
This is a sponsored post written by me on behalf of Sears Home Appliances and Services.