The items in this post were sent to us by the brand. We do not charge them for consideration or placement as we prefer to retain the right to not place an item that we don't truly love. We may receive a commission when you purchase via our links.
Are you tired of the same old dinner routine? Looking to add a little excitement to your family meals? Look no further than "brinner" – the meal that's not just meant for mornings (or Sunday brunch). Breakfast is one of those meals that is easy, fun, and something the entire family can enjoy AND get involved in. Why?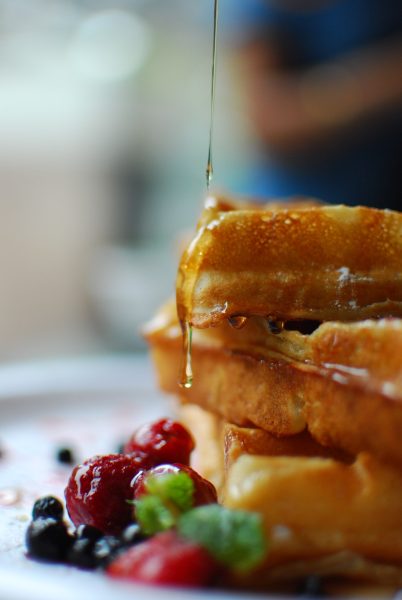 1. It's Easy and Convenient
One of the most compelling reasons to ditch cooking like crazy every night and having brinner is its simplicity. Breakfast foods are typically quick and easy to prepare, making them a perfect choice for busy weeknights. Whether you're scrambling eggs, making pancakes, or whipping up a batch of French toast, you can have a delicious meal on the table in no time. Plus, you probably already have many breakfast staples in your pantry and fridge, which means less grocery shopping and more time for other activities.
2. Variety is the Spice of Life
Breakfast offers a wide range of options to suit everyone's tastes. From savory to sweet, there's something for everyone when you choose brinner. Create a breakfast buffet with a variety of toppings and fillings for pancakes, waffles, or omelets. This allows each family member to customize their meal, ensuring a satisfying and enjoyable dinner for all.
Just like a Sunday morning brunch I like to make sure that I have a little dessert after brinner and lately I've been swapping regular flour with this new peanut flour from PBfit.  Take delight in 10 grams of protein per serving with PBfit Peanut Flour Baking Blend in cookies, brownies, pancakes, quick bread, and more. It's a great new addition to fall and holiday entertaining menus and a fun twist on the same old pancakes and cookies. The peanut flour is non-GMO, gluten-free, and macro-friendly. It's made with the goodness of high-quality U.S.-sourced peanuts and is soon to be a must-have pantry staple. Plus, it has 80% less fat than almond flour.
>>>Pick up a bag on Amazon.com
3. Break the Dinner Monotony
Let's face it; dinner can sometimes become monotonous with the same rotation of meals week after week. Brinner adds a welcome twist to your dinner routine, breaking the monotony and injecting some excitement into your family meals. The novelty of having breakfast for dinner can spark conversation and laughter around the dinner table.
4. Encourage Family Participation
This is a great opportunity to get the whole family involved in meal preparation. Assign different tasks to family members – one can be in charge of flipping pancakes, another can handle the scrambled eggs, and someone else can prepare the toppings and garnishes. Cooking together not only makes the meal more enjoyable but also fosters teamwork and bonding.
Let the kids make pancakes for themselves with Happy Grub Squeezable Instant Pancake Mix. It's so easy to do. Just help them to remove the cap and add cool water to the fill line. The kids can shake, shake, shake it up and then squeeze out their own pancakes onto the griddle that you've heated up on the stove in the meantime.
Happy Grub comes in all sorts of family-friendly flavors like
Buttermilk
Yummy Banana
Apple Cinnamon
Whole Wheat
>>>Pick up one or all four on Amazon.com
5. Healthier Options
Breakfast foods often include healthier choices like fruits, whole grains, and lean proteins. By having brinner, you can incorporate these nutritious options into your evening meal. Try whole-grain pancakes or oatmeal topped with fresh berries for a wholesome and satisfying dinner that's good for your body.
Forget that boring oatmeal for brinner. I found a way to make them think that they're eating cookies, but getting those wholesome oats by baking with Oatsome Whole Grain Organic Oat Flour Blend. It is a versatile and healthy alternative to regular flour, perfect for those with gluten intolerance.
Made with only 3 simple ingredients – whole-grain organic oat flour, organic buckwheat flour, and xanthan gum for baking – it can be used in a variety of recipes from sweet to savory. Great for cookies, brownies, breads, muffins, waffles, biscuits, and pancakes, this organic oat flour is a pantry staple for delicious and enjoyable baking.
>>>Available at Amazon.com
6. Budget-Friendly Dining
Breakfast foods are often budget-friendly, making brinner an economical choice for family meals. Eggs, oatmeal, and cereal are some of the most cost-effective staples you can find. By opting for brinner, you can save some money on groceries while still enjoying a tasty and fulfilling meal.
7. Pretend Your Dining in a French Bistro
Serving quiche (the perfect breakfast, lunch, or dinner food) or maybe omelets filled with delicious cheeses? Why not set the stage and pretend you're in a bistro on the banks of the Seine?
You've got omelets on the menu, now just add a beautiful wine for the adults (grape juice for the kids) and lay out a beautiful bistro striped Linen Tablecloth with matching striped Linen Napkins for an authentic-looking setting. Don't forget to bring the food to the table like the serveur complete with Kitchen Hand Towels draped over your arm as you bring the food to the table.
>>>Available at All Linen and Cotton
7. Suitable for Dietary Restrictions
Brinner can easily accommodate various dietary restrictions. Whether you're vegetarian, vegan, gluten-free, or have other dietary preferences or restrictions, you can find breakfast options that fit your needs. It's a flexible and inclusive way to cater to everyone's preferences without compromising on flavor.
8. Endless Creativity 
Breakfast foods are incredibly versatile, allowing for endless creativity in the kitchen. Experiment with different ingredients, flavors, and cooking techniques to create unique experiences. Try making breakfast burritos, frittatas, or even breakfast pizzas to add a twist to your traditional breakfast favorites.
10. Shake Up Your Table Setting
Why not make your breakfast for dinner a more elegant affair? Serve your meal in the beautiful La Jolla Dinnerware Collection from Fortessa. Pour the juice into wine glasses. Get dressed up and make it fancy for everyone from the kids to your significant other. It'll make the entire brinner experience feel like a lot more fun.
These beautiful dishes are inspired by the natural beauty of sea glass, each piece of La Jolla is uniquely different. With swirls of waves through a frosted form, leaving each stroke with a fluid, nuanced shape they feel like original art at your place setting. The plates and bowls are sized to suit any meal and are available in a myriad of colors.
>>>Available on Fortessa.com as well as retail stores nationwide.
If you're like my family, you'll find that brinner is a delightful culinary adventure that's easy, fun, and sure to please everyone. By incorporating breakfast foods into your dinner rotation, you can enjoy the convenience, variety, and excitement of this unique dining experience. So, the next time you're wondering what to make for dinner, consider embracing brinner – your taste buds and your family will thank you!