Disclosure: I am participating in a promotional campaign for AARP Services, Inc. I am receiving a fee for posting; however, the opinions expressed in this post are my own. I am not an employee of AARP Services, Inc. and do not earn a commission or percent of sales. I have been an AARP member for over 15 years so all opinions are genuinely my own.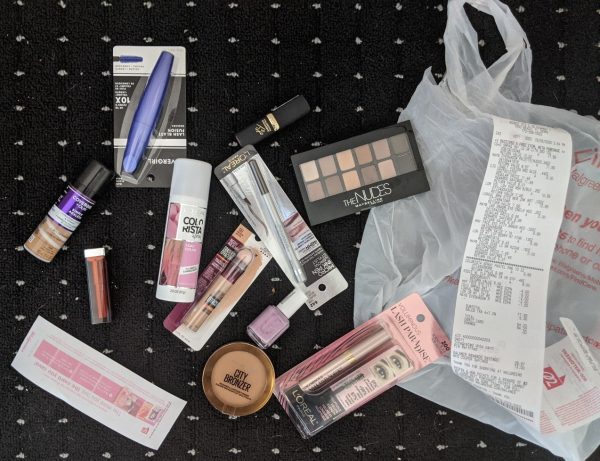 It's Time for a Makeover
Summer is finally here, and after skipping spring thanks to the COVID-19 lockdown, I'm tired of looking dull, and gray, and well….still wintery. The dark circles and aging skin seem to take on the look of a fairytale witch by this time of year and I'm ready for a pick me up. In particular, I think we could all use a little lift and if you're like me, then read on; I've got some great ideas for you to refresh your look this spring with some help from Walgreens.
One of the great things about Walgreens is you can shop and find great deals on their website, which is especially important as we continue to practice social distancing. Better yet, as an AARP member, when you shop at Walgreens and link your AARP membership card to your Balance® Rewards account, you can earn additional Balance® Rewards benefits, including 50 points for every $1* spent on Walgreens-brand health and wellness products and 1,000 points for vaccinations. On top of that, right now they have a limited time offer that lets you earn 3X more everyday points on beauty products – that's 30** points per dollar! Joining AARP is easy and costs just $16 a year for great benefits on top of what they offer with Walgreens.
With stores across the country re-opening, it's important to follow safety procedures if visiting a retailer. I can't underscore how important it is that we all practice social distancing so we can regain some normalcy. And again, Walgreens makes this easy with online shopping at walgreens.com.
Now onto my makeover…. I can't wait for you to see the end look and encourage you all to try and find small ways you can have fun and bring some joy into your days ahead.
My Makeover Rules
Less is always more for me. I have no use for piling on too much makeup because…well, it looks like I'm trying to cover things up.
Because I try to start fresh each season, I don't want to spend a fortune.
I need things that I'll use and not waste, so if it's double-duty, all the better.
I like to get the biggest bang for my buck, and at the same time, I need it to look as though I went to a high-end department store because…well, Champagne Living.
My Secrets
I try to shop at Walgreens for as much as I can when it comes to beauty products. They have a huge selection.
I shop when there is a makeup sale. As you'll see they had a 'Buy 2, Get 1' sale when I shopped.
Make sure to use your Walgreens Balance® As an AARP member, when you link your AARP membership card to your Balance® Rewards account, you get 5x everyday points on Walgreens-brand health and wellness products – that's 50 points per $1 spent* and 1,000 points** for vaccinations.
And a reminder that right now if you are an AARP member, when you link your Walgreens Balance® Rewards with your AARP membership card you can also get 3X the points on beauty purchases for a limited time***.
Shop on Senior Day – for additional deals, including 30% of qualifying Walgreens product brands and 20% off eligible regular price items.
Time to Shop
I went in with a plan….that went awry the minute I was faced with so many choices. Rather than choose old favorites, I figured that I needed something TOTALLY new. I always stick to the less is more concept, because (at least on my skin) I find that looking too heavily made up can be aging. The only things that I bought duplicates of were mascara and lipstick because I wanted one for the daytime and the other for the evening. Everything else was a double-duty product. I picked up a new 'Simply Ageless' 3-in-1 foundation from CoverGirl, the Maybelline 'Instant Age Rewind' concealer that a few of my readers had told me about, and I chose Maybelline's 'City Bronzer' instead of blush because I need to feel like it's summer and a little golden glow helps me fake it.
This Maybelline 'The Nudes' eye palette is a neutral and double duty for day and night, plus I am terrible with eyeliner. A black or dark brown shadow in place of eyeliner is a much softer look. I also decided to try the L'Oréal 'Micro Ink Pen' (having never used anything at ALL on my brows, this was exciting).
I was also excited to find my favorite brand of nail polish (Essie) that I usually buy in the more expensive stores and picked up an Easter egg color perfect for the sunshine.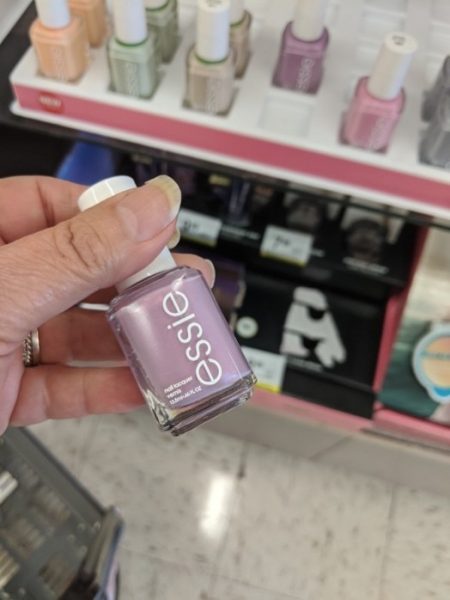 It can be a little scary to try something new; I never know if the foundation, concealer and lipsticks are going to work out until I actually get home and try them on. That said, here are a few tips to keep in mind when shopping for new products.
Concealer
Choose a shade as close to your natural skin tone as possible. I used to use one that was lighter thinking that it would make the circles look less dark, instead, it just drew attention to the area I was trying to hide.
The color was spot on, but I'd never used an applicator like this, and too much came out, so there was a lot of blotting and blending involved. I prefer using a brush over sponges because I have an easier time getting a natural, blended look. It's a personal preference and both brushes and sponges get the job done. Just try not to use your fingers unless you are patting.
Foundation
In all honesty, I only wear foundation at night. Living in Florida I find that it can feel heavy to me and I much prefer a tinted BB or CC cream as they're lighter. But, I really need to start covering those spots so I figured I'd give it a try. I picked out one from the Cover Girl 'Simply Ageless' collection as it is targeted to those of us with mature skin.
Blend well and not just on your face – make sure to blend into your neck as well. You don't want to look like you've got a mask on.
I have to say that I not only lucked out by getting the right shade, but I love this one more than my very expensive foundation that I usually buy in the specialty store. Look at how even toned my skin is now! This one is a keeper!
Bronzer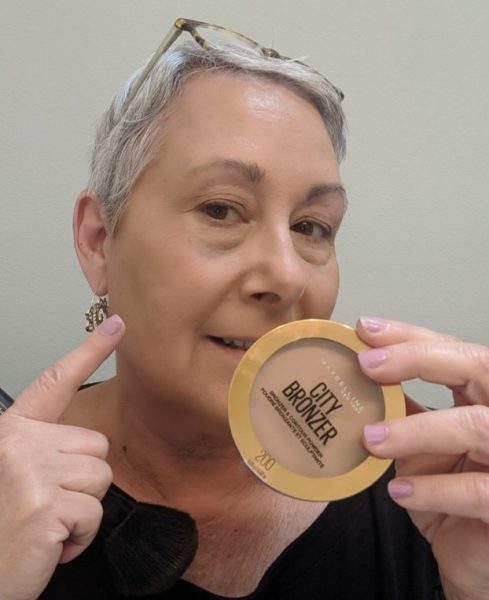 Rather than go for a deep bronzer, I figured that I'd ease into it for summer and choose something much lighter than what I normally go for. This is the first time using a Maybelline bronzer and I'm really loving the way it looks on. What do you think?
It gives a more subtle glow! In mid-summer I'd choose a shade or two deeper, but for now and with our recent re-entry from lockdown, this is perfect.
My Big Mistake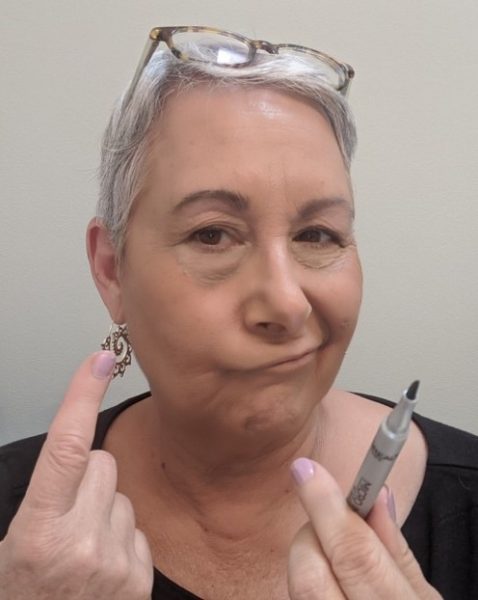 There's ALWAYS one mistake and this was it. I NEVER use anything on my brows. I know that there's a lot of gray in them and I probably should, so I figured I'd give it a try. That said, I think I chose a color that was too dark.
Or maybe I'm just not used to them looking so defined. I need your opinion on this!
Eyeshadow/Liner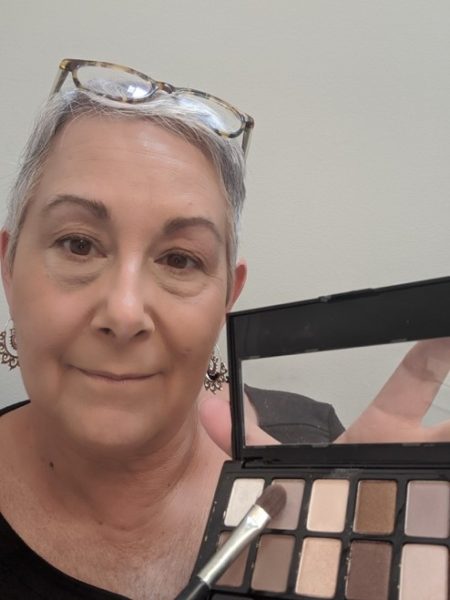 I normally don't wear eyeshadow or eyeliner during the day, and this is where I REALLY believe that sticking to neutrals and wearing LESS is the key to not aging yourself with makeup. Eyeshadow gets caught in the creases and can make me look OLD if I use brighter colors.
I chose the simplest palette I could find, 'The Nudes' from Maybelline, and did just a touch of shadow while using the darker color as a liner. I like this softer look.
Mascara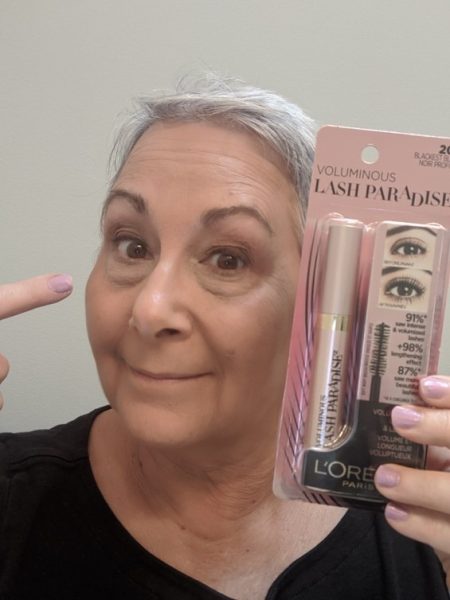 This is one item that I tend to be extremely picky about and almost always go between two brands that have always served me well (one is CoverGirl 'Lash Blast' in the purple container and the other is V-E-R-Y expensive), but I knew that I was going to try ALL new makeup today and I'd seen the ads for this new L'Oréal 'Lash Paradise' in a magazine I was just reading.
And I'm so glad that I did because WOW, WOW, WOW. I only put on ONE coat and my lashes look so glamourous. I've always heard that you choose one area and make it pop and with this mascara, it's totally my eyes that are popping. This is going to be my go-to from now on.
The Lips Have It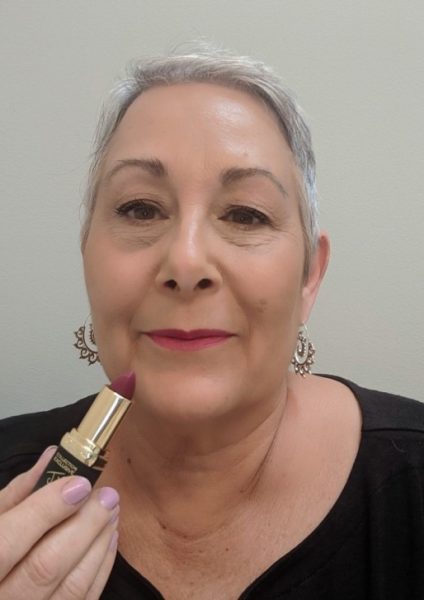 I normally wear a very neutral color on my lips during the day and bright red at night (it goes so well with the gray hair and gives my face the color it needs). I've always shied away from pinks, but since I am trying to be open about new things I decided to try a bright pink. I think this is a nice cool shade of pink that's not overwhelming.
NOTE: I have tried lipsticks from cheap to Chanel and LOVE Maybelline. Go figure.
Last but not least, two coats of Essie polish and I'm ready for ANYTHING…day or night.
The Final Look
I'm all set with a new look to face the sunnier weather and I got it ALL at Walgreens and with my AARP membership linked to the Walgreens Balance® Rewards card, I got enough points to do a little more shopping.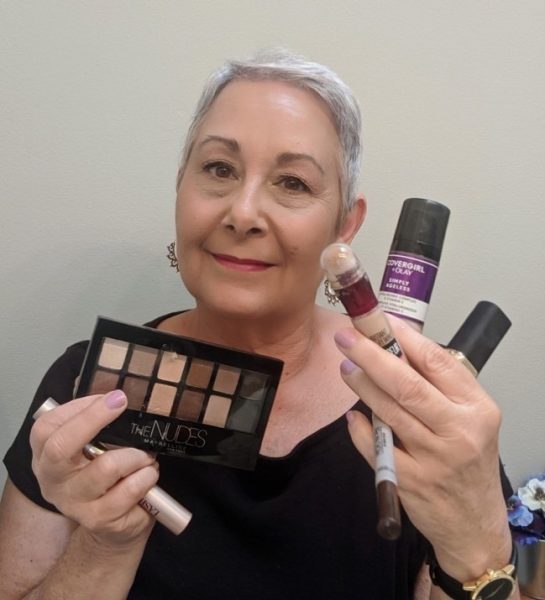 But Wait…There's More!
It doesn't always have to be subtle and serious. This is a time for daffodils and tulips and lots of color….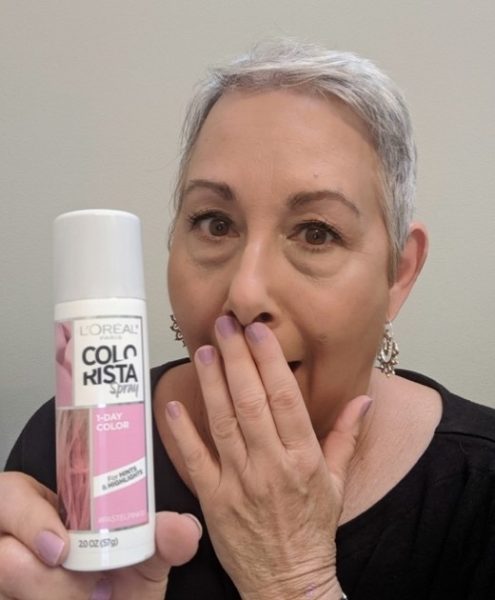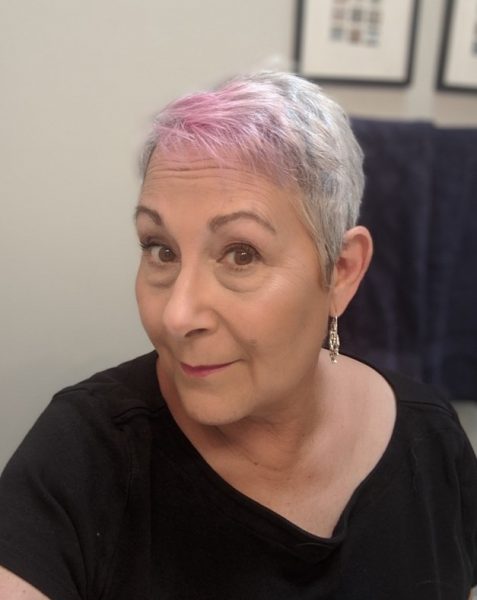 That was a fun way to step out of my comfort zone, and since it washes out with ONE shampoo (fingers crossed) I can brighten my day up with a little pink whenever I want without it being permanent.
My Makeover is "in the bag"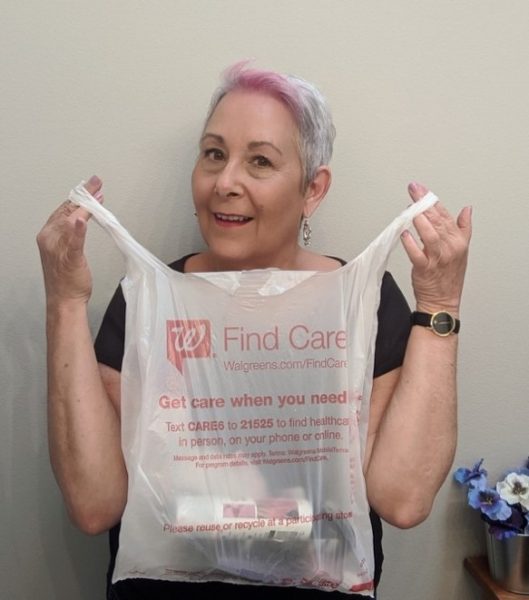 And I got more bang for my buck by linking my AARP membership card with my Walgreens® Balance Rewards account. That's the real story of "less is more." What are you waiting for? Summer is here and businesses are re-opening…it's time to do YOUR makeover.
Not an AARP member?
Sign up at AARP today, you'll fall in LOVE with all of the great benefits you'll get.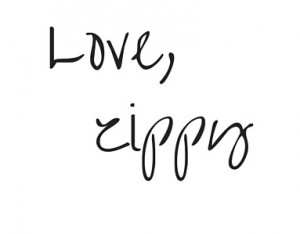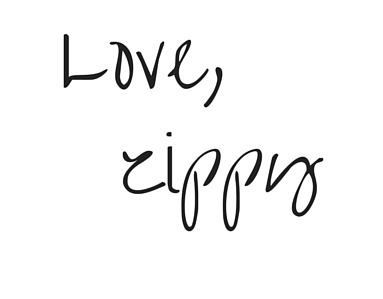 *Health and wellness products include select products from the following categories: allergy, antacids, cold, condoms, convalescence, cough, diabetes, diagnostic, diet aids and supplements, eye care, ear care, family planning, feminine health, first aid, elastic wraps and braces, foot care, healthcare appliances, incontinence, laxatives, pain relief, pediatric medications, reader glasses, sleep aids, smoking cessation, vaporizers and vitamins and supplements. Offer not available on products or services submitted for insurance reimbursement, pseudoephedrine and ephedrine products, sanitary, Walgreens gift cards, Café W, alcohol, tobacco and dairy products, lift chairs, rollators, foam and vinyl ring cushions, Ready Response Medical Alert System, prescription drugs, health tests, membership fees and other healthcare services. Other exclusions and restrictions may apply. Void where prohibited by law. While supplies last. No rain checks provided. For details, see store or Walgreens.com/AARPcard.
** Offer good through 12/28/20 with Balance® Rewards card. Offer not valid in AR, NJ or NY. Vaccines subject to availability. State-, age- and health-related restrictions may apply.
*** Offer valid thru 12/28/20. Offer good with Balance Rewards linked to an AARP card. A qualifying purchase includes products from the following categories: cosmetics, nails, skin care, hair care, fragrances, beauty accessories and bath products. Excludes prescriptions, baby hair care, baby skin care and men's grooming products. The qualifying spend total is calculated before taxes and shipping, and after discounts, redemption dollars and store credit have been applied.
****Every qualifying purchase adds up to the $50 spend requirement. A qualifying purchase includes products from the following categories: cosmetics, nails, skin care, hair care, fragrances, beauty accessories and bath products. Excludes prescriptions, baby hair care, baby skin care and men's grooming products. The qualifying spend total is calculated before taxes and shipping, and after discounts, redemption dollars and store credit have been applied. Complete details at Walgreens.com/beautyenthusiast.
AARP member benefits are provided by third parties, not by AARP or its affiliates. Providers pay royalty fees to AARP for the use of its intellectual property. These fees are used for the general purposes of AARP. Some provider offers are subject to change and may have restrictions. Please contact the provider directly for details.