I can't tell you how to win at the blackjack table or which machine is ready to pay out big (if I could, I wouldn't be sitting here typing this post), but I can let you in on the secret to saving on your Las Vegas vacation – so that you have more in your wallet for fun, gambling or even a day at the spa thanks to the people at SmarterVegas.com
Be Flexible: As much as booking a hotel requires planning ahead, don't tie yourself down to one hotel too early. Remember taht SmarterVegas.com offers new discounts on hotels every single day, and deals are often specific to factors such as the time of year you will be traveling and what special events will be taking place. First look at booking a hotel on or near the Vegas Strip such as The Bellagio, Aria, Caesars Palace, or Bally's Hotel. Websites like SmarterVegas.com can help you find the perfect room at unbeatable prices. While you're there sign-up for the unlisted deals newsletter for exclusive rates and even more options to choose from.
Be Gluttonous: Las Vegas is home to some of the best chefs, restaurants, and buffets in the world. So why not indulge?! No matter what you are in the mood for, SmarterVegas.com offers descriptions and highlights of the top restaurants in the city as well as a "Find a Table" option through which reservations can be made. Can't decide on just one type of cuisine? Try Flavor's, a buffet offering endless options of food from around the world. Starting at just $15 per person, it's sure to hit the spot!
 Be Merry: What kind of place would Vegas be if it didn't live up to its wild reputation of being one constant party? Start your night off at your hotel bar (depending on where you are staying, the options are endless!) where you can relax after dinner and sip on signature, grommet cocktails. I'll let you in on another secret – try the new Chandelier Bar, located in the Cosmopolitan Resort, for a chic and flirty atmosphere. With 5 separate floors each with a unique, unmatched personality, there is something for everyone to start their night off right. For live music Rhumbar is where you want to head. This eclectic laid back bar is inspired by the relaxing environment of the beach and offers live jazz and island music on its outdoor patio.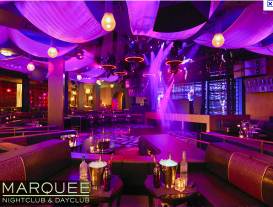 Get Ready to Dance: What better place to go after the bar than a high-end club packed with heart-pounding music and beautiful people? For the ultimate club experience try Marquee Nightclub, located in the Cosmopolitan Resort. Marquee is quickly gaining a reputation as one of Vegas' best clubs. Its state-of-the-art sound and visual system has attracted some of the biggest European House DJs and has recently hosted Avicii, DJ Chuckie, ATB, and Laidback Luke. Other top Vegas clubs include XS, located at Encore, and LAX, located at The Luxor Hotel. For something more sultry and reserved, try Pure Nightclub located in Caesars Palace. Pure exudes sophistication and class and its elegant décor and lavish seating will have you feeling like a real celebrity.
Recuperate: After that long night out, you'll need is a morning day filled with relaxation! Las Vegas is known for having the most luxurious spas offering some of the world's most advanced spa treatments. For the ultimate spa experience try the Forbes 5 Star recipient, The Spa at Wynn. This breathtaking spa's natural décor and flowing waters will make you feel like you truly are in paradise. Just what you needed to recover from last night.
Be Entertained: Your  trip to Las Vegas wouldn't be complete without going to a show, and there is no shortage of award-winning performances or top entertainers in this town and you don't need to break the bank to experience them. From Cirque de Soleil (love, love, love the Elvis show) to Blue Man Group, take your pick from the endless array of options and visit Smartervegas.com for deep discounts on tickets.  The website offers deals up to 50% off on some of the most popular shows on the strip! Check out what's on sale now.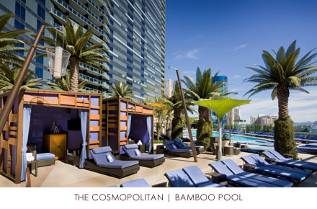 Dive in: Time to take a break from the casinos and hit the pool! Does your idea of unwinding involve beautiful people, loud music, lots of fantastic drinks, and a day-long beach party? Try Nikki Beach, nicknamed "The Sexiest Place on Earth," located at the newly renovated Tropicana Hotel. Another great day party location is Mandalay Bay or jump on the MGM Grand's lazy river and drift slowly while you sip on that margarita. SmarterVegas.com can get you special deals so you even save on your Cabana rentals.
Those searching for a quiet retreat from the excitement of The Strip should seek refuge at the Cosmopolitan's Bamboo Pool or the luxurious pools at The Wynn.
Explore New Heights: For those of you first timers with a love for adrenaline-be sure to jump on the X Scream ride at the Stratosphere. This teetering and tottering ride, similar to a hanging see-saw, propels you 866 feet in the air and will have you dangling over the Las Vegas strip. It's a great view if you can handle the thrill! Haven't had enough? Head over to Vegas Indoor Skydiving and satisfy your urge to free-fall without actually jumping out of a plane. If you want to experience Sin City from up high without the extreme adrenaline rush, end your night at the Eiffel Tower Bar at the Paris Hotel and Casino for stunning views of The Strip.
Take A Tour: When you need a break from all the lights and sounds of The Strip, venture just 40 minutes away to take a river rafting tour of one of the twentieth century's greatest engineering achievements, the Hoover Dam. The Grand Canyon is another near-by sight not to be avoided during your Vegas trip. Although air tours can often be costly, Smartervegas.com offers significant discounts on airplane and helicopter tours of one of Mother Nature's greatest wonders. Check out all tour deals available now.
Play Like A Pro: Mr. S's favorite place to play is NOT at the tables, but rather on the golf course. With over 20 new developments springing up since 1998, the options for golfers of all levels are vast: everything from championship courses, like the luxurious Bali Hai Golf Club which offers lush greens, thousands of palm trees, and one of the best restaurants in the country, to classic Vegas desert courses at Legacy Golf Club. But, when booking a tee-time there are a few things to remember: Friday through Sunday are the busiest, so a mid-week golf outing is sure to score you better tee-times and better deals. If you desire a morning or evening tee-time, especially on the weekends, make sure to book in advance. Otherwise, mid-day tee times during the weekend are less likely to fill up as fast and may get you a deal or two.
Thank you to SmarterVegas.com for providing Champagne Living with some great money saving and FUN ideas for our next trip to sin city. Now I have plenty of extra for seeing my favorite dealer at the Monte Carlo!