This post has been sponsored by Lancome in cooperation with SheSpeaks.com.  
Ava's going to be jealous.
My bestie (and partner on The Review Broads), Ava and I used to spend our weekends at the Lancôme counter at the Mall. We'd go often, get out makeup done and leave with hundreds of dollars of products in our bags. My mom used to go to the Mall to try on hats for entertainment, with Ava and I…it was Lancôme skin care and cosmetics. When I received my bottle of Lancôme DreamTome, it brought back a FLOOD of fun Saturday memories.Unfortunately, that was a LONG time ago. Ava moved to Utah and I moved to Florida around the same time ten years ago. In those ten years my skin has gone through a lot of changes.
It has
Age and sun spots
Lost elasticity
Dulling
Fine Lines
It's been a while since I've sat at the Lancôme counter chatting with my favorite makeup artist back in Rhode Island, and it has been so nice being able to test out the latest in Lancôme's line for aging skin DreamTone. My #bareselfie

Yes, once again I show up with no makeup on, my dark circles and bags in my Petite Bateau tank that I sleep in. But, I'm "keeping it bare" for this one, as I wanted to show you just what my skin looks like before and after using DreamTone.
Colors
For my skin tone, I used the medium shade of Lancôme DreamTone. It also comes in Fair and Dark. If you're not sure which of these is best for your skin coloring, head over to the Lancôme counter at your mall store and they'll be happy to help you choose the perfect shade.
USE
I used it twice a day as instructed. Once in the morning under my makeup and at night after washing my face. It was strange putting on a lightly tinted product at night, as I usually just slap on some anti-aging goop and head to bed. I wonder if Mr. S noticed that my skin looked great while I was snoring away?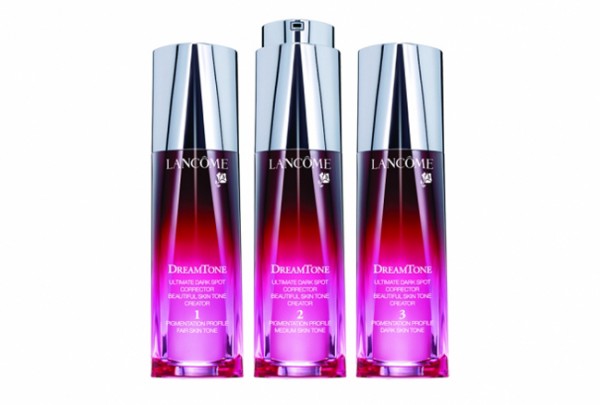 Lancôme DreamTone
corrects dark spots
evens your skin tone
evens out color imperfections
Most noticeably
My skintone is becoming more even. I can see it after these TWO WEEKS, so I'm excited to see what the next two bring.  My skin looks brighter and more even, even without makeup. It takes about four weeks to really see a dramatic improvement, but after only two weeks I can already see my spots lightening a bit.
Buy
You can pick up Lancôme DreamTone for $98 (a LOT less than having a dermatologist zap off those spots). Find it wherever Lancôme products are sold or online at Lancôme.com. I have the feeling that I'll be hanging out at the Lancôme Counter a little more often again!
Share Your #bareselfie