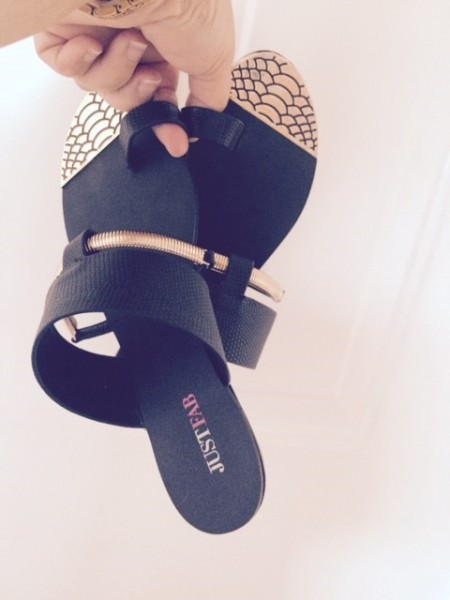 I saw them as I walked by the over-priced store. My face pressed up against the glass…they were simple, black with a band of gold.  I went in to try them on. YES, they were JUST what I wanted, until I saw the price. The shoe-a-holic in me was ready to pull out the credit card, but the practical me said WAIT…if you can't find a pair like this for less, they'll be there. They're SANDALS and it's not SUMMER yet.
I searched…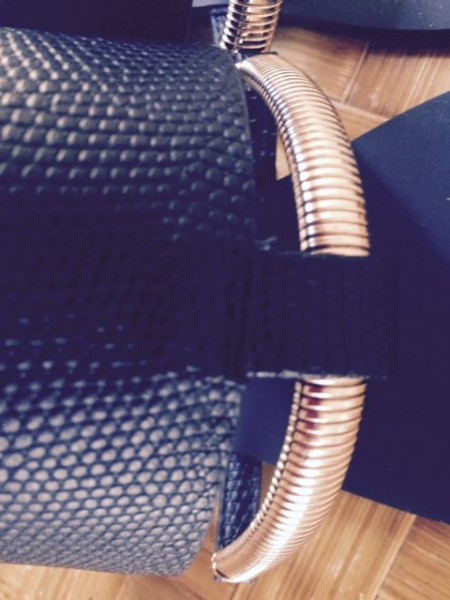 The internet is a wonderful thing, and finding the SAME style sandals at JustFab for a mere $39.95 with my VIP membership (½ of the regular retail price) saved me over $100. Within days of ordering, they were at my front door, ready to be torn open (shoe-a-holics can have moments of gliding a shoe on, or go into a frenzy trying to get them out of the box and on our feet – this was a case of the latter).
I stopped and gazed
They were finally mine. Now was the time to glide my foot in and make SURE that they were right. Ahhh….perfect. The fit, the look, the walk…all were JUST RIGHT. The Morra sandals would be perfect for everything from daytime to an evening dress. They simple gold band brings a POP to accessorize my favorite little black dress & they look PERFECT with a summer maxi dress.
JustFab
I know you've heard of it before…it's a subscription service where YOU CHOOSE THE SHOES that you want. Members pay only $39.95 per month and can choose a pair of shoes or handbag. Not feeling like shoe shopping (WHAT???), you can easily skip a month by alerting JustFab by the 5th of the month.
What about the fit?
No worries…JustFab offers FREE shipping (orders over $39) and FREE exchanges, to assure you'll get a pair that fit like Cinderella's slipper. Plus, you get rewards points each time you order!!
Details
For more information visit: JustFab.com (new subscribers get BOGO – that's TWO pair for $39.95)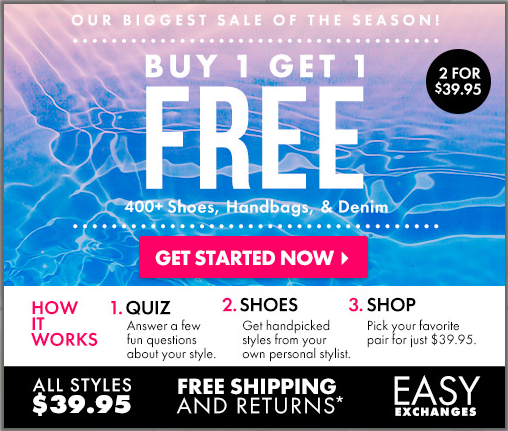 I received my choice of shoes to facilitate this post. The story below is true & all opinions are strictly those of Champagne Living.