Do you remember your mother telling you "it's what's inside that counts?"  
It's true, and when it comes to fashion, it's also what's UNDERNEATH that counts, because if you aren't wearing a great feeling, comfortable bra and panties, you're entire "look" will be ruined. Poor fitting undergarments not only cause lumps, bumps and creases in your clothes, but they also affect the way you walk, stand, and even your smile.
Most days it's a balance between sexy & sensible.

Especially when it's a LONG day. Which is why I've become a fan of the new CustomFlex Fit collection by Barely There.
A push-up bra without underwires!
I didn't think it  was possible, and I rarely put on a bra WITHOUT wires, because the look they create on the OUTSIDE is just plain UGLY. I'll admit that before slipping into the Everyday Comfort Push Up Bra, I thought sad & flat – but I WAS WRONG. The "girls" look pretty darn good in my low v-neck Norma Kamali (my usual TEST dress – since it clings, is low-cut, and has an all lines bared attitude).  With convertible straps, and Barely There's smart sizes fit, it's not one that will just sit in the lingerie chest.
Add some cute & comfy panties
I'm a hipster girl. It's an age thing. If I were a thong girl, I'd eliminate those panty lines, but since I'm not, I need coverage, comfort and stretch….and NO LINES. The lightweight and adorable CustomFlex Fit Hipster Panties from Barely there fit the bill (and my bottom).
While I love LACE, the best fit that I've found is microfiber.   The picture on the right may show a solid, but they also offer it in a cute animal pattern that's subtle and sweet. Of course with no tags or seams, it's comfort and fit at it's best.
FIT
When in Paris, I used to go to lingerie shops. If you've never been, the first thing you'll have to do is get over any shyness, because you WON'T be alone. The shopkeeper will be there with tape measure in hand making sure that bra and panties fit like they were custom-made for you. While this is a wonderful luxury, I can get an equally perfect fit with Barely There's smart sizing system.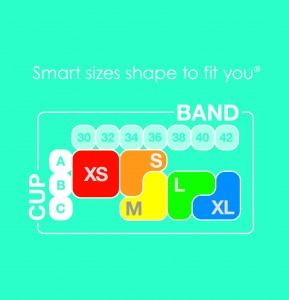 You don't need to fly to France
Just drive over to your local Macy's or Kohl's to find them. Plus when you purchase one CustomFlex Fit Everyday Comfort Push-Up bra you get a free CustomFlex Fit Wirefree or CustomFlex Fit Full Coverage bra FREE by mail through 2/28/2013.
For more details
Follow Barely There on
As a Barely There Ambassador I regularly receive product to review. All opinions are strictly  my own.