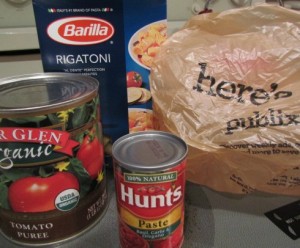 Growing up in an Italian neighborhood, I came to think of pasta, veal and peppers, pasta fagioli, and fried calamari as comfort foods. My mother called red sauce gravy, and the recipes that were handed down from friends and neighbors became my staples. A week doesn't go buy without a lasagna being set out on the table, and a winter's night without a plate of spaghetti aglio olio has no warmth to it.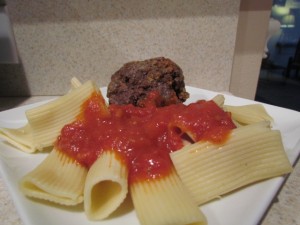 Years ago, Mr. S & I owned restaurants in Providence (and Newport), RI, which has it's heart and soul in Italian cooking. Many of our friends were in the restaurant business, including some fabulous Italian restaurants. All of this means that when MY kitchen staples go on sale, I stock up. This week Publix (my neighborhood grocer) is celebrating Italian Days, where I was able to find everything from Muir Glen tomato puree, to Progresso bread crumbs on sale. Not only that, but they're also offering coupons on lots of the items that I had on my list.
If you live near a Publix, now is the time to stock up!
Plus, while visiting Italian Days at Publix from February 16th through February 29th, you can also enter the Taste the Tradition Italian Days Sweepstakes for a chance to be 1 of 500 shoppers that will win a $100 Publix® gift card, sponsored by General Mills.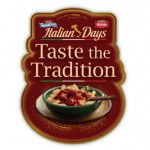 To enter to win the Taste the Tradition Italian Days Sweepstakes and download great coupon savings and delicious recipes, look in-store or follow the instructions below:
Click – Stay up to date with the latest General Mills promotions happening at Publix, by visiting ClickCallMail.com. Once you're registered and logged in, you can participate in any the current promotions.
Call – If you'd prefer to enter the sweepstakes and participate in other promotions via telephone, feel free to call the General Mills hotline, at 1.800.627.6059, and be sure to say that you want to enter the 2012 Italian Days Sweepstakes.  Please be sure to provide your complete contact information (Full name/address/zip code/phone #).
Mail – If you prefer to participate via mail-in entry, print and mail your complete contact information   (Full Name/address/zip code/phone #) to 2012 Italian Days Sweepstakes, P.O. Box 44257, Atlanta, Georgia 30336.
Oh, and it would be fair if I didn't share one of my all time favorite recipes that I got from a friend who's restaurant was right next door to ours in Providence – Al Forno. This wonderful baked pasta has tomatoes, cream and five cheeses. It may not be low in calories, but it sure is HIGH in flavor.
Baked pasta with tomatoes, cream and five cheeses – from Johanne Gilleen and George Germon of Al Forno.
Ingredients
1/4 teaspoon salt, plus more for pasta water
1 pound imported conchiglie rigate, (shells)
2 cups heavy cream
1 cup canned pureed tomatoes
1/4 pound thinly sliced mozzarella cheese
1/2 cup freshly grated pecorino Romano cheese, (1 1/2 ounces), plus more for garnish
1/2 cup coarsely shredded (1 1/2 ounces) Fontina cheese
1/4 cup crumbled Gorgonzola cheese, (1 1/2 ounces)
2 tablespoons ricotta cheese
6 fresh basil leaves, coarsely chopped
4 tablespoons unsalted butter, cut into small pieces
1/4 cup very thinly sliced scallion, for garnish
Directions
Heat oven to 500 degrees.
Bring a large pot of salted water to a boil.
Add pasta, and cook for 4 minutes.
Drain in a colander.
While pasta is cooking, place cream, tomatoes, cheeses, salt, and basil in a large bowl.
Stir to combine.
Add cooked pasta to cheese mixture, and toss to combine.
Divide among six to eight shallow ceramic gratin dishes (1 1/2 to 2 cups in capacity).
Dot with butter, and bake until bubbly and brown on top, 7 to 10 minutes.
Sprinkle with pecorino Romano and scallions.
Serve immediately.
Serves four.
Disclosure: The Publix Club gift card, information, and giveaway have been provided by General Mills through MyBlogSpark.