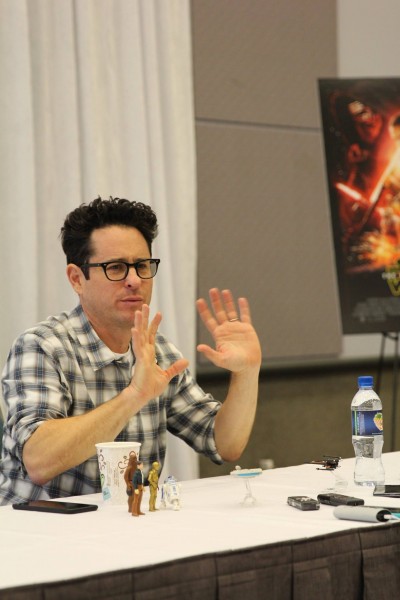 I admit I have not yet seen Star Wars: The Force Awakens. I was out of town for the press screening, and am staying AWAY from any social media or sites that might have spoilers. I want it to be as amazing as Director JJ Abrams vision for the most anticipated film of this generation. Oh, I've interviewed my share of directors over the years, and yes they are all gung-ho about their latest films, excited to tell the press about them, but Mr. Abrams has a passion and vision that is intense, real, and compelling.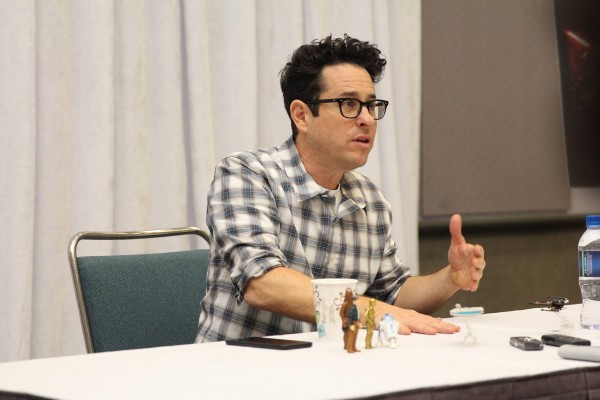 He was at the PERFECT age to be inspired by the original film, being 11 years old and a fan, but would THAT influence how he directed THIS film?
I'm sure it did because it was something that meant so much to me for so long.  The thing is that it's because it's been ingrained in sort of all of our conscientiousness for so long that it's become a birthright to just know Star Wars, you know.  You're sort of born, and you know what a light saber is.  At three years old, kids talk about Star Wars in a way that is so eerie, because you think how could you possibly know so much.  Somehow they do, and even those kids who haven't played the games are seen the shows, I don't know how it is that they understand Star Wars immediately.
But,  my job wasn't to be a fan boy or an 11 year old kid.  It was to be a nearly 50 year old movie director, so I tried to approach this thing from a point of view of obviously acknowledging how much I love what George Lucas created, but understand that being a fan doesn't make the story work.  Being a fan doesn't make the scene any good.  Being a fan is great but we all had to be story tellers and filmmakers.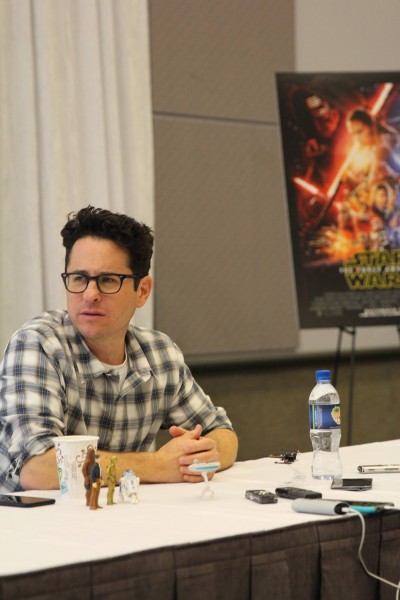 But how did this collaboration come to be?
It was Kathleen Kennedy, whom I've known for a long time. She called and asked if I was interested in working on Star Wars.  Of course, you know, it was a very surreal question and it was very flattering.  My answer was no, partly because my wife and I had plans to take our kids away.  I'd been working on a lot of back-to-back projects for a while, partly because I'd worked on a number of sequels, and it felt like enough is enough,  and partly because I care about Star Wars so much that the idea of taking it on felt like something that I couldn't imagine, and intimidating.
So, I said no thank you, and she said can we get together.  I said yes, and when Kathy Kennedy and you get together, she'll convince you of whatever it is she wants you to.  She just was amazing and basically said this was going to be an opportunity to continue the story since Return of the Jedi.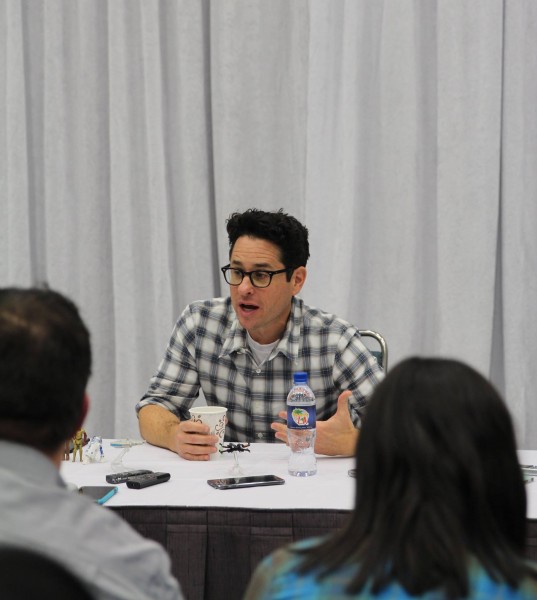 Being here to help relaunch this saga for a new generation of families, and you're kind of passing the torch to future directors. Will you be able to really sit back and enjoy it as a fan now without thinking of what your creative stamp would be as the saga continues?
I knew getting involved in this project that it was an honor to be asked,  and I knew that my role would be as temporary guardian of this saga.  I knew also as I was working on it that if the movie works, what a great time to step down, and if the movie doesn't work, who wants me to work on the next one anyway, you know.  So it was win-win.
I'm really looking forward to telling original stories. I've been wonderfully and happily sidetracked with the movies I've been working on,  but I do look forward to working on something that doesn't need to have a number in the title, and I cannot wait to see what the directors are named and being discussed will do in this universe,  because there's some really talented people that I know who are doing extraordinary things.
So it's very exciting, and to get to work with Larry Kasdan to begin what we knew was the start of a trilogy was a rare thing in a movie, which is to start a story that you know needs to be satisfying, in and of itself, but also is the beginning of a larger tale.  So, that was really cool to get to do.