I attended a press junket for Gifted. All opinions are strictly my own.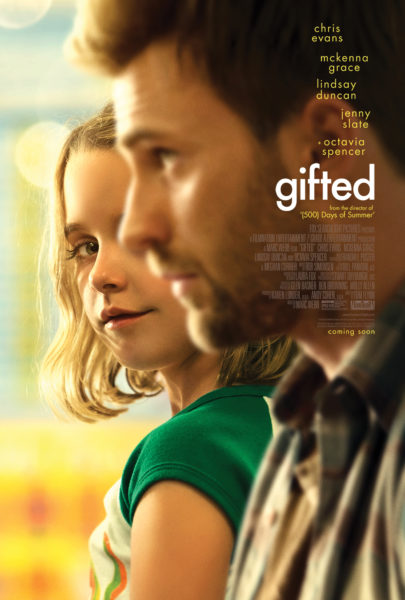 Mr S and I go to the movies a few times a month.  Before the feature, we have a thumbs up/thumbs down rating that we do while watching the previews. After each one is done we give our vote in silence so as not to disturb the others in the theater, but in all honesty…we often end up saying things like. OMG, that looks AWFUL, or DATE NIGHT, or NOT ME.
We had seen the Gifted preview twice, and each time I gave it my thumbs up and he gave it the thumbs down. The reason he gave was that it looked like something that I'd go to with my girlfriends.
I love saying this…HE WAS WRONG…
…although I did see it without him. His loss, my luck, as I headed to Los Angeles for a pre-screening and interview session with some of Hollywood's big stars including…
Chris Evans
Octavia Spencer
Jenny Slate
McKenna Grace
Frank Adler (Chris Evans) is a single man raising a child prodigy – his spirited young niece Mary (Mckenna Grace) – in a coastal town in Florida.  Frank's plans for a normal school life for Mary are foiled when the seven-year-old's mathematical abilities come to the attention of Frank's formidable mother Evelyn (Lindsay Duncan) whose plans for her granddaughter threaten to separate Frank and Mary.  Octavia Spencer plays Roberta, Frank and Mary's landlady and best friend.  Jenny Slate is Mary's teacher, Bonnie, a young woman whose concern for her student develops into a connection with her uncle as well.
Why Mr. S was WRONG
His expectation was that it was going to be sappy. The truth is that it was a wonderfully emotional movie that speaks to fathers (like Mr. S) and parents who are often riddled with questions about doing the right thing when it comes to child rearing. Gifted offers an inside look into what being a loving parent really is, and the importance of a caring family. Mary (McKenna Grace), is a math prodigy with a sense of seeing the world as a brilliant woman/child. The story balances Frank's (Chris Evans) promise to his sister to raise Mary in a normal family, and her grandmother (Lindsey Duncan) who wants to push her to her full potential.
Bring your tissues
You will need them. Yes, it is a tear-jerker (maybe that is what Mr. S meant), but it is also a feel good, do the right thing story that we all need in these troubling times.
I LOVED IT
Then again, I expected to. Now I just have to convince Mr. S to see it again with me.
Gifted opens in select cities on April 7, and nationally on April 12
Directed by: Marc Webb
Screenplay by: Tom Flynn
Produced by: Karen Lunder, Andy Cohen
Cast: Chris Evans, Mckenna Grace, Lindsay Duncan, Jenny Slate and Octavia Spencer
Come back later this week, as I interview the cast of Gifted.


Learn more about this fabulous movie at: giftedmovie.com