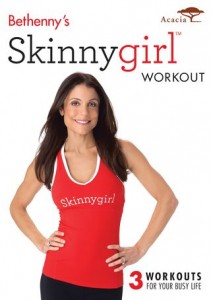 Well, at least a thin one and I'm working at it. I really am. I've been adding to my healthier me program that's gone beyond just my diet (Nutrisystem). I now take supplements as prescribed by my BodyLogicMD doctor and use bioidentical hormones. I also exercise.
The exercise piece for me is always a struggle. WHY? Because although I was a dancer and a dance teacher many years ago, I had an accident that left me with only one working knee. I have to be EXTREMELY careful about how I move, and what I do.  I've worked HARD to just be able to walk, so no HIGH IMPACT for this Skinnygirl to be.
This week I started using Bethenney's Skinnygirl Workout. While it's most certainly challenging, it is very easy on the joints as it's YOGA. Taught by Mike McArdle and presented along with the Skinnygirl herself: Bethenney Frankel (star of Bravo's Real Housewives of New York, Bethenney, Gets Married, and now Bethenney After After). She is one of my FAVORITE reality stars and her quick wit shows itself in this video (just as you'd expect).
The DVD is broken down into 3 workouts, depending upon how much TIME you want to put in.  There is one 20-minute workout for those days when you have the time, as well as 2 15-minute workouts. Bethenney doesn't just leave you with a quick workout, she also includes special features like the BONUS BOOTY for when you're really rushed and a recipe book as well. It made me want to go out and buy her new cookbook (The Skinnygirl Dish) because her recipes are so creative.
LOVE – I like the fact that I can double up on workouts to get a longer one if I need it, or just do a quick ONE and RUN and still feel like I've gotten a great workout.
NOT SO MUCH – Because it's a YOGA workout and I haven't done yoga in years, my balance and my muscles are NOT used to stretching like this. I'm hoping that over time it gets easier, but right now…let's just say you don't want to watch me doing this or you'll be laughing uncontrollably.
Bethenny's Skinnygirl Workout
is available at Target and Target.com and for pre-order at Amazon.com and will be available for purchase in B&M stores beginning December 6.