I do it probably more than I need to, but as a daughter who lost her mom to breast cancer at a young age it's SO very important to me to keep on top of my self exams.  It's EASY to do, and takes all of a couple of minutes. I want to make sure that YOU'RE taking the time as well. I know that you get busy and forget, so I've made this video of a couple of ways that I remind myself each month.
To celebrate my yearly exam this month I dug into a box of Shari's Berries hand dipped pink ribbon berries. This month when you send these fresh strawberries to someone special, Shari's Berries will donate 10% of the purchase price to Susan G. Komen for the Cure to help fund breast cancer research. It's a great, tasty way to help make a difference. Help the fight against breast cancer and wow someone with the unforgettable taste of  hand-dipped strawberries.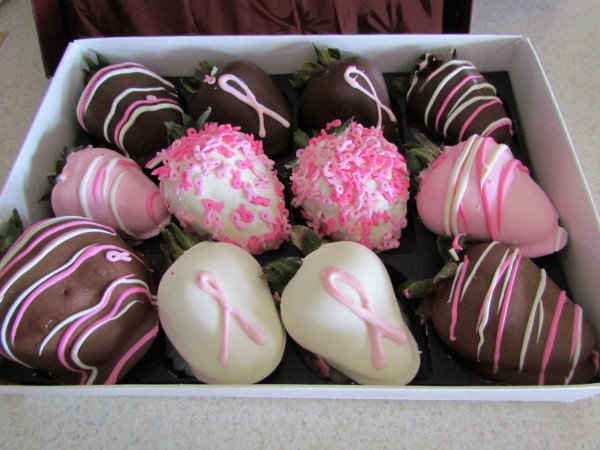 These giant strawberries are dipped and covered with pink ribbons and pink & white swizzles and I can tell you they're TRULY AMAZING. At under $40 they're a great gift for your mom, grandma, aunt or bestie to remind them to do a self-exam & to celebrate once they've taken matters into their OWN HANDS.
While you're ordering gifts, grab a box for yourself (you deserve it) at: Shari's Berries

* Product provided by Shari's Berries and How Many Days Ago.