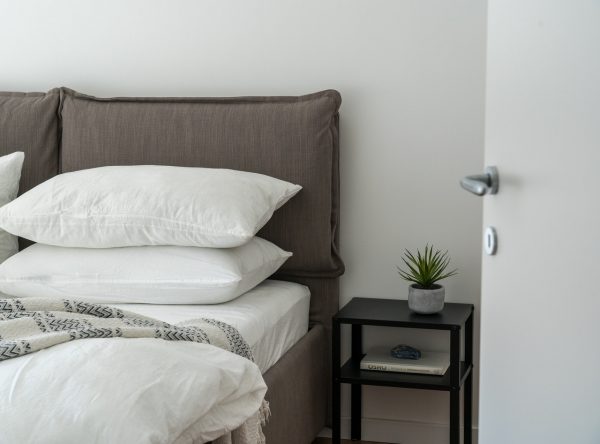 A home should be a sanctuary that you can retreat to and enjoy. When you have guests, they should also feel the same way. Your guest room can often be a junk room that you set up with a bed and call it a day. This doesn't exactly make your guest feel welcome and at home there.
Whether your guests are family, friends, or even acquaintances, they should feel the same sense of being home and comfortable as you do. This is why you need to take some time and actually set up the room the right way. The general rule of thumb is to ask yourself if you would want to sleep there yourself.
If the answer is no, then you need to get to work to set it up so your guests will love staying with you.
Give them storage space
It should go without saying that the bed needs to be very comfortable with a good mattress and large frame so they don't feel cramped. In addition to that, there needs to be some storage for your guests to put their things and to have everything they need.
For linens and things, the bed itself should have some drawers underneath where they can find pillowcases, linens, and blankets if they get cold.
A chest dresser is also essential so they can unpack their bags and put their things in. This is the best way for guests to feel at home. If they are forced to live out of a suitcase, then they won't feel welcome there as it doesn't feel like home. Make sure the dresser is big enough for them to organize their stuff the way they feel most comfortable.
If you have a closet in the room, then try to clear it out so they can hang clothes or put away their suitcases and gear away and out of sight. You may not be able to get everything out of there if you have no place else to store things. Do your best to organize it in such a way that it can be used by guests as well.
Create a cozy space
One problem with having guests is that sometimes, people want their own space. You can't realistically spend every waking moment together. You should set up their room so they can withdraw and enjoy some alone time when they want.
Find a corner in which you can put a comfy chair with a reading lamp. Add a bookshelf with some reading material and they can enjoy some quiet time away from the hustle and bustle of the rest of your home.
Try to find a folding or collapsible table that goes right up against the wall to save space. If they choose to take coffee or tea in their room then they have an easily accessible table to use.
Make it atmospheric
Another way to make it feel homey is to add some splashes of color and natural elements. Plants are an excellent way to achieve this. Some potted plants on the shelves add a nice touch. Trees like ficus also make it feel very natural and warm as well as a nice decorative touch.
Curtains to block the sun can also give the room a bit of privacy while also providing some style and elegance. Make sure they are appropriate for the season, though. In the summer when the windows are likely to be open, the curtains should be dark enough to give privacy but light enough to allow a breeze to come in.
Give them an entertainment corner
If you have the space, then setting up a TV area with a comfy chair is a good touch. It can be a full entertainment area if you also provide things like a gaming system and DVD player so they can watch some movies or play some games.
The internet should be high speed and stable so they can use a laptop or stream videos without it lagging or losing the connection. If you have fiber internet in your area then this is a good time to connect to it so you have the fastest internet for you and your guests.
Think about the climate
If you don't have a central HVAC system then you have to make sure the room is going to be the right temperature in the summer and winter. A box air conditioner is a minimum. You should think about a ductless system that can give them heating and cooling options with the compressor outside so it is quiet and efficient.