This post has been sponsored by Cobra. All opinions are strictly my own.
Over the past few months
As we have been in the house, our cars (at least mine) haven't seen a lot of activity. Our groceries have been delivered, as have our restaurant meals. We've stayed away from the stores and theaters, the beaches and parks, and spent our time at home, in our pool, and on our street. I hadn't even thought about the car. It has been tucked away safely in the garage.
As things have begun opening here
I am beginning to go out. Even if it's just a ride along the beach to peer at the waves from behind the wheel. But, after a couple of months of being dormant in the garage, would my car even turn over? It's funny how you forget about things like taking the car out to keep the battery at its peak when you're sheltered in place. But, that first push of the button didn't quite catch and my stomach sunk. The last thing I wanted to do when social distancing is to call for a jump start. I don't want a stranger at my house…not yet. Thankfully, I didn't have to.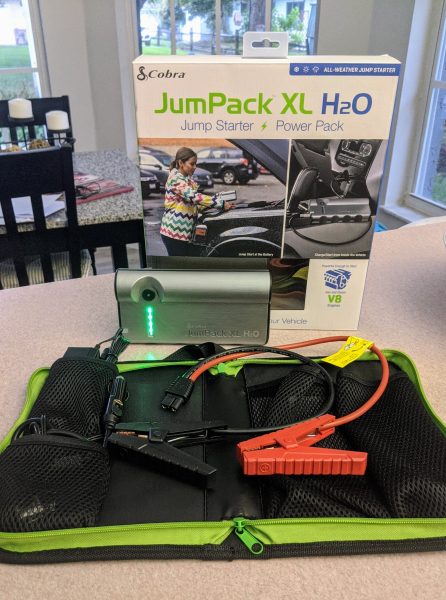 I was a girl scout
And if being a scout taught me anything (beyond my relationship with Thin Mint Cookies), it was to be prepared. If you opened my car right now you'd find
A bottle of hand sanitizer
A box of tissues
2 bottles of water in the cupholder
A roll of paper towels
A tire gauge
4 One Protein Bars in the compartment between the seats
A notebook & 2 pens
6 reusable grocery bags
A can of tire inflator/sealant
2 USB phone cords
A Cobra JumPack tucked into the glove box

I have been stranded
I have been in areas where cell phone signals are weak to non-existent. I have been lost on a country road with Rachel with the sound of hunters in the background. I have been stuck on the side of a deserted road. I have needed to make a call and my phone has been as dead as my battery. But, at least now I don't have to worry about a car that needs jumping or a phone that's run out of juice any longer. I keep a Cobra Portable Powerpack in my car at all times.
I could have bought ANY jump starter, but most only jump-starts your car, the newer models like the one I have, offer more functional features to use so that the jump starter does not get lost in your car or becomes a dust bunny in your glove compartment.
Jumpstart a dead battery
The jump-starting function of the Cobra JumPack can be done directly at the battery or inside the car through your 12V Accessory port (those things we used to call cigarette lighters) when you are stuck in the pouring rain, snow or freezing weather, or when your car is parked where your battery is out of reach (like in the garage facing forward toward the wall). It has a 3-mode flashlight, making it easy to use in the dark. I hate having to feel around under the hood of my car in the dark. The CPP15000 (which is the one that I have) can be used in just about any vehicle or boat up to 8 cylinders or diesel (recommended up to 6.7L). That means that I'll be taking it with us the next time we rent an RV.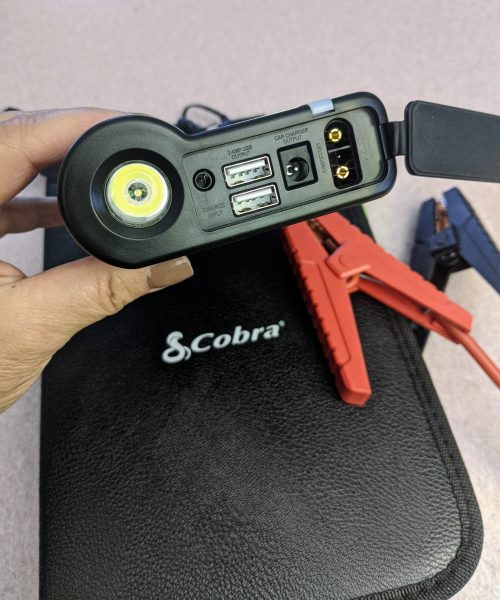 What makes it so special?
My Cobra JumPack XL is built with Pentagon Protection® features that protect you and your vehicle from overcharge, reverse polarity, short circuit, or reverse charge to give you peace of mind, because the LAST thing you want when you're already in a predicament is to make it worse. It has two built-in USB ports to conveniently charge your two of your devices simultaneously (mobile phone, tablet or even a laptop) up to five times through Cobra's Dual 3A USB ports and is powered by an 12,000mAh Battery w/ 600A Peak, and has that 3-mode flashlight feature, making it great for navigating in the dark while camping, when encountered in an emergency situation or if you're like me…just looking for something you dropped on the floor in the dark. It's small enough to fit in a larger handbag, the glove box, or a backpack and because of the size, it's convenient to use. It's great for hiking and camping, in the car, or even as a source of power while sitting on the beach (yes, it's water-resistant, so you don't have to worry when it rains or gets splashed on).
Charging it is easy and you can tell exactly how full the battery is with the 3 color LED lights that indicate when your JumPack is ready.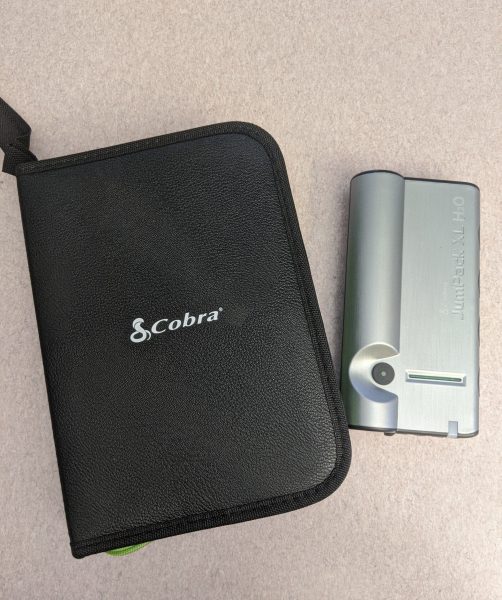 This is a great time to "be prepared"
Even if you don't remember the Girl Scout's motto, you can do things NOW to prepare for your
Road trip
Day at the beach
Drive in the country
Camping vacation

The JumPack XL 15000 makes a GREAT Father's Day, graduation or gift for any occasion as well.
Stay safe! #ad #CobraJumPacksMay