It has been four days since Hurricane Matthew grazed our coast. We finally have power, but still have no drinking water. While we are VERY lucky that we had minimal damage here, not having the basics like water can be overwhelming. I already had this article ready to write, but thinking about wildlife and plants without the resources they need seems even more important to me now that we're in this situation.
Who me – outdoorsy?
For me the first site of a mountain range or a running brook gives me that "AHHHHH feeling." Walking through the woods in the White Mountains, staring down at the massiveness of the Grand Canyon and spending time in the painted dessert with Clem and Mr. S are memories that have shaped me. To think that one day they wouldn't be there is something that I can't fathom.
Coca-Cola
Let me begin by saying I drink WAY too much of their products. I have a tendency to go back to the 60's and question both the actions and motives of large corporations in general, and while I'm not changing my drinking habits I was so happy to hear about their commitment to both find ways to use water 27% more efficiently PLUS replenish the equivalent amount of water used in their GLOBAL SALES volume back to nature and communities.
The US Forest Service
One of the ways they have already met their global goal (5 years early I might add) is through partnerships with  the U.S. Forest Service, USDA and the National Forest Foundation. Together, they replenished approximately 1 billion liters of water.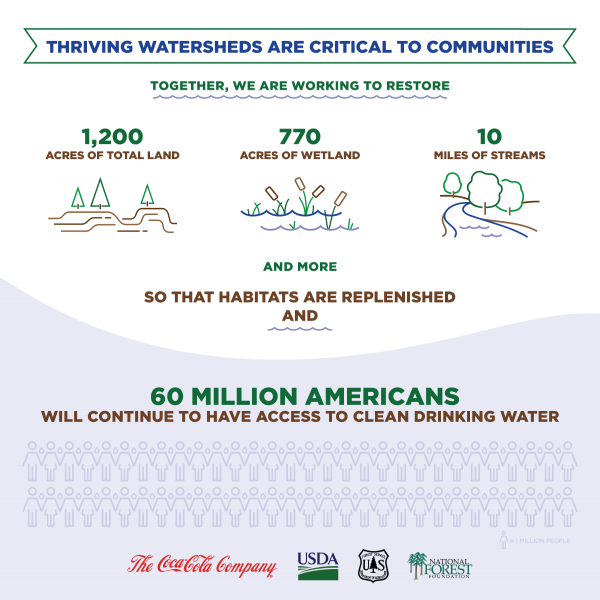 45 replenishment projects in 145 communities
Focusing on watersheds to address local water challenges like damage from forest fires, pollution and more Coca-Cola has invested in public-private partnerships throughout the U.S. to complete this work.
Volunteers
Volunteers have helped with these replenishment projects in our National Forests in cooperation with
American Rivers
California Conservation Corps
Coalition for the Upper South Platte
Los Angeles Conservation Corps
Methow Salmon Recovery Fund
National Fish and Wildlife Foundation * National Forest Foundation
New Mexico Trout Unlimited
Oceana County Road Commission
Rancho Santa Ana Botanical Garden
Recon Environmental
San Gabriel Valley Conservation Corps
The Wetlands Initiative
Watershed Artisans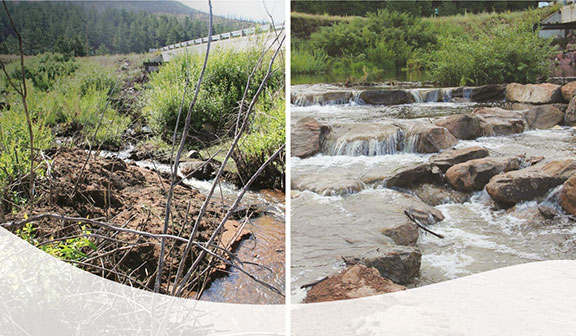 Some of the work
Coca-Cola is 5 years AHEAD of schedule having completed projects in the Upper South Platte (located in Colorado's Pike-San Isabel National Forests) and Indian Valley (located in California's Eldorado National Forest) to name just a couple.
What Does Replenishment Look Like?
More than 1,200 acres of land restored (809 acres of wetland restoration and 437 acres of invasive weeds removal), including 3.2 miles drain tile removed to support wetland restoration
8.3 miles of streams restored
34 miles of river and 62 acres of upstream lake reconnected
74.5 miles of trail restored or  maintained
695 stream restoration structures installed
Help at home
One way to join in on water replenishment is by using rain barrels to collect water that runs off your OWN roof. Using rain barrels helps prevent run-off and saves water and money.
I'd love to hear how YOU conserve water!


Learn more about the Water Replenishment project on the Coca-Cola website.