Once again, our West Coaster Kathy Leong was caught escaping to Hawaii. While we're all jealous here at Champagne Living, we know that it's not easy relaxing when you have stories to write. Just kidding, she knows how to have a FABULOUS time so that she can give you the REAL story about some of her favorite destinations.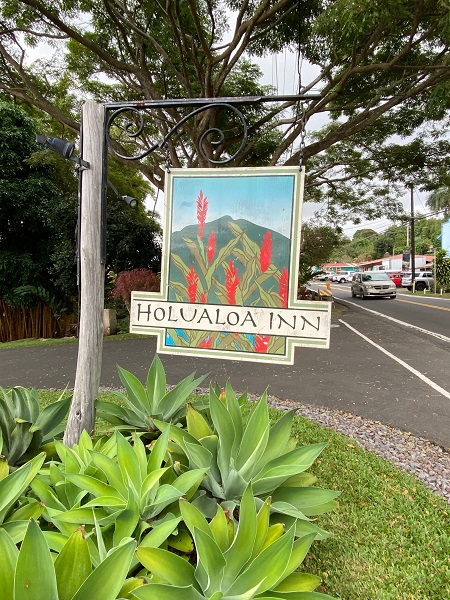 Today it is raining in Hawaii, I could not be happier. It's a perfect excuse to cocoon as giant drops hammer the roof of this refurbished barn.  Outside the weather is pummeling, inside I am at peace, hiding in the elegant Red Barn studio at the Holualoa Inn Estate on Hawaii, the state's largest island.
This boutique inn is nestled in Holualoa Village, an historic art enclave on the western slope of Mount of Hualalai.  If you are seeking refuge, quiet, tranquility, and all of the above, this is it.
In January, I needed sanctuary, a place to unpack the mental and emotional luggage accumulated from months of sheltering in place. Little did I know what would lay ahead.
The rental car rolled onto a long driveway skimming gingerly past avocado and mango trees. Standing in front of the main house to greet us was the smiling, barefoot Kathryn Saffro, the property's business manager.  It was like coming home even though we had never been there before.
Upon entering, we masked up and sanitized our hands.  We were encouraged to remove our shoes (Hawaiian courtesy). Feeling the polished, original eucalyptus floors made me feel more grounded and relaxed than ever.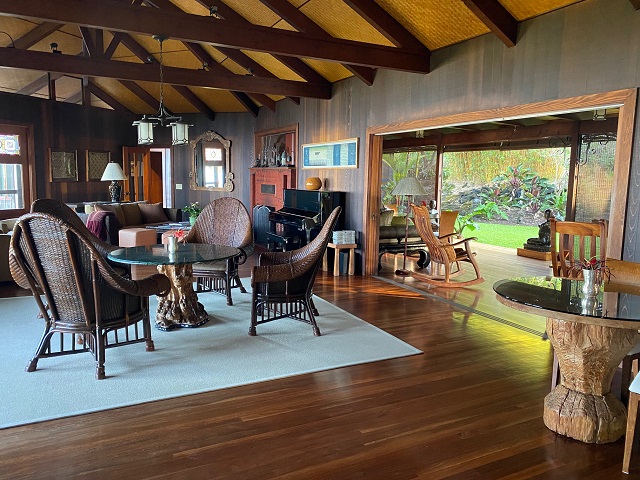 This was the Great Room where we would partake in gourmet breakfast, where we would have access to a grand living room and private nooks laden with artwork, Polynesian furnishings, a fireplace, player piano, stained glass windows.
Kathryn took us on a tour of the premises.  With the Pacific Ocean as the backdrop, the backyard garden possessed dramatic grandeur, reminiscent of regal grounds of a well-loved estate.  On these 30 acres, owner and visionary Cassandra Hazen has streamed her creative energy into everything – from the tasteful tropical flowers to the practical use of plantings for food and agribusiness since 2005 when she purposed the inn, originally a family home.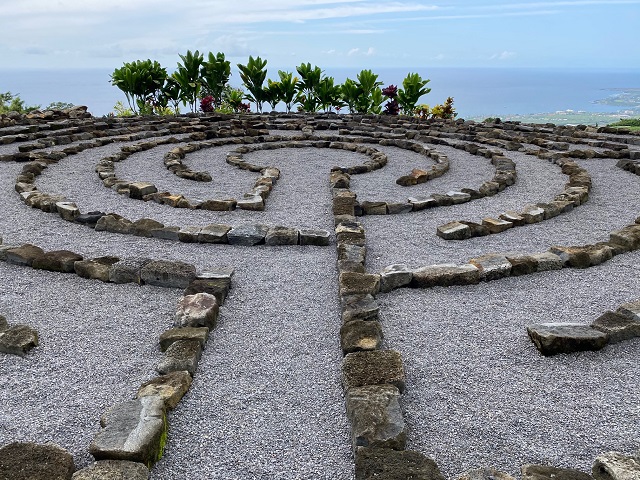 Some 20 acres are comprised of accommodations, an amphitheater, the Great Lawn for weddings and special occasions, the Malulani event pavilion, a labyrinth, the Art and Garden preserve, fruit and coffee orchards, lava rock paths. Meanwhile, the other 10 acres remain untilled, left to the hooves of cows and goats.
Green is everywhere punctuated by red anthurium and hot pink hibiscus. This oasis delivers on the luxury it promises on its website.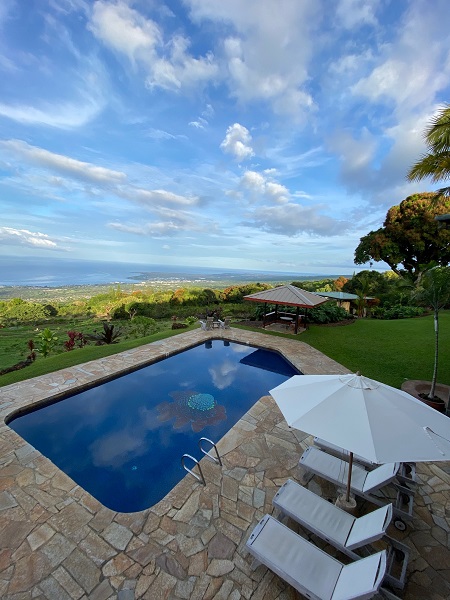 For one, there is the custom swimming pool with a torch ginger flower tile mosaic in the center, which matches the actual flowers planted on the premises. The nearby hot tub offers shelter with an artisan-made gazebo, and I am thankful for that during today's downpour of warm rain. If you come here, the hot tub is an experience not to be missed as you get an above-sea-level panorama of the ocean.  Another gazebo for massages called the Hale Luana is perched above the hot tub, also with majestic views.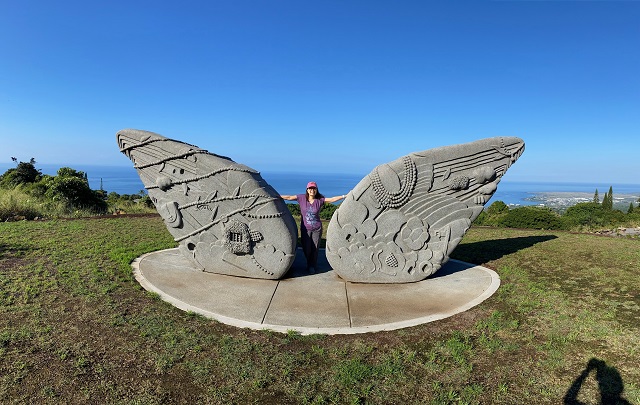 This land is coffee country where farmers on the western side of Hawaii supply the world with rich Kona coffee. Ever the entrepreneur, several years ago Hazen had the courage to launch her own coffee farm with 5,100 coffee trees to supply the inn with the Kona coffee each day. While she sells it to guests under the Holualoa Inn name, the official label is Brazen Hazen Coffee which is, according to the website, "hand-picked, carefully selected, and roasted to order."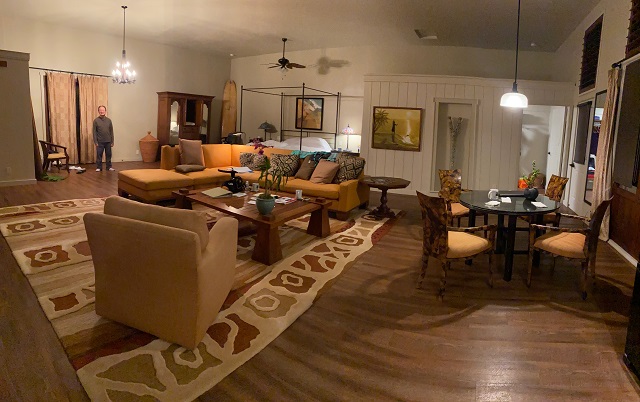 We follow Kathryn's golf cart to the Red Barn after the tour. When she opens the door and hands me the key, I feel like one of those contestants on a game show who has just won the big jackpot.
Is this … for real?   At 1,100 square feet, the room is HUGE – I estimate large enough to house a two-seater airplane.  The big square is graced with Hazen's impeccable taste in art and design. It is filled with amenities that proves her ability to anticipate guests' wants and needs.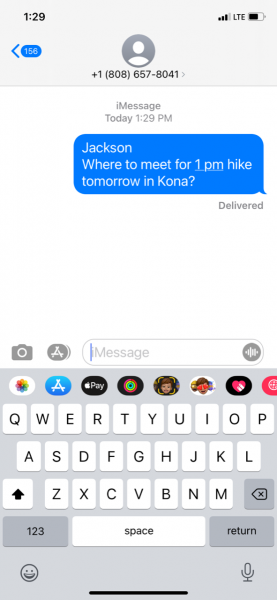 Hanging in the voluminous, walk-in closet (enough for two Hawaiian canoes), is a tall, three panel mirror, perfect for brides who need to get dressed before stepping outside for their vows. Also inside the closet are a pair of Hawaiian blue and white, block print robes. A secret tip: if you have kids, the staff can bring an extra bed for them to sleep here.
I discover new black fuzzy socks, folded neatly in the armoire next to the spare blankets.  Those are mine in case my feet got too cold at night.
Exposed wood beam ceilings at least ten feet high evoke a cathedral effect. The adept placement of the plush bed off to one wall, the couches in the center, and breakfast and kitchen area on the opposite end, create comfortable zones to spread out.
Each stick of furniture is aptly selected for luxury and ease. The patio features a swivel rattan armchair that can also lean back.  And the bed sheets are so silky they are for sale at the inn, in addition to the coffee mugs and coffee.
The comfort is in the details.  The kitchen comes with its own French press coffee pot and hot water maker (plus tea and coffee), and a full-sized refrigerator. Cabinets and drawers are filled with pots and pans, plates, mugs, and utensils.
The bathroom boasts a full bath tub and separate shower. A wood barn sliding door gives you privacy. I am told the owners resourcefully used one its Monkey pod trees which was cut down to make way for the pavilion.  The wood was repurposed to make the kitchen cabinets, the bath countertops and shelving, an artful privacy screen for the hot tub, and the pavilion countertops. They made every effort to make every plank count.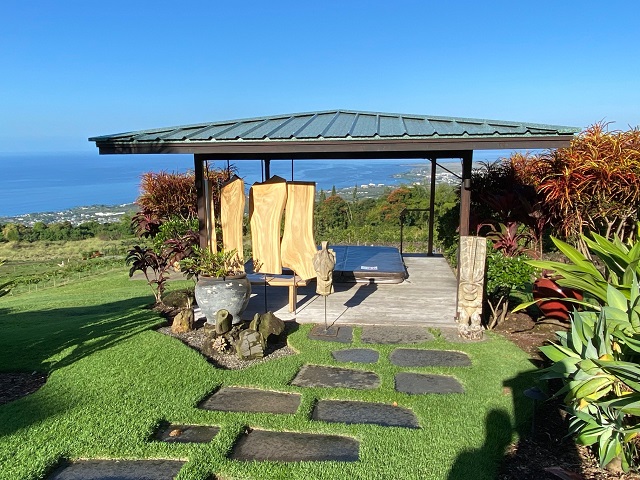 Plants and orchids accent the barn. A surf board standing on one corner, wood sculptures, and an antique painting of a surfer grace the area with the right amount of art without cluttering the space. The Red Barn is so big, cozy, and handsomely decorated, you could spend a week with a family of four and never feel like you were getting in each other's way.
On the Bed and Breakfast report card, I give this lodge with six rooms- plus a detached cottage and the Red Barn- straight A's for hospitality, cleanliness, food, decor, and location.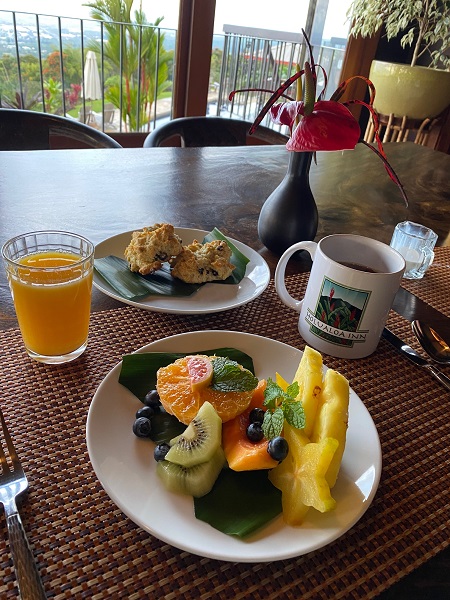 At breakfast, there is no skimping on quality or quantity. Audrey is our server, and after bringing us Kona coffee, orange juice, and water, she emerges from the kitchen with individual fruit platters festooned with pineapple, blueberries, and star fruit in a papaya boat. It is so well arranged this could be the cover image of a food magazine.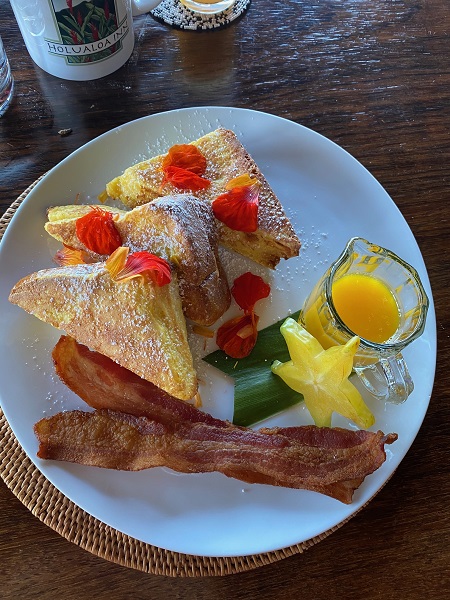 The signature breakfast is lilikoi French toast stuffed with cream cheese and maple bacon slices. Turns out everyone wants the recipe, and she has it already printed when I ask.
Is there any downside to staying at the inn? After two days we had to leave, and that was the harshest blow of all.  God willing, I'll be back for that lilikoi French toast and a dip the torch ginger flower swimming pool.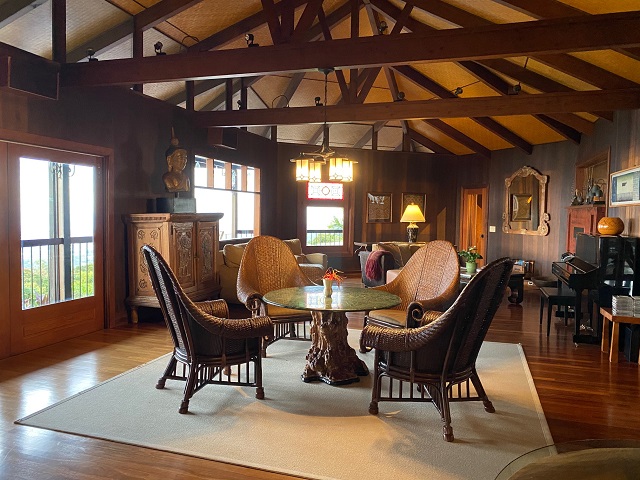 For reservations or more information please visit: Holualoa Inn