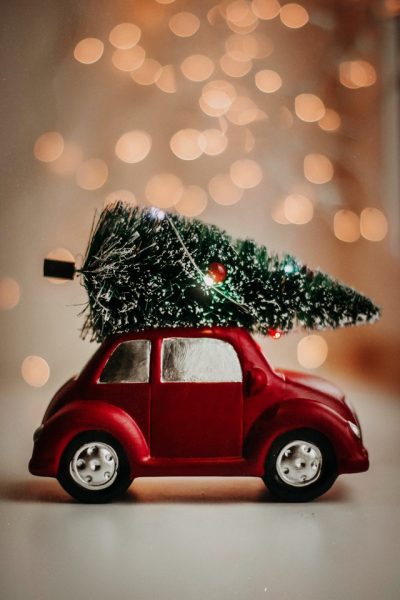 So, this year you've decided to get out of town to celebrate the holidays. After the last year and a half, you deserve to do whatever you want this Thanksgiving or Christmas. Ringing in the New Year in Paris sounds perfect, doesn't it? But, in all the hustle and bustle and intense planning that goes into the holiday season, it's easy to forget the things you need the most. And no, this isn't your typical list of reminding you to bring your passport or phone charger, though those are equally important! This is a list of all the things you need to remember to make sure you've done your holiday traveling just right.
Go Glitzy Or Go Home

 
No matter which holiday you're traveling for – and if you're traveling for all three, lucky you – you need to make sure you bring the glam with you! We've spent the last eighteen months essentially in loungewear, and the same way you want to return to work in style, you need to travel in style. So, figure out which trends are the ones you're in love with and go big when you leave home. This year it's all about the metallics, the sequins, and the fun! So, whether you decide to go glitzy with your accessories like a headband (which are so in) or your shoes, a sequined bodycon dress for a night out, or a metallic and beaded blazer for dinner, make sure you pack some bling!
Stay Spicy

 
If you're getting out of town with your partner, you want to plan ahead to keep things romantic and spicy. Especially if you have children, you need to really take advantage of this getaway if you're going childfree. So, head to your favorite place to buy lingerie and pick out something that you feel incredible in. Pack anything that you two had used before and enjoyed, and maybe consider investing in something new. Sex toys for men are always a fun thing to pack as well as anything edible. Relationships take work, and keeping the flame lit is no exception, so plan ahead and pack items that you know will keep the fire going this holiday season. 
Bring The Money, Honey 
Sure, it'd be amazing to earn money while you're traveling, but it also pays to bring plenty of cash with you. On top of wanting to save room in your luggage so you can pick up souvenirs to remember the trip by, get some extra money with you to really spoil yourself this year. We've been through a lot over the last almost two years, so treating yourself is something you deserve. Not to mention, if you're traveling for Thanksgiving, you can pick out some extra unique gifts for friends and family on your getaway – just in time for Christmas. Make sure to bring cash if you're traveling domestically, traveler's cheques internationally, or get ready to put a severe dent in your Amex because you deserve to get all the retail therapy on this trip!
Ditch The Itinerary 
Maybe you're the type of person who plans everything no matter if it's travel-related or not. Perhaps you just need structure in your day-to-day life. Do yourself a favor, and don't set an itinerary for this trip unless absolutely necessary. There is beauty in the unexpected and exploring things you hadn't intended to. Some of the best memories are the ones we make off the cuff. So, don't tie yourself down with tours and excursions. Wherever you're going, let things come naturally and organically on the trip. Traveling should be about relaxing first and foremost (unless it's a business trip), so just go with the flow. You won't regret it! 
Holiday plans are some of the most magical due solely to the time of year. Watching the leaves change, then fall, the weather turns colder – it's all so mystical and romantic. No matter where you're going in the world this season, even if it's just a couple of states away to visit family, take your childlike sense of wonder and good cheer with you. We all know we need that kindness more than ever right now.