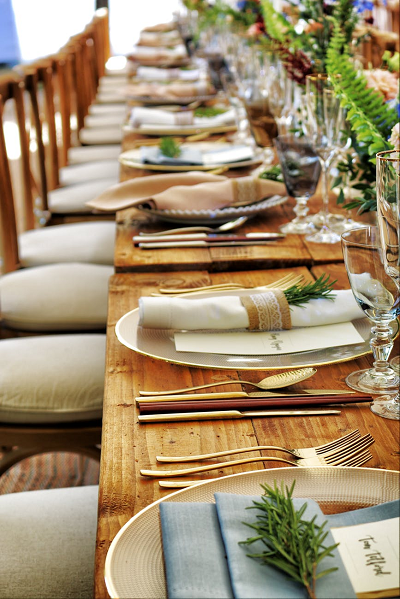 Your wedding rehearsal dinner is your last party before the big day, and it's an occasion to celebrate bringing your two families together with those closest to you. Not only that, but you and your nearest and dearest will probably be pretty famished after a long wedding rehearsal session.
But wedding rehearsals aren't usually as formal as the event itself, and the dinner needn't be as formal, either. Neither do the invitations. Many couples even use email invitations for their rehearsal dinners, although paper invites can still become special keepsakes for you, members of your wedding party, and close relatives invited to the rehearsal dinner. Whether you decide to go with paper or e-vites, make sure to include all the information attendees will need, and give them plenty of time to RSVP. Don't stress too much about the wording — it doesn't need to be as formal as it would on the wedding invitations themselves — but take care to make sure it's clear, so guests don't get confused.
Put Together Your Guest List
Who should you invite to your wedding rehearsal dinner? If you're having a local wedding, you can stick to inviting the wedding party, both sets of parents, any other immediate family members, and any extended family members and close friends who you want to share the experience with. Etiquette demands that you invite any out-of-town guests, so they can make the most of their travel to attend your wedding. If you're having a destination wedding, you might want to invite the entire guest list to your rehearsal dinner, too, especially if your wedding will be on the smaller side.
Include the Important Details
If you want your close friends and family to actually show up to your rehearsal dinner, you'll need to make sure the invitations include all of the details they'll need: who, what, where, and when. Include the date and time of the rehearsal dinner, the name of the couple, the location and address, and how to RSVP. In addition to the starting time of the dinner, include what time you want the event to end — rehearsal dinners usually take place the night before the wedding, so you'll all need to get back home or to your hotel to get your rest for the big day ahead.
Paper rehearsal dinner invitations usually consist of a single piece of stationery in an envelope. They don't need reply cards. Instead, you can provide a phone number or email address people can use to RSVP.
Don't forget the Wedding Favors
There's a lot that goes into planning a memorable wedding ceremony and reception. Wedding favors come in all shapes and sizes. However, you want to opt for wedding favors that check all the boxes: practical and personal enough to emphasize your and your significant other's specific taste, plus, you want them to match your wedding theme. Lapel pins custom will meet all your requirements. Add your wedding date, future last name, or even your wedding pictures!
Send Out the Invites on Time
Some couples include their rehearsal dinner invitations in with their wedding invitations, but you can send them separately, too. It's best to send them right after or at the same time as you send your wedding invitations so that guests have plenty of time to plan for your wedding events. That's especially important for guests coming from out of town.
At a minimum, you should send out invites to your rehearsal dinner three weeks before the wedding. Remember that you want to have your RSVPs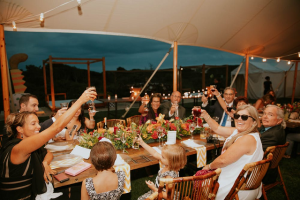 back at least 10 days before the event, so you can finalize plans. To make sure that everyone knows where and when the rehearsal dinner is, it's a good idea to reach out privately to those invited, via phone call or text, after you send the invitations, so you can let them know to expect an invitation to the rehearsal dinner and perhaps get an RSVP right then and there.
Get the Wording Right
Because they're not as formal as wedding invitations, you don't need to stress too much about the proper wording for your invitations. You can look up plenty of wording examples for wedding rehearsal dinner invitations online. If you're including your rehearsal dinner invitations in with the wedding invitations, you may want to open with a line like "please also join us" so guests aren't confused. You don't necessarily need to open with the hosts' names; you can include those at the bottom of the invite, or you can go with a fun, creative rhyming opener, as many couples do.
Wedding rehearsal dinners aren't as formal as the wedding itself, and their invitations don't need to be, either. As long as your guests know where and when to show up, your invites should be fine. Many guests will be in close contact with you throughout the wedding planning process, anyway, so for most, the value of a rehearsal dinner invitation is a cherished keepsake of your special day.