All of the items in this post have been gifted to me for inclusion in this article. I seek out the items that I love FIRST, then invite them to come on board here at Champagne Living. I have to truly embrace them in order to be included.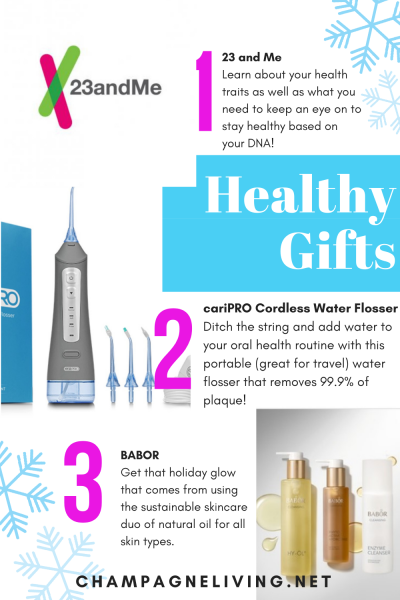 Why wait until New Year's Day?
Health should be your priority EVERY day of the year, and that includes holiday time. That's why I'm bringing you my 3 favorite items for your health and the health of the people that you love. So, leave the fruitcake at home and wrap a great healthy gift instead this year. They'll be thanking you for a good long time.
DNA tests can tell you a lot more than whether you're a descendant of a famous queen or your great-great-great-great-whomever discovered how to build a fire. Today's DNA tests from 23andMe help you learn how genetics can influence your chances of developing certain health conditions. You can also find out if you're a carrier for certain inherited conditions and discover what your DNA has to say about your well-being and how it can influence certain lifestyle choices. Plus, it is FSA eligible so if you haven't spent your FSA money in 2021, now is the time. Get the personalized genetic insights that can help you take more informed actions on your health, today and in the future.
I'll admit that I was a water flosser hold out. I was definitely addicted to using the string every time I ate (because I have spaces between my teeth where food ALWAYS gets caught). Part of it was that I needed one that would go with me when I travel or when I move from one bathroom to the other (the revolving door of guests during the Fall/Winter season means I'm in and out of my favorite bathroom). It's a great gift for teens to adults. With 45 seconds of flossing per fill, 3 floss modes, and 4 premium floss tips to fit your teeth's needs, it's the most effective method of cleaning between your teeth you've ever tried. Plus, the ergonomic slim design and 28-day battery life make using it every day a breeze.
50% more effective for improving gum health
2x more effective around implants
2x more effective around braces!
Your mouth is about to get a whole lot healthier and your smile is about to get a whole lot brighter. Isn't it time that you ditched the string and started water flossing?
Make that resolution to care for your skin the way it deserves EARLY this year. The doctor knows best and DOCTOR BABOR offers clinical-grade cosmeceutical solutions for every individual skin need to achieve visible, measurable, and precise results since 1956. It all starts with good bi-phase cleansing. BABOR has combined the natural cleansing powers of water and oil with HY-OL, their unique 2-Step, deep-action cleans made from pure natural plant oils and Quillaja Extract to intensify the cleansing action without causing tightness. Pair it with the Phytoactive Hydro Base that was designed to treat, refresh and lend radiance to the skin while you cleanse. This 2-step cleanser is a great way to start and end your day with clean, beautiful skin.
I'll be telling you more about these products soon!
Pick them up NOW and be prepared for your (and their) New Year Resolutions NOW!