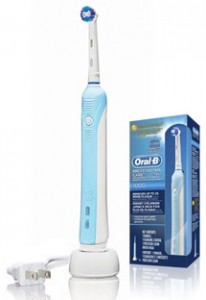 My saga continues. I've now got two temporary crowns (one to replace one that cracked the other because I had an old filling that had shrunk). I'm looking at 8 months of dental work – at LEAST. Eight months of coming home to an aching jaw, 8 months of only being able to eat on one side of my mouth, and 8 months of an expense that I'd rather have put toward shoes, a trip, a wardrobe – just about ANYTHING other than dental work.
I can tell you THIS! After spending a year's pay on a new smile, I'm protecting it the best way that I know how, by making sure that I brush three times daily with my Oral-B Professional Precision™ 1000 power toothbrush. Remember earlier this week when I told you that I'm a brand loyalist? Well, I've been using Oral-B toothbrushes since I was a kid, so when it came to choosing an electric toothbrush, I stayed with the brand that I know and trust.
Better than tell you – I figured I'd SHOW you EXACTLY how great this works.
Oh and after just having had a "deep cleaning" (a lovely euphemism for a high scaling) – TWICE (because the periodontist said I needed to have it done again – 2 weeks later), I love the fact that the Oral-B Professional Healthy Clean precision 1000 cleans up to FIVE TIMES better at the gumline!
With the push of a button, Oral-B power toothbrushes remove up to 100% more plaque versus an ordinary manual brush.
If you head over to the Oral-B site, they're offering a $20 mail-in rebate on select electric toothbrushes from July 1 until September 30. 

GIVEAWAY
Extra Entries
Follow me on twitter @zipporahs and tweet about this giveaway using the hashtag #ChampagneLiving
Comment below with your tweet
Subscribe to Champagne Living,  follow me on facebook or twitter – all found on the sidebar (each counts for 1 extra entry)
Tell your peeps on your blog, facebook page or twitter about this or any post (each counts for 1 extra entry) and link to us.
Share this giveaway on any contest/sweepstakes/giveaway site for 5 extra entries..
This giveaway is open to US residents, 18 and over and ends on August 20, 2012
No purchase is necessary.
Odds of winning are dependent upon the number of entries received.
Void where prohibited by law.
I received product to facilitate this post. All opinions are strictly my own.