I participated in a campaign on behalf of Mom Central Consulting (#MC) for Silk'n Flash&Go. I received a product sample to facilitate my review and to thank me for participating.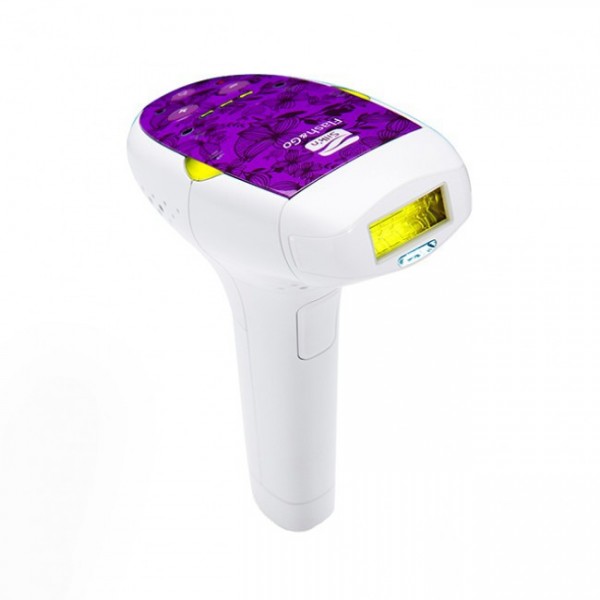 I hate shaving. I've got dark hair, I live in Florida, and it's an everyday thing….just like taking a shower. Unless I plan to stay in bed and hide undercover for the day, my legs are bare, my pits are exposed and I frankly have grown up since my hairy hippie days. What was cool in the 60's is  not as cool AT 60.
Oh, I've tried…
Sugar – what a MESS it made (and the ants that showed up a week later were NOT a plus)
Waxing – having to grow my hair out in between made this a NO NO NO GO for me
Shaving – I'm a slave to the daily routine
Laser treatments are just too darned expensive (I'd rather take a trip). I've had friends who've spent thousands having their legs and bikini line done, only to see the hair start to sprout back in a couple of years. I was excited to have the option of an at-home treatment with the possibility of permanent results. I've only been using it for a short time, so in all honesty, I don't know if my hair will come back or not, only time will tell, but I have noticed that my hair has begun to thin a bit. I have VERY dark, thick hair, so I'm know that I'll have to do more treatments than most, and that's okay with me.
Here's how it works:
The nice thing is that you shave your legs before the treatments, so you don't have to walk around like a yeti for weeks. The light-based hair removal is for use on the entire body with permanent results, with the exception of your face. So, you can easily do your legs, underarms, bikini line, etc. You never have to worry about those pesky in-grown hairs that you do with shaving.
You should begin to see a difference in only just two to four treatment sessions. My hair became somewhat thinner after only a couple of times using it, and with each use my hairs got finer and thinner (I wish it would do the same for my FAT). 
According to their literature…
Silk'n Flash&Go Features and Benefits:
FDA cleared technology for permanent hair removal/ reduction for the entire body
Proven technology – HPL has been cleared since 2009, with over four million treatments worldwide
Affordable compared to professional clinics $2000+ or other at home lasers
Large treatment spot size
Easy and safe to use
Upgrade to the Lux Cartridge with all the flashes you will ever need to be hair free
Dermatologist recommended
Silk'n Flash&Go Lifetime Cartridge Features and Benefits:
Lifetime use
Never need to buy another hair removal item ever again
Will allow you to remove ALL unwanted hair, permanently
Easy, safe and painless
Saves hundreds of dollars vs. professional treatments
No more waxing, shaving or plucking
For more information & to Purchase the Silk'n Flash&Go:
Visit: Silk'n
Priced at $199
USE COUPON CODE: EXTRATWENTY for an additional 20% off until Sept 30 2014.