I received a pair of shoes from Jambu to review. This is my honest story & opinion.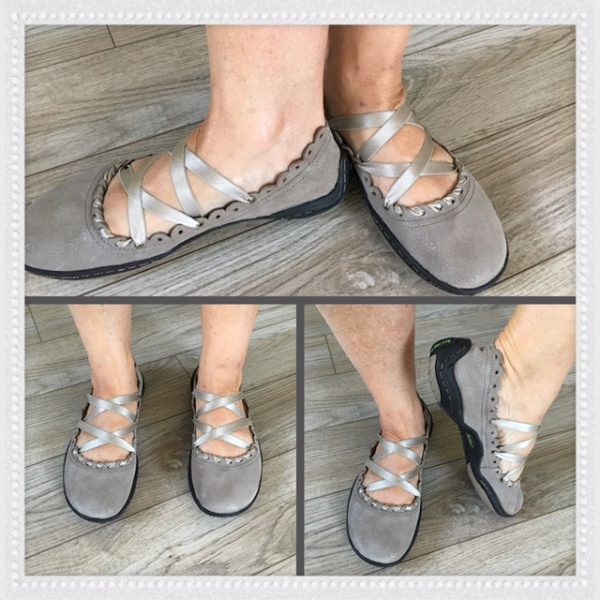 The year was 1971. Elton John's Tiny Dancer was playing on the radio and I was entering my senior year of high school. I'd spent the summer applying to Julliard, Boston Conservatory, and a host of other colleges that offered a dance program. At 17 I had already worked teaching and performing, and that summer of my graduation would put me in the spotlight as a professional actress and dancer, and eventually land me a spot as our state dancer in residence.
Now, I dance only for exercise and socially, but I still have the soul of a dancer and while I'm known for my striped shirts, you'll usually find me in flats….ballet flats. I like them to be supple and hug my feet in just the right places, like my REAL ballet shoes did.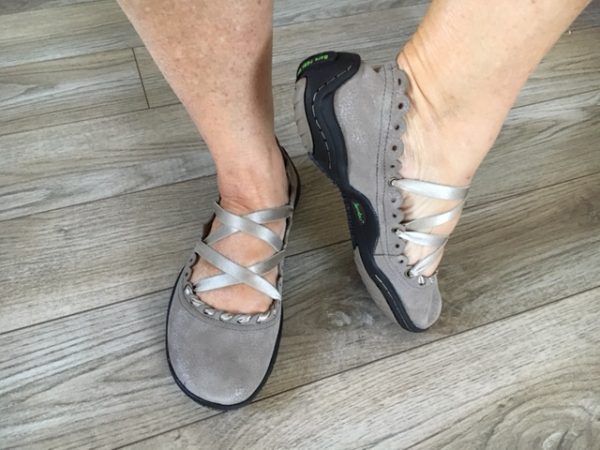 But, there is a style that I've been lusting after
The kind with straps that lay across the foot in the way that you'd tie pointe shoes, crisscrossing to hold the shoe firm to the foot with a delightfully poetic femininity reminiscent of Giselle dancing as she dies in Albrecht's arms.
I found them
As a traveler I find myself needing shoes that do double duty. I want comfort with a good arch that I can wear all day combined with good looks. I need them to work when I'm running through the airport or have a cute little skirt and t-shirt on as I walk around exploring destinations. Shoes are HEAVY and the less I can pack in my luggage the better.
The moment I slipped my feet into my khaki colored Jambu Kettle Too ballet flats I knew that I had found my new favorites. The footbed supports in all the right places in these comfortable memory foam shoes that offers even more support surrounding the arch area. I have two slightly different sized feet and the soft suede has enough give to hug both of my feet equally with no slipping, whether I'm running to catch a plane or standing and mingling with my hosts.
The delicate looking ribbon is woven through the decorative holes in the front of the shoe working their way across the foot in that crisscross of a ballet shoe that I wanted, offering an elastic support across the top of the foot. The suede seems to have a shimmer to the fabric making it a bit dressier. I flipped the shoe over to look at the bottom and was pleasantly surprised to see extra support on the sole offering traction for those (like me) who find themselves walking long distances.
I hate stockings
Living in Florida, I generally wear my shoes without socks, tights or stockings. Thankfully the Kettle Too has an antibacterial insole that's breathable.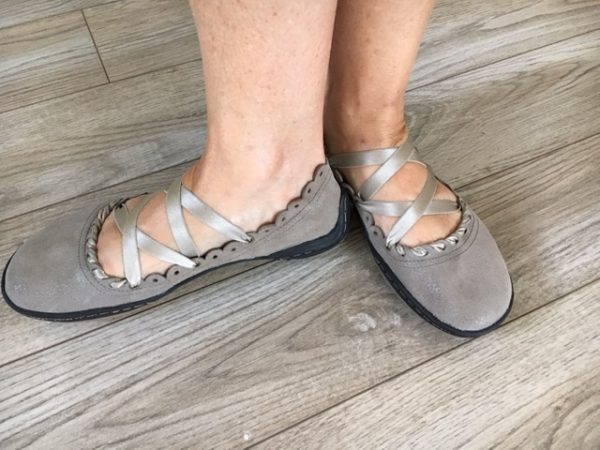 Kettle Too is the grand jeté
It was an easy leap to take and I'll be taking these shoes with me as I visit the low country next week and to Italy with me in November.
Kettle Too ballet flats come in both Khaki and Black
They run slightly small, so order the next size up.
Kettle Two is available online at Jambu.com
Jambu is offering Champagne Living readers 10% off (valid on full-price items) through November 1, 2016. Simply enter the code: champagnejambu

at checkout.