This post has been sponsored by Boiron SleepCalm. All opinions are strictly those of Champagne Living Media LLC.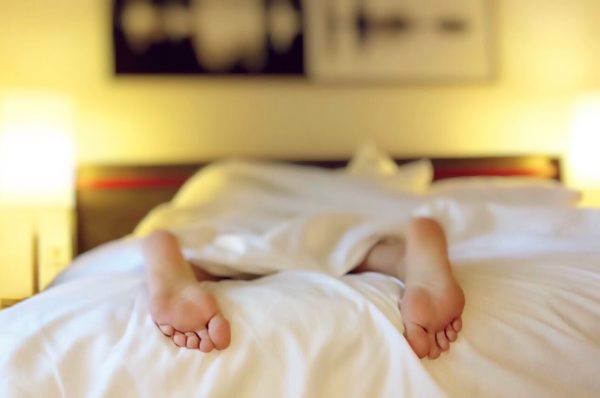 SLEEP
The older I get, the more elusive it is. 
Did I pay that bill?
What time do I need to wake up?
Did I lock the front door?
What did I promise Mr. S I'd do in the morning?
Why was I so tired, yet the minute I lay down I'm wide awake?
Where did I put my phone?
If I counted sleep, I would do it compulsively. Whoever said that counting makes you sleep never had an obsessive thought in the world. Did I skip #5? Do I have to start over again? I got to 1,222….222 is my lucky number, what number was I on?
That's me most nights
I lay awake, in the dark, listening to the cacophony of Mr. S and Baby the bull terrier breathing, wishing that I could provide the harmony. Sleep has become the enemy.
I have tried so many remedies
The allergy pills that it turns out I'm allergic to.
Melatonin, which left me with night terrors.
Two different prescription sleeping pills. You don't want to be around me the next day because they make me angry and mean.
I tend to approach sleep aids with caution (based on my experiences)
After my experience with Melatonin and my prescriptions, I want a gentle, calming sleep solution that doesn't leave me groggy or feeling like my insides are twisted in anger. Something that calms me and lulls me to sleep. Something natural. Something like…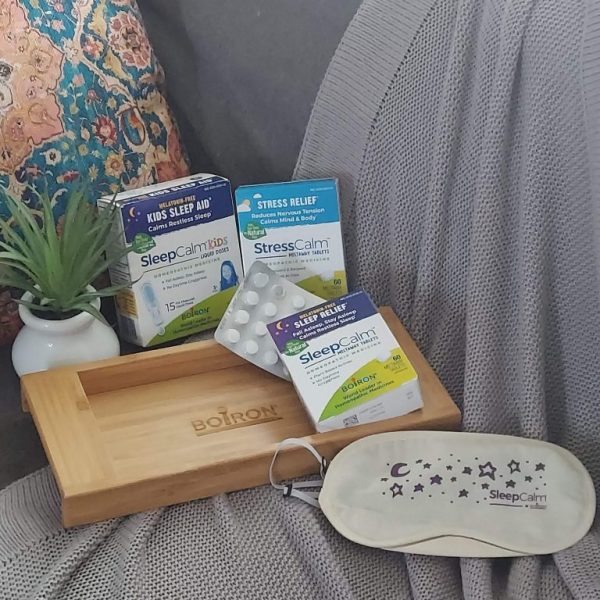 Boiron SleepCalm Meltaway Tablets
I am a long-time user of Boiron Oscillococcinum, and when I say a long time, I mean that my mom who practiced a macrobiotic lifestyle had it in our home when I was young. So, needless to say, I am very familiar with homeopathy and feel comfortable popping a couple of these SleepCalm Meltaway Tablets under my tongue for a little nite-nite.
These over-the-counter solutions help with occasional sleeplessness, restless sleep, and intermittent awakening by calming restless sleep, so you can fall asleep. Best of all, there are no next-day residual symptoms like grogginess or bad moods. That's because it's made with plant-based active ingredients that help restore a natural sleep pattern disturbed by nervousness, worries, exhaustion, an overactive mind, jet lag, or night shift work. The meltaway tablets do just that, MELT under your tongue so you don't even need water to take them (and no they don't have to be taken with food like a lot of other sleep products).
Benefits and Features:
Melatonin-free for no daytime drowsiness.
Non-habit forming; does not induce dependency.
No known drug interactions.
No artificial sweeteners, flavors, colors, or preservatives.
Recommended for everyone ages 12 and up.
Available over the counter in a box of 60 unflavored meltaway
There is also a solution for children.
SleepCalm Kids come in pre-measured liquid doses and are for children 3 years old and older.
Stressed out?
Boiron has made a stress relief formula to reduce nervous tension, irritability, fatigue, and that feeling of hypersensitivity from day-to-day stress by calming both your mind and your body with no drowsiness and just like SleepCalm it is a non-sedative homeopathic medicine that helps you stay focused and relaxed without affecting alertness, so it can be taken before performing, public speaking, taking a test, or flying. You can use StressCalm Meltaway Tablets for up to two weeks for occasional stress from things like traveling solo, speaking in front of a crowd, or anything else that tends to stress you out.
Benefits and features:
Sedative-free; stay focused and relaxed.
Non-drowsy; non-habit forming.
No known interactions with other medications or supplements.
No artificial sweeteners, flavors, colors, or preservatives.
Recommended for everyone ages 12 and up.
Box contains three sleeves of 20 tablets each (60 tablets total).
Also try plant-powered SleepCalm® sleep aid.
I'm happy to have found a natural solution to what feels like an unnatural problem. If like me, you have difficulty falling or staying asleep and need a little help, give SleepCalm a try. They might just be the sleep solution that you've been looking for.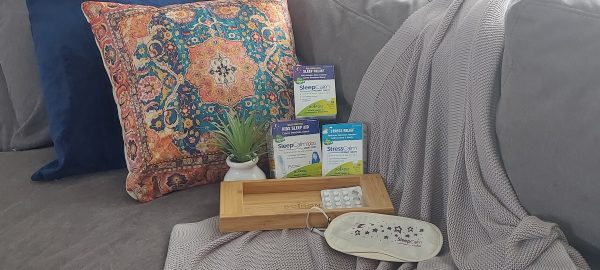 Head to

BoironUSA.com

to learn more and to order any of their homeopathic remedies