I'm often asked the same question about celebrities that I  meet…"What was he/she like?" The answers are as diverse as you and I are.  They span from painfully shy and enigmatic, to outgoing and extremely approachable. Last week we had the opportunity to sit down individually with the cast and director of Oz the Great and Powerful at the #DisneyOzEvent.
Here is the FIRST of a series of interviews from the Disney junket. I found her to be very humble and quite shy….not at ALL what I expected from a major star like Michelle Williams.
As promised, you get to "be there" right along with me as we asked her….
Q : You were amazing. What was your inspiration?
MICHELLE : Thank you. I thought a lot about her, and I watched, you know, I've watched that movie passively for years (speaking of the original Wizard of Oz), and watched it with my daughter, and I thought a lot about her…a lot about her, but Sam (Raimi)said something really interesting to me in the beginning. He said there's a reason that Glinda, the Good Witch doesn't go down the Yellow Brick Road, and that she's not on the journey, because she's one dimensional.
She needs to learn about herself, and thus she's like the least relatable character. And I thought, right…that's a good point. We don't wanna do that, you know. We want people to feel like they're on a journey with Glinda, too, and that she isn't this sort of crystalized version who knew it all along , and we want her to have struggle, we want her to be human. But, does she have to struggle because  she doesn't have a split nature, you know. She's not, like, struggling with her- what is she allowed, how can she still be good, and innocent, and believe the best in people, but still have a struggle?
Obviously, she's struggling for the freedom of these people, and she's struggling a little bit with her own self doubt. I thought a lot about transformation. She's not somebody who's had a perfectly easy ride. She lost her father. She's in charge of these sort of refugees, but she doesn't really know how to protect them and how to make them see.
I can't say that those aren't things that I've, you know, that I've weighed in my life. I thought a lot about transformation and how Glinda transforms these dark and dire situations, how she uses kinds of bubbles… transforms tears into bubbles, that she makes the best out of a rotten situation because of a way that she chooses to look at it. That takes a lot of energy and it's not entirely human.
It is a super-human quality, although I have seen it on, like, Sam, our director. By the way, one wife, five kids! It's amazing. He's such a cool guy, but he had that attitude, you know. It's like a really tough job to make a movie that's this big. Can you imagine, all those personalities, like a hundred and fifty people, all their personalities, all their jobs, all their questions, and Sam is the funnel for all of it. Yet he maintained this exuberant and this buoyancy, and this belief in the possibility, and he was interested in what everybody had to say.
So in some ways, I was inspired. I just think a lot about my daughter, but I also thought a lot about Sam as kind of Glinda the Good Witch, and I thought about, like, Joan of Ark and heroes.
Q : If you wouldn't mind taking a quick photo with them, they would be honored.
MICHELLE : Would they? [LAUGHS]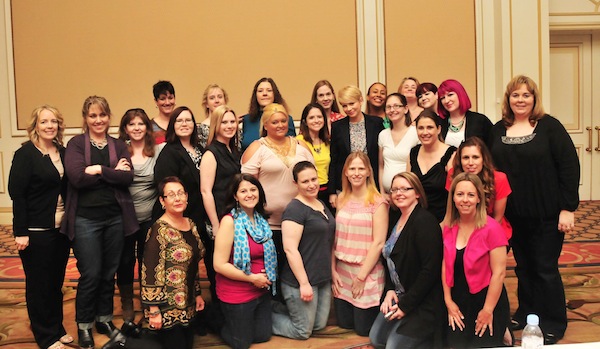 MICHELLE : No, well, you guys, thank you.  I never really posted anything on a blog because I don't really know how to, but I think every mother has the same question that we were all asking. Like, how do you do it? How do you be a mom, and be a parent, and maybe even try and be in a relationship, and the end, also be, be yourself. It's not mom, or a worker, or a, like, or a something- how do you make all of that work and have- providing this kind of conversation about it, and like this kind of access to it is awesome. So thank you guys for doing it. You guys, thank you.
Teaser
Oz The Great and Powerful opens on March 8, 2013.
 Want  more information? Follow:
This post was facilitated as a result of a press junket. All opinions are strictly my own.