This is a sponsored post on behalf of Bloggin' Mamas & the Florida Prepaid College Board. All opinions expressed are my own. 
Being a parent is difficult. Being a grandparent…well, that means being able to give them the things that will make an impact. When Ben was born, we socked away the gifts for his education later on. My dad took out an insurance policy that was supposed to pay for his education. That was back in the early 1980's before Florida Prepaid existed. It was a grand gesture on his part, and it paid for the first couple of years of Ben's (6-year) education. But, the method that my dad chose to invest in was clunky at best and it didn't go as far as he had initially believed it would.
Now I have a son and daughter-in-law who are thinking about having a family
And as the holidays are upon us, I realized that the perfect gift for any grandchild, is the GIFT OF EDUCATION. Being able to take the burden off of my kids and my grandkids, now that I can afford to is a gesture that I know I have to make.
Thankfully, Florida Prepaid has many different options for making certain that the child you love gets the education they deserve without having to worry about how to pay for it when they are old enough. Because I'm not sure if I'll be putting money aside for ONE, TWO, THREE or more grandchildren I've been eyeing….
The 1-year Florida University Plan
Starting at under $50 per month you can purchase anything from credit hours to a full year of education at a low rate. The best part is that you can team up with others to buy a plan for the same child's higher education. That means that I can purchase some, the other grandparent can purchase some, and friends and other family members can also chip in, making it great for gifting.
Imagine being able to gift up to a full four years this way? All of Florida Prepaid plans can be used at any university or college nationwide and is guaranteed by the state of Florida, making it completely flexible. You never have to worry about putting money into a plan and not getting your money's worth out of it, and when your grandson, granddaughter, or grandchildren graduate high schook they'll have the money to further their education whether they choose a 2-year college or an ivy league university.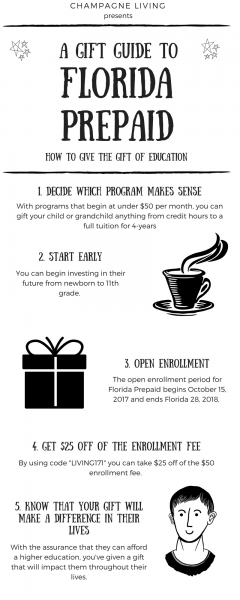 College costs are rising
Knowing that my grandchild will be able to go on to get a professional degree is very important to me. I went to college on grants and paying credit by credit as I went along. By the time I have a little one going to college, there may be no grants. I've seen education costs go up every year, and I'm certain that they'll continue rising, making it more difficult for those who haven't prepared.
This holiday season
What better gift to give than an education that your grandchildren deserve? We are right in the midst of the 2017-18 Open Enrollment period, and it runs through Feb. 28, 2018 (making this a great Chanukah, Christmas, Kwanzaa gift). Enroll your child or grandchildren NOW and get $25 off of the $50 application fee with our exclusive code: Living1718 
I truly believe that this is the BEST GIFT any grandparent can give….the gift of knowing that their grandchild will receive the education that they deserve.

Visit Florida Prepaid to learn more: Florida Prepaid
Enroll your child during the 2017-18 Open Enrollment period and get $25 off of the $50 application fee with our exclusive code: 

Living1718