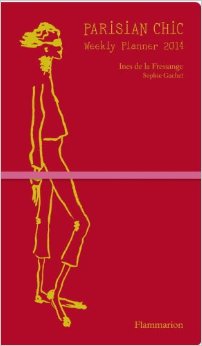 I'm the first to admit that I've become a "toss & run" type. My office is atrocious with boxes full of paperwork, review products, and "stuff" ("stuff" can't be explained – it's just STUFF), under the bathroom vanities creams, colors, and beauty utensils are in deep baskets that look as if they belong on the shelves of a thrift store, and my closet(s) that were once organized by color now look more like a Jackson Pollock painting. All of this is hidden from view from guests (unless they snoop), but I know they're there.
I used to LIKE disorganization, and would remark that I KNEW WHERE EVERYTHING WAS, but I was not being honest with myself. You could tell. I'm a list maker. List  makers are either organized people, or train wrecks like me who want desperately to have order in their lives. I can't live without my datebook.
Champagne Living, The Review Broads, Hotels.com, CraveLocal, and all of the other sites that I write for would never be updated without my trusty schedule. It's the ONE area that I'm diligent about. Since I schedule 3 months ahead (I have to with all of the travel that I do), I've begun working on my 2014 calendar.
Ines de la Fressange shares fifty-two new secrets in this elegant and humorous weekly planner that is the chicest way to organize your schedule in style. The authors of the New York Times best seller, Parisian Chic: A Style Guide by Ines de la Fressange, share a new year's worth of fashion, style, and beauty advice in this daily planner. From January through December, this chic and practical illustrated engagement calendar offers de la Fressange's easy-to-steal ideas for how to be your most beautiful and elegant in every situation. She offers specific pointers on how to dress like a Parisian for every occasion. With her good-spirited insouciance, de la Fressange's no-nonsense dos and don'ts will have you smiling and looking your best throughout the year. The 2014 weekly planner is compact to slip easily into your handbag, and is an elegant accessory in itself, featuring a deep-red faux leather cover with gold foil stamp, rounded edges, a ribbon page marker for easy place holding, an elastic band closure, creamy offset watercolor paper, four-color printing, charming drawings by de la Fressange, and an address book. This is the must-have engagement book for every woman who wants to add a touch of Paris to her handbag and to stay on top of her oh-so-chic lifestyle.
I received mine as a review product, you can pick YOURS up at Amazon.com or your local bookstore.
Amazon – Parisian Chic Weekly Planner 2014