There's just something about the feeling like you discovered a secret that you want to share. Especially when it involves a TRUE experience of fun and utter relaxation. When you know that if you went with your girlfriends that you'd have a blast, that if it were you and hubby that it would be romantic, and that if the entire family came along, they'd all be begging to stay longer.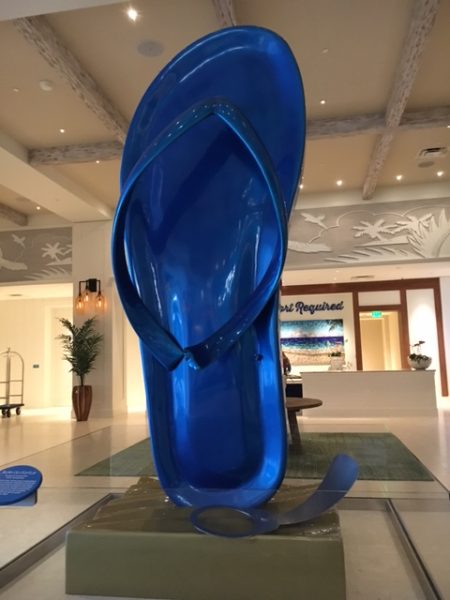 It's my own damn fault that I stumbled into the Margaritaville Hollywood Beach Resort, flip-flops on, and the feeling that I've found my special place. It's the perfect combination of laid back and luxury….while on the ocean, with that margarita in hand.
It begins the minute you walk through the doors into the lobby.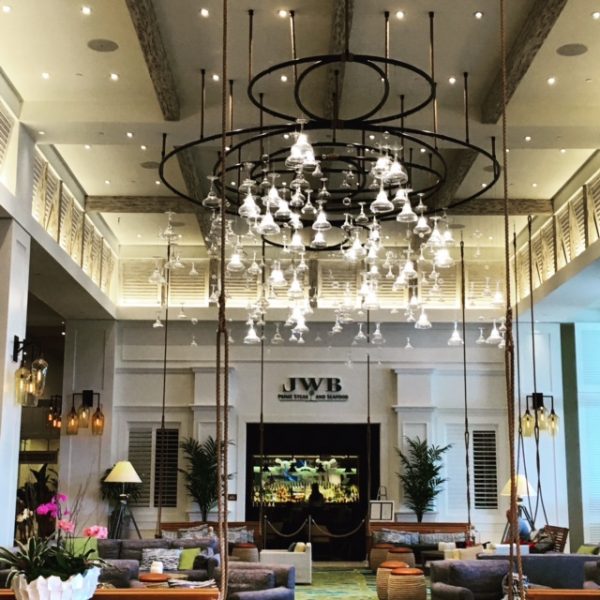 If you find most full-service resorts are a bit too stuffy for you
I feel you; who wants to be putting on airs when they should be relaxing and enjoying their vacation? From the moment you see the giant flip-flop sculpture and look up and take in the margarita glass chandelier, you know you've found your new favorite resort. For those who want to indulge in a little luxury while also feeling comfortable being 100% themselves, Margaritaville Hollywood Beach Resort is YOUR place to stay.
Casual, cool, yet indulgent, this resort is exactly what one would expect from a Jimmy Buffet property.
Stunning Rooms and Décor
At Margaritaville Hollywood Beach Resort, the rooms are all located on floors 11 through 17. This means that you get maximum privacy while on your private balcony (that all rooms have) and every room comes with a view. Your personal surroundings are so lovely, you might not want to leave (or you might want to steal some of the furnishings….like the throw pillow on the bed….but DON'T…come back and visit it instead).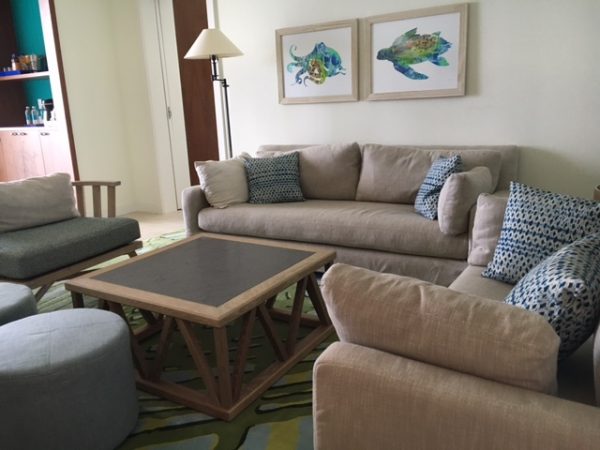 All rooms have a luxurious, yet beachy vibe, like one would imagine a billionaire would want for their private beach oasis. With top of the line, yet calming and casual decor, all of the guest rooms are crisp and bright, setting the tone for the entire trip.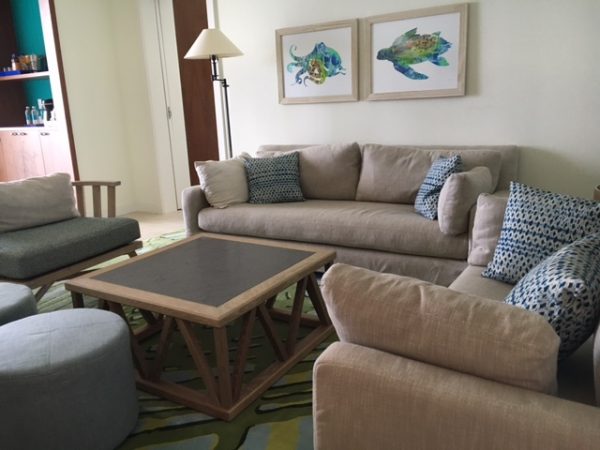 Incredible Facilities
Restaurants, spas, pools, water features, kid's clubs: Margaritaville Hollywood Beach Resort has them all. And everything is top of the line. The developers clearly spared no expense when designing this resort, making it the perfect place to indulge. The FlowRider and The Boardwalk are two can't miss activities…and don't even get me started on the 11,000 sq ft St. Somewhere Spa.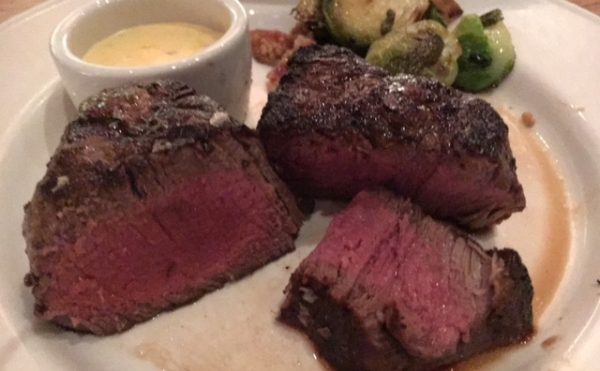 Your best steak ever
With eight different bars and restaurants on the property, it's difficult to choose where you want your next meal, but if I had ONE choice to make it would be the the amazing JWB Steakhouse.
The only thing wrong with this restaurant is that one person can't eat it all….because the portions are large, the food cooked to perfection, and the variety is vast…..and that's before I laid eyes on the wine list.
A Vibrant Nightlife
At Margaritaville, you can live it up well into the night between the beach parties and bars on site. Not to mention that the resort often hosts events and performances that you can enjoy. But if late nights aren't your thing—or you want the kids to get a good night's sleep—you don't need to worry about it disturbing you. All rooms are soundproofed, making it easy to party all night or relax as much as you want.


Resort Pricing: Nightly rates starting at $206
Nightly resort fee includes:
basic wireless internet service,
access to fitness center and classes,
two beach chairs and one umbrella,
in-room coffee and bottled water
local calls
Exclusively for readers of Champagne Living, this package includes accommodations in a coastal-luxe room, two welcome margaritas, and a $50 per day resort credit to be used at any of the unique bars and restaurants, FlowRider® Double, and St. Somewhere Spa.
Disclaimer: Resort credit cannot be redeemed for resort fee, beach or paddleboard rentals, room taxes, or any retail purchases. Unused credits are forfeited and will not be applied to room rate, taxes, or fees. Resort credits have no value. This package requires a minimum stay of two nights.
Click HERE for your special Champagne Living goodies.