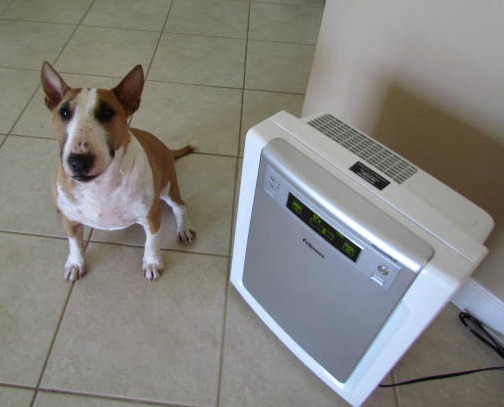 I love Clem the mini-bullie, but I love my son more. The problem is that my son Ben is allergic to dogs, and since he doesn't LIVE with us it's not as big a deal. It DOES mean that Ben has to take allergy medication and keep his asthma inhaler with him at all times when visiting. I feel awful, I'm torn, and what's even CRAZIER is that the two of them adore one another (Clem feels the need to always be in Ben's lap).
So…I try to do EVERYTHING in my power to make the mansion livable breathable for Ben. When we lived in New England we always had an air purifier, because I had sheepdogs in the house. I want Ben to visit OFTEN, so we recently began using Fellowes AP-300PH Air Purifier. I figured that I wanted one that uses four stages to purify the air, and have placed it in our living  room. Since Ben has a home of his own, that this is the area he spends the MOST time when he visits.
Besides these OBVIOUS reasons for choosing the Fellowes AP-300PH Air Purifier
PlasmaTrue™ Technology removes airborne pollutants and gets air cleaner at the molecular level, instantly neutralizing viruses and germs in the air
True HEPA Filter safely removes 99.97% of particles and impurities as small as 0.3 microns, including mold spores, pollen, dust mites, allergens, cigarette smoke, pet dander and odors <<< Ben is allergic to DANDER!
Air purifier includes an air purity sensor that monitors the air quality and automatically adjusts the fan speed to keep your air cleaner
Carbon filter removes odors and captures large airborne particulates
Purifies large sized rooms up to 300 square feet
Ultra quiet operation
Filter change indicators signal when the True HEPA and Carbon filters need replacing
True HEPA and Carbon filters included with air purifier
User-friendly display panel on air purifier effectively communicates machine performance
5 year limited warranty
AHAM certified
Personally,I like the fact that you can see when the carbon and HEPA filters needs changing, how efficient it's working (with the Plasma TrueTechnology), as well as a reading on the current quality of air in the room. I can also put it on HIGH before Ben is due over and turn it back down to medium or low when he leaves. Knowing that the Fellowes AP-300PH Air Purifier is removing 99.97% of particles and impurities from the air makes me feel secure and helps Ben breathe easier.
It's also on SALE at Amazon.com (at 67% off), so this is the time to grab one.
By the way, my baby (who's 29 years old), now feels like we care more about HIM than the dog, since we're doing all that we can to make him comfortable in the house.
Although, I'm not sure if Clem likes his Dander and DOGGIE odors taken out of the air.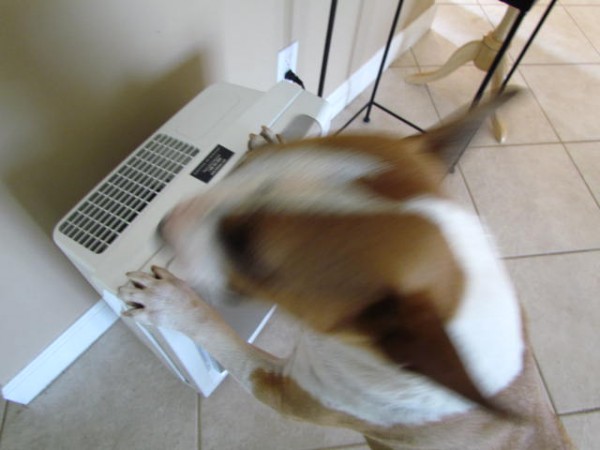 If ANYONE in your household is struggling with airborne allergies it's a great time to get one at Amazon.com while they are on sale!
For more information about this and other Fellowes Air Purifiers check them out on
I wrote this review while participating in a blog tour by Mom Central Consulting on behalf of Fellowes and received a product sample to facilitate my review.