Note: We received products listed to create this guide.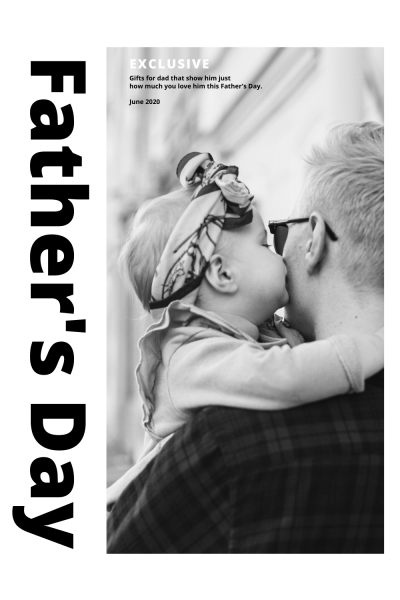 Dear Dad,
I miss you so much. I wish you could see how Ben has grown into a man. He's married now and one day they'll have a family. You'd have absolutely loved Allyson and her family, as I know that she would have loved you. Alan is doing well and we talk about you often and reminisce. Rob is retired now and we love calling each other on the phone with the greeting that you always used. It makes us laugh and laugh.
There are so many things that I miss about you, a lot from my childhood. I miss you telling me bedtime stories about your fictional character Charlie Finknoodle that left me wondering WTF when I was young (and you always thought it was funny to leave me hanging). I miss you slipping me money when you knew that I needed it, and I miss how proud you were of me, even though I was a little off the rails sometimes. If you were here, I'd be giving you everything in this guide, because you deserve it all and more. I love you and think of you every day.
I hope that you're still chasing mom around the table playfully in heaven. Please give her a hug for me.
Love,
Zippy
You know that I am the consummate shopper. I love searching online for the perfect gift for holidays like this, and being home gave me a whole lot of time to shop. My excuse was that I was shopping for YOU, to help you get the BEST FATHER'S DAY GIFTS for your dad, husband, grandfather, and son this year. There are so many choices online that sometimes it's difficult to wade through all of the websites and shopping platforms. That's why Rachel and I picked out what we felt were the BEST of the BEST for your dad this Father's Day.
All of the photos and descriptions are clickable if you'd like to purchase any of the items to make getting daddy's gifts easier.
Plus we have some EXCLUSIVE DISCOUNTS for our readers.
Slumber CBN sleep aid – 15% off with code: FATHERSDAY
Gruvi Drinks – 10% off with code:

Fathersday

Fire Dept. Coffee – 20% off with code: TheCompassGirls20
Cure Crate – 50% off for Father's Day with code: HAPPYDAD
Genesee Nutrition – 20%with code: fathersday20
Cellars Wine Club – Free bottle of BUBBLES with purchase with code: BUBBLES20
Hydrate Spark – 20% off automatically via link in gift guide
Tempo Beverages – 20% off with code: fathersday20
Wearsafe Tag – 20% off with code: SAFEDAD20
Kronis Trunks – 20% off and FREE SHIPPING to US customers with code: 20%Coupon
Bunch of Animals – 20% off with code: FATHERSDAY
BREO BOX – 20% off any subscription or gift box with code: PAPA20
Bear Mountain BBQ Pellets – 15% off with code: COMPASS15
Kate's Real Food – 15% off with code: FATHERSDAY15
Dune Jewelry – 10% off with code: TheCompassGirls
Have a VERY Happy Father's Day 2020 and enjoy shopping. We know that we will.